With rise in repo rate, MCLR will be pushed upwards in the quarters to come and it will affect the existing home loan borrowers leading to an increase in EMI.

Lately, we have seen several banks which includes SBI, ICICI, IDBI, PNB, etc have raised marginal cost of funds based lending rate (MCLR). According to experts, the home loan rates are only expected to go north in the mid-term with likely increase in repo rates by at least 25-50 basis points from RBI before the year end.
What is MCLR?

MCLR is the benchmark lending rate at which banks lends to new home loan borrowers. So, if you are planning to take a floating rate home loan, your loan will now be linked to MCLR. Manav Jeet, MD & CEO, Rubique Technologies explained, "For home loans, banks use the one-year MCLR as the benchmark rate which means, all floating rate loan agreements will have a reset clause at a pre-specified interval."
For instance, for salaried individuals, bank has set a floating rate home loan at one-year MCLR of 9.20% with a spread of 25 bps for loans of up to Rs 1 crore. So, the interest rate will be 9.45%. Though the MCLR is reviewed monthly, home loan will be reset in six months or on completing one year automatically, depending on the agreement with the bank.
Co-relation between the bank MCLR and the RBI repo rate
In the last monetary policy review though the repo rate was kept unchanged however there are enough indications that in coming quarters increase is inevitable.
Arvind Hali, MD and CEO, ART Affordable Housing Finance said, "Even though there is no direct proportionate linkage between the bank MCLR and the RBI repo rate, there is a positive correlation between the same. MCLR is applicable on the floating rate thus any change in repo rate impacts the MCLR. Fixed rates are not under the regime of MCLR and any change in repo does not alter the fixed rate."
Hali added, "With rise in repo rate the MCLR will be pushed upwards in the quarters to come and it will affect the existing home loan buyer leading to an increase in the EMI amount."
"This rise in the repo rates by the RBI would mean an increase in the interest outflow. However, the revised rate would be applicable only at the end of your reset period," Navin Chandani, Chief Business Development Officer, BankBazaar stated.
Ashwini Hooda, Deputy Managing Director, Indiabulls Housing Finance believed, "An increase of 15-20 basis points in MCLR will have only a marginal impact on the EMI of existing borrowers. For an entry level home, with the combined benefits of tax incentives available on home loan EMI repayments and PMAY subsidy, an increase of 25 bps in home loan rate will increase the effective home loan rate to 0.50% from the current 0.34%."
Illustration

Existing Home loan customer have Rs 20 lakh loan for 20 years at 8.5%.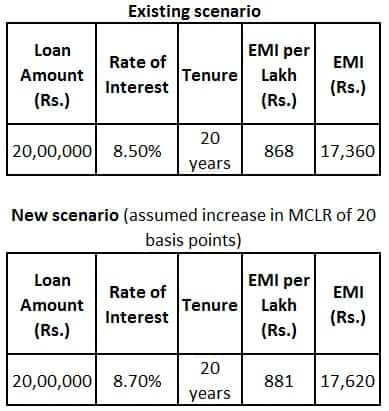 In the increased MCLR scenario, the EMI will increase from Rs 17,360 to Rs 17,620 i.e. an increase of Rs 260 per month translating into Rs 3,120 annually. Considering that the loan was freshly taken hence in a 20 year tenure Rs 62,400 of interest will increase.
Ways to reduce impact of increasing MCLR
Home loan from banks taken after April, 2016 are linked to the MCLR rate. Here are ways recommended by Hali to reduce impact of increasing MCLR rates on outstanding home loans.
- The home loan borrower can ask the lender to increase the tenure with the same EMI so that the borrower's monthly cash flow is not affected.
- The borrower can opt for part-prepayment to nullify the effect of the increment in EMI.
- The customer may choose to transfer to a fixed rate by paying conversion charges after a suitable cost benefit analysis.
Should you shift to fixed interest rate home loan?
"In the likelihood of a rate hike cycle by the RBI; for conservative loan takers, who are not actively tracking the market trends, it is advisable to explore the fixed interest rate home loan options depending upon the outstanding loan amount and the remaining tenure of home loan since it offers more stability," said Jeet. However, since this rate is constant, the banks usually charge a slightly higher amount as compared to a floating interest rate home loan.
The list given below provide some examples of full tenure fixed interest rate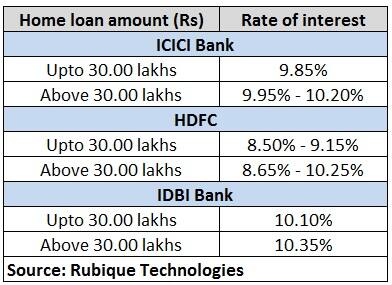 However, fixed interest loans usually come at a higher interest rates compare to floating rates. Chandani explained, "The difference can be as much as 150 basis points. Moreover, they are not fixed for the life of the loan but only for a set period of up to 3 years. After that, the bank may revise them." So, opting for a fixed interest rate loan is not recommended.
Also, if the loan duration left is only a few years, one should not look at a conversion as it will primarily be the principal which is getting paid off. Hali indicated, "The shift to a fixed interest rate home loan by paying conversion charges should be evaluated by the buyer by doing a proper cost-benefit analysis comparing the post conversion savings vs the conversion charges." It is dependent on the rate that you are paying, the fixed interest rate on which the buyer is converting, the tenure and the conversion charges.
Moreover Hooda said, "If you as a borrower intend to repay the home loan in a small tenure such as 5 years, then you may convert this floating rate loan to fixed rate. This will protect you from near term increase in interest rates and substantial repayment would have happened by the time rates decreases." However, if a customer intends to keep the loan for a longer period of say 15 years, then choose to stay with floating rate as rates normalise over cycles.
Follow @thanawala_hiral
First Published on Jun 5, 2018 10:12 am