Highlights:
- Industry prospects remain robust - Rupee depreciation, commodity prices impacted Q2 margins - Product launches, updates crucial to growth - Competition, high overheads could dent margins
- Whirlpool is our preferred pick
--------------------------------------------------
India's consumer durables industry is on a promising trajectory. This can be attributed to factors such as low penetration levels, easier availability of financing options and inclination to upgrade lifestyles. In this context, a glance at Whirlpool of India and IFB Industries, two multi-category names, merits attention.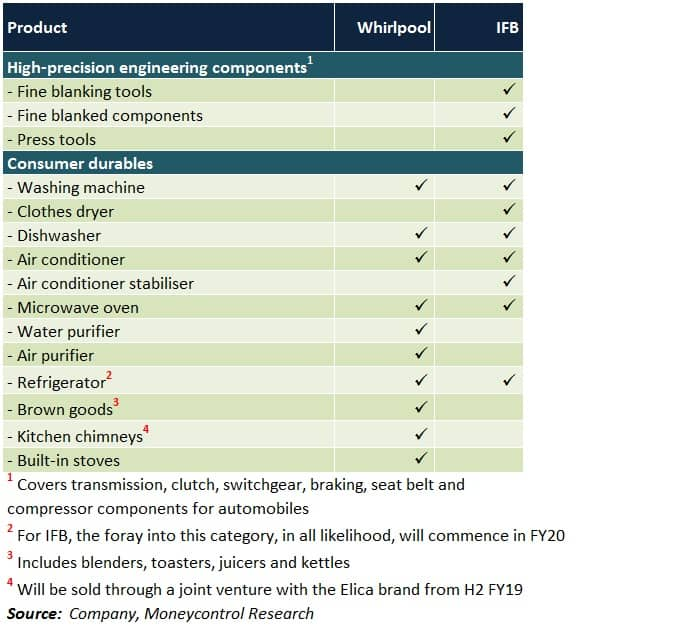 Q2 review
Whirlpool
reported muted top-line growth in Q2 due to Kerala floods, weak Onam sales, strikes announced by truckers and postponement of festivities to mid-Q3 this fiscal (versus late Q2 and early Q3 in FY18).
IFB's revenue growth was predominantly driven by fine blanking equipment sales. In the home appliances segment, a high base (due to post-GST restocking in Q2 FY18) led to soft year-on-year (YoY) growth.
Lack of operating leverage, steep commodity prices and rupee's depreciation vis-a-vis the US dollar impacted EBITDA margins of both companies. For IFB, the effect was more pronounced because of additional challenges such as higher freight costs, sales returns, variable expenses of the fine blanking segment and customs duty hike (for air conditioners and microwaves, which are imported as completely built units).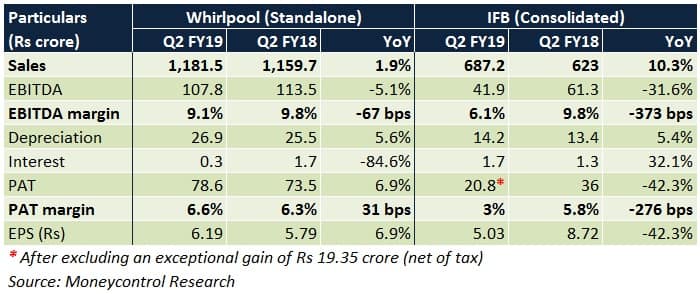 The path ahead
Whirlpool is expanding its distribution reach (number of billing points) by 15-20 percent YoY, mainly in semi-urban and rural India. Digital marketing expenses are slated to go up for WStore, the online platform.
Among existing product offerings, emphasis is being laid on front load washing machines and premium double-door refrigerators. Foray into dishwashers, air purifiers and water purifiers will help the company tap a wider customer base.
Leveraging Elica's pan-India distribution network and capacity expansion in core products (direct cool single-door refrigerators, semi-automatic washing machines), will be pivotal in driving margins.
IFB raised prices by 3-5 percent in mid-Q2 FY19 percent to maintain the margins of domestically manufactured products (i.e. front and top load washing machines).
For front load washing machines (comprising nearly 50 percent of annual revenue), domestic sourcing of electronic components will be prioritised. This should reduce the share of imports from 15-20 percent at present, consequently boosting margins.
For top load washing machines (15-20 percent of yearly sales), the target is to sell about 30,000 units per month in H2 FY19, as against 20,000-25,000 units per month in H1. A 6 kg variety will be introduced in the markets from Q4 too. Dependence on imported inputs will be trimmed from the current level of 25 percent.
More stock keeping units (SKUs) of microwaves will make their way to the market to address varied buyer requirements.
The company's fine blanking segment, constituting 15 percent of annual revenue, may go through a rough patch in Q3 since vehicle sales have been sub-par. In due course, a pick up in orders from original equipment manufacturers should augur well.
In the laundry space, IFB acquired the industrial laundry equipment business of Ramsons for Rs 35 crore in October. The slump purchase will help IFB consolidate its presence and explore prospective tie-ups with institutions (education, hotels, hospitals, railways). Besides being high-margin in nature, such products have the potential to generate higher sales (up to 10 times) in the next 5 years.
Risks
Stiff competition from other brands and e-commerce portals could make it hard to pass on the entire increase in manufacturing costs.
Inability to rationalise promotional expenses, high fixed overheads for commercial properties and an initial uptick in dealer margins (for new products) could impact profitability.
To the extent of raw materials imported, vulnerability to currency fluctuations and high duties will persist.
Outlook and valuation
Whirlpool and IFB are expected to gain top-line momentum in Q3 on account of festive demand. In the long-run, revenue visibility isn't a cause of concern either since this sector is a secular growing one. Neither of these companies derive a major chunk of their sales from seasonal white goods such as air conditioners.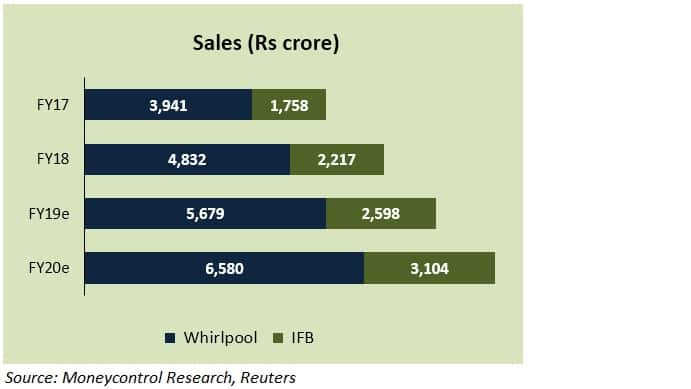 Whirlpool, owing to its healthy fundamentals and strong strategic execution capabilities, will continue to trade at a premium (32 times FY20 estimated earnings) versus IFB. Despite the absence of valuation comfort, one may consider investing in the stock, given the recently observed price correction.
For IFB, though prospects of a long-term re-rating cannot be ruled out, some impediments temper our excitement for now. These include delayed launch of refrigerators (because of import duty hikes) and near-term weakness in the margin profile of the home appliances division. Notwithstanding the undemanding valuation (22 times FY20 estimated earnings), we advise buying the stock on downsides.
For more research articles, visit our Moneycontrol Research page
First Published on Dec 6, 2018 12:45 pm