With changing geopolitical dynamics over the last few months, there are strong expectations of a change in the overall strategy.

Amid growing discord between the OPEC (organization of the petroleum exporting countries) nations, concerns over the continuity of the consortium and escalating global trade war, oil prices saw some softening in the last week after a steep increase in the past six months. The softness came due to increased production from Saudi and Russia after sustained production cuts in the last 18 months. With the upcoming OPEC meeting scheduled to be held on Friday and a pre-OPEC meet between Saudi and Russia on Thursday, the decisions arising out of those meetings will decide what we pay for oil in the year ahead.
With changing geopolitical dynamics over the last few months, there are strong expectations of a change in the overall strategy. Saudi Arabia and Russia are reportedly willing to increase oil output by almost 1.5 million barrels per day, while others like Venezuela and Iraq are against such a move and want to maintain supply at the current level to sustain the high price. US shale is ramping up fast. We won't be surprised to see OPEC going easy on production discipline thereby supporting the current softening in crude.

The Iranian situation
Post the lifting of US sanction in 2015, Iran had rapidly enhanced production capacities in order to attain better utilization levels. Iran has been in favor of production increase until recently when the news of US imposing sanctions came into play. Iran currently exports around 2.5 million barrels of oil a day, which is roughly 4 percent of world's total supply, and the newly-imposed restrictions could bring this figure down by as much as 1 million barrels a day.
This expected removal of the Iranian oil from the market creates an opportunity which Saudi Arabia and Russia are more than willing to grab by pumping up their production. May 2018 saw an unprecedented increase in the crude production from both these countries. This inclination to increase production and grab market share is the key reason which could lead to a change in the strategy of OPEC countries.
Iran claims little impact from the sanction on the market for its oil and is pursuing a plan to rather increase its oil output by 460 million barrels within the next three years.
What is happening in Venezuela?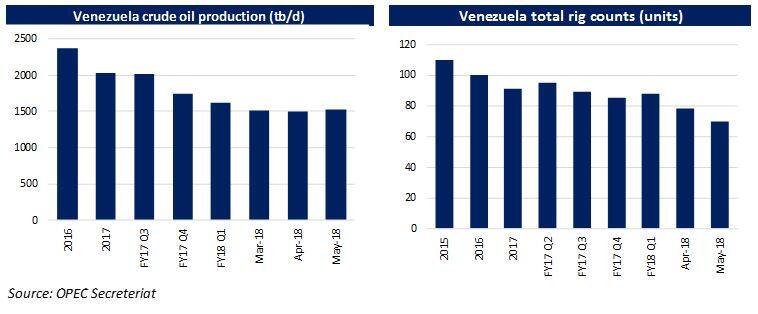 Venezuela has been in the midst of fighting its own internal battles. Political turmoil and tumbling crude oil prices in years 2015-16 saw significant decline in earnings in this crude dependent nation. The country has been facing political-economic instability, hyperinflation, falling value of its currency and street protests with thousands of residents fleeing away to nearby countries. Amid the rebellion, oil production has been rapidly falling from the ageing oil fields with little incremental investment. It has reached the lowest levels in the last 30 years, further aggravating the economic problems. The decline in production has been much more than what was required to follow the OPECs strategic cuts. With the current inability to pump more oil and the proposed sanction from US, the country strongly opposes a production hike as any softening in the crude prices would only worsen its economic woes.
What is happening in Libya?
After the overthrowing and subsequent killing of Muammar Gaddafi in 2011, Libya's oil production has fallen and has remained below capacity. Post the civil war, Libya has been struggling to boost its oil production. With declining oil revenue and power struggles with armed groups, the current government lacks the capacity to prevent shutdowns and finance production operations. This has curtailed the production in recent times despite Libya having the 9th largest oil reserves in the world. With constraints over production capability, high crude prices support revenue for Libya.
US shale production ramping up –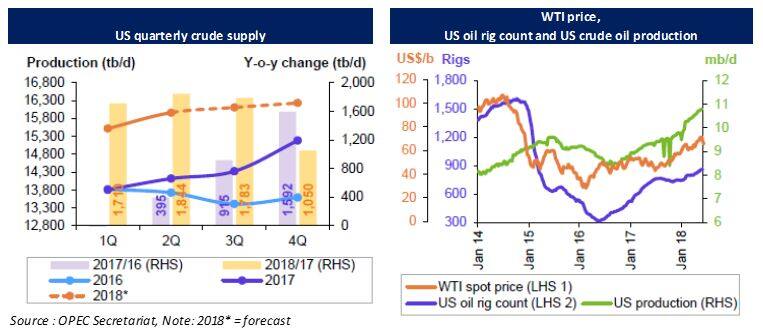 With rising crude prices, shale production has become increasingly attractive and despite numerous warnings to exercise restraint, US producers are pumping at full capacity. Production has been limited only due to production bottlenecks and investment to output time lags. US producers are drilling wells and capturing lands at full swing. Despite the restraint, US barrels are rapidly entering the global markets which has also been a contributor to the current softness in prices.
How is India looking at it?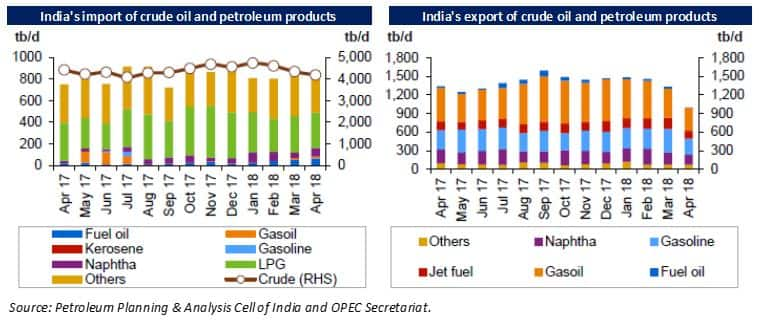 Indian has strong engagements with the OPEC nations and sources nearly 83 percent of its crude, 98 percent of its LPG (liquefied petroleum gas) and 74 percent of its LNG (liquefied natural gas) from OPEC countries. Rising crude oil prices had a serious impact on the overall fiscal math and there have been speculations that India is looking for countries outside OPEC to source its crude and gas supplies such as the United States and China in order to get more competitive prices. During talks with China for an oil alliance last week, one of the proposal envisaged Indian refiners to source oil directly from Chinese producers. Indian oil minister met with the envoys of OPEC last week and reiterated the same message. India is also planning to negotiate with the US to keep importing from Iran given that India imports almost 15 percent of its crude from Iran.
Overall, the steep increase in prices of crude has been exerting upward pressure on raw material prices for variety of industries, impacting inflation and rekindling a debate whether India should reduce the high level of taxes on petroleum products to offer relief to consumers.
So if the OPEC meeting results in a tad relaxation of the production cuts leading to some additional supplies in the global markets, India definitely will have reasons to cheer.
Follow @Ruchiagrawal
For more research articles, visit our

 
Moneycontrol Research Page.
First Published on Jun 18, 2018 05:46 pm