While Vidhi Specialty had undergone debottlenecking of existing plant capacity in 2018, Dynemic Products received environmental clearance for new capacity in the quarter gone by
Progress on the capacity expansion plans has been the key development in the food colour business for last few quarters. This holds importance on account of being highly regulated business and improving demand outlook. While Vidhi Specialty Food Ingredients had undergone debottlenecking of existing plant capacity in 2018, Dynemic Products received environmental clearance for new capacity in Q2 FY19.
Food colour companies exhibited a mixed set of Q2 results on the margin front. Vidhi Specialty continued to witness improved operating margin due to better sales mix, while Dynemic Products was impacted by plant shutdown and a weaker margin.
Vidhi Specialty: Quarterly uptick in margin

Sales in Q2 improved 9 percent year-on-year (YoY) as the company witnessed a change in sales mix.
As mentioned earlier
, sales in 2018 increased due to various debottlenecking initiatives. Production efficiency improved to about 300 tonne per month from 225 tonne earlier.
On account of the above changes and sales of new high margin products, gross margin jumped to 38.6 percent (up 580 bps YoY), despite higher cost of materials sold. However, higher employee cost offset operating leverage as earnings before interest, tax, depreciation and amortisation (EBITDA) margin broadly improved in line with gross margin on a YoY basis.
Further, lower finance cost has been helpful in delivering higher net profit growth.
Sequential improvement in margin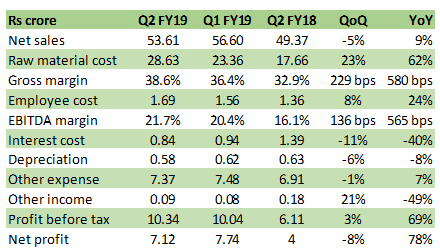 Source: Company
Capacity expansion and product mix to aid earnings growth

In our earlier conversations, the management reiterated its guidance of achieving a sales turnover of Rs 500 crore in CY20. While its capacity expansion plan remains on track, improving product mix, lower trading business and backward integration are expected to improve earnings. As a result, operating margin is expected to remain north of 20 percent.
The management expects to retire its debt this fiscal before new working capital-related needs arise for the expanded facility.
Outlook
Based on Q2 result, we have slightly lowered our FY19 sales estimate but have increased margin expectations. We expect sales CAGR (compounded annual growth rate) of 45 percent over FY19-21, with EBITDA margin sustaining at current levels (around 22 percent), benefiting from capacity expansion plans and change in sales mix. The stock is currently trading at a FY19/20 estimated price-to-earnings (P/E) multiple of 14.4 and 9.3 times, respectively, which seems attractive given the regulatory nature of the business, improving efficiency and earnings visibility.
Dynemic Products: Moderate improvement in sales, but margin impacted

Dynemic Products reported a sequentially improvement in its Q2 result. Sales improved marginally (5 percent) to Rs 39 crore, of which 85 percent constitutes food colours and rest intermediates. Exports account for more than 75 percent of sales. However, gross margin was impacted by higher cost of inventory and share of traded goods. Income statement suggests share of traded goods may have doubled sequentially as it may have serviced existing customers through traded goods because of regular plant shutdowns.
In Q2 and Q3, the company witnessed short term plant shutdowns. Most such incidents have been necessitated by Gujarat Pollution Control Board (GPCB) in relation to the treatment of effluents. While EBITDA margin was impacted because of change in sales mix, this was partially offset by lower other expenses.
Result snapshot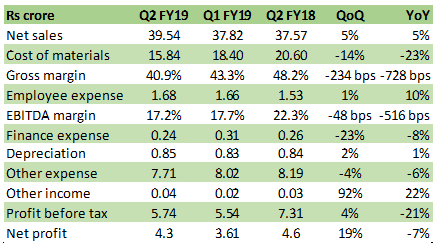 Source: Moneycontrol Research
Environmental clearance for capacity expansion plan

In the quarter gone by, the company received
environment clearance
 from State Level Environment Impact Assessment Authority (SEIAA) for its third plant (1,242 tonne) in Dahej. Of this, 230 tonne capacity would be used for food colours. Approval includes permission to manufacture food colours (like sunset yellow, allura red and eosine) and its intermediates. Here the company would also manufacture chemical intermediates used for perfumes, sunscreen lotions and drugs. As per our interaction with the company, it would take nearly one-and a-half year for the new plant to turn operational. Capex allocated for this expansion is Rs 100 crore, of which Rs 80 crore would be in the form of debt.
It is noteworthy that company's current capacity of about 7,320 tonne (of which 2,940 tonne is for food colour) in Gujarat is near optimally utilisation levels, with 85 percentage utilisation in the normal course of operations.
Outlook
Given the strict regulatory nature for environmental approval, traction in capacity expansion plan is certainly a positive. Incremental share purchase by promoters over the last few quarters is also noteworthy. The stock is currently trading at 9.9 times and 8.5 times FY19 and FY20 estimated earnings, respectively, which is inexpensive. However, one needs to be wary about frequent plant shutdowns on account of environmental regulation.
Investors can consider this stock given improved earnings visibility on account of progress in capacity expansion..
For more research articles, visit our Moneycontrol Research page
First Published on Nov 27, 2018 01:04 pm