Most of these bets have worked out really well as evident from sharp jump in many names after the Q1 FY19 earnings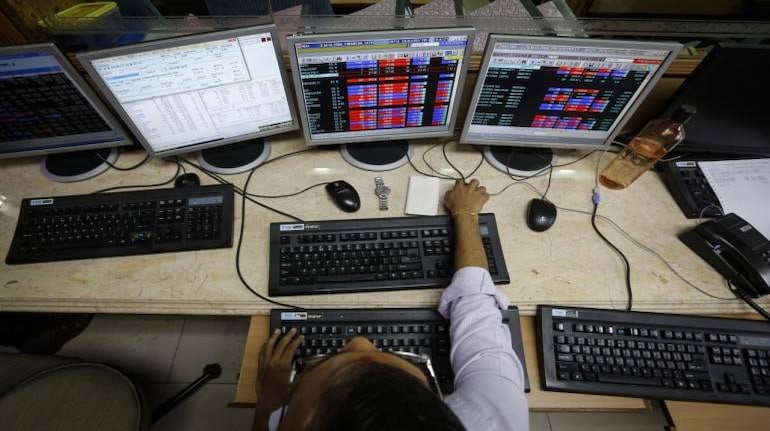 The Indian equity market was in top gear in July and the momentum carried in on August as well, with benchmark indices hitting record highs in the same period. A similar momentum was seen in the mutual fund industry, with asset base growing 5 percent to Rs 23.96 lakh crore by July-end.
Despite rising trade war worries, as well as a fall in the rupee-dollar, the Nifty scaled fresh highs in July. The portfolio rejig was as its best as mutual funds added beaten down names like ITC, State Bank of India, ICICI Bank, NTPC, and Larsen & Toubro, Edelweiss Research said in a note.
Most of these bets have worked out really well as is evident from the sharp jump in many names after the Q1 FY19 results. On the other hand, profit booking was seen in Maruti Suzuki, Kotak Mahindra Bank, HDFC Bank, Bajaj Finance and IndusInd Bank, it said.
Inflows were driven by participation from retail investors via the systematic investment (SIP) route. Retail equity assets under management touched Rs 10 lakh crore last month from Rs 9.61 lakh crore at June-end.
"Markets have been volatile since the start of the year. Investors have remained sanguine about the market, despite global challenges and domestic news flow. Though the market fell, investors have remained patient," Jinesh Gopani, Head - Equity, Axis Mutual Fund, said.
"SIP inflows are a good barometer for ascertaining retail sentiment and is a true indicator for long-term money. SIP flows continue to remain buoyant at Rs 7,500 crore as of June-end," he said.
According to Association of Mutual Funds of India data, the asset under management (AUM) of the industry, comprising 42 players, was Rs 22.86 lakh crore as of June-end. The total asset base of all fund houses put together was Rs 19.97 lakh crore in July last year.
Edelweiss in its research note lists out 30 stocks which received maximum inflows. It is not surprising that largecaps like ITC, ICICI Bank, and State Bank of India saw flows of over Rs 1,000 crore.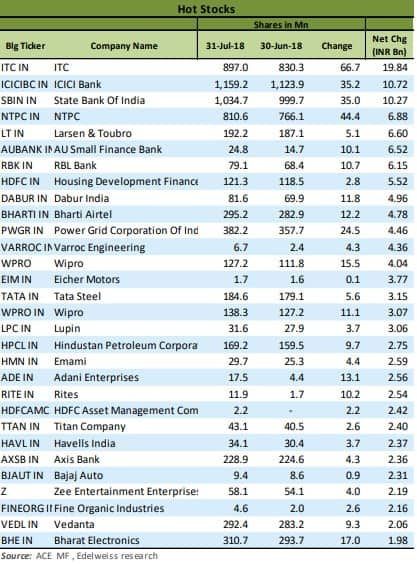 Other stocks, which are categorised as 'hot stocks' include: L&T, AU Small Finance, Dabur India, Housing Development Finance Corporation (HDFC), Bharti Airtel, Wipro, Eicher Motors, Tata Steel, Adani Enterprises, HDFC Asset Management Company, Havells India, Axis Bank, Bajaj Auto and Vedanta.
A large part of the rally, which started in July, was led by a handful of largecap names but even now the mid- and smallcaps are also registering strong flows and it looks like the broader market have bottomed out.
Looking at the trend, Gopani said only 6-7 stocks of Nifty constituents have pulled up the market in the recent past and propelled the index to fresh highs.
"The market upmove is now getting more broad-based with participation across sectors. This bodes well for the long-term structural integrity of the rally," he said.
Edelweiss Research lists out stocks that saw maximum outflows and terms them as 'cold Stocks'. These include: Maruti Suzuki, HCL Technologies, Kotak Mahindra Bank, HDFC Bank, Bajaj Finance, Asian Paints, IndusInd Bank and Indiabulls Housing Finance.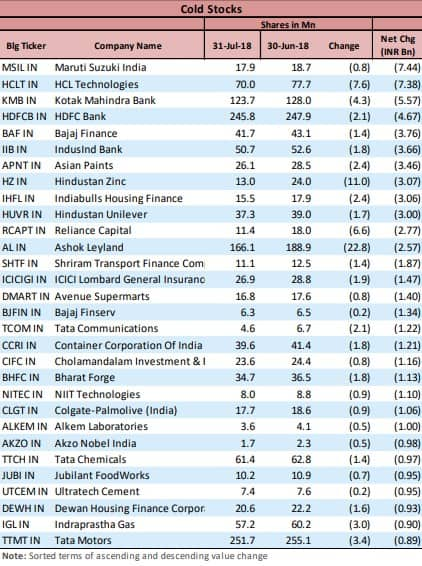 First Published on Aug 17, 2018 08:25 am