MSP is a short term eye wash which can be called a myopic solution to the agrarian distress.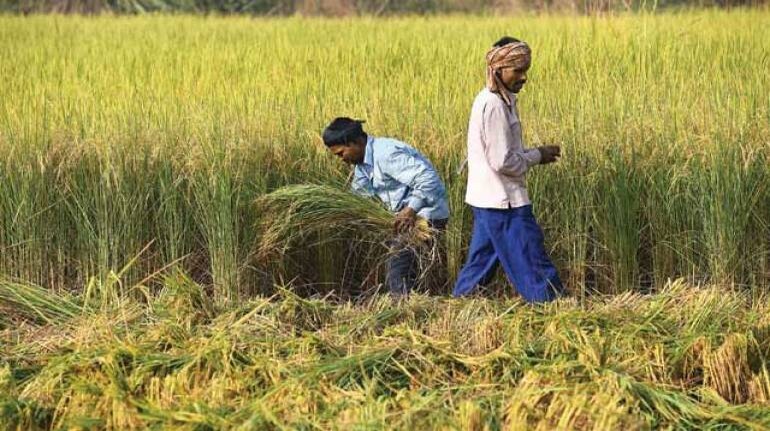 The much anticipated approval for an increase in minimum support price (MSP) for kharif crops as publicised by the central government in the FY18-19 budget has now been approved. Though it is being seen as a huge step towards settling the farmer distress, a lot is dependent on ground implementation of MSP, an issue which has been of concern in past years. While MSP hike might address the vote bank ahead of elections, it will not achieve much in addressing issues of agricultural productivity and realising government's dream of doubling farm income by 2022.
On the face of it, the new MSP appears as a move towards more balanced crop prices with significant hike allocated for coarse grains and oilseeds than paddy and cotton. However, many argue the same comes amid the political backdrop of upcoming elections in Rajasthan, Madhya Pradesh and Chhattisgarh, the major coarse grain producing states.
What all crops are covered?

A total of 26 crops are covered under MSP (fair remunerative price in the case of sugarcane). This includes: 7 cereals (paddy, wheat, barley, jowar, bajra, maize and ragi), 5 pulses (gram, arhar/tur, moong, urad and lentil), 8 oilseeds (groundnut, rapeseed/mustard, toria, soyabean, sunflower seed, sesamum, safflower seed and niger seed), copra, de-husked coconut, raw cotton, raw jute, sugarcane and Virginia flue cured tobacco.
The current approval

In Budget FY18-19, the Centre announced a hike in MSP rates to 1.5 times of the input costs. To define input cost, the standard A2+FL was considered, which means actual cost plus imputed value of family labour in the production of a crop. The government on Wednesday announced the revised MSPs for 14 kharif crops with a price hike ranging from 4 to 53 percent.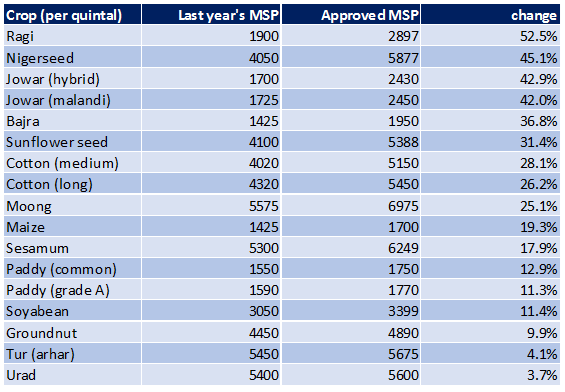 Challenges galore!
Skewed procurement: A major portion of the government's procurement is skewed towards wheat and rice. Implementation of MSP for other crops has not been a success in past years. Though it is debatable that the government cannot purchase the entire produce of a nation, it cannot stop at just announcing the MSP for political mileage.
Ineffective implementation: The actual on ground implementation has been a concern in past years and market prices have not followed MSP slabs. Many crops across states have been selling substantially below the MSP rate. Some sort of legal framework is required on the ground to ensure that MSP is converted into market prices and the actual benefit reaches the farmer.
Anomalies in input cost calculation: The current MSP is decided based on input costs in the previous year and ignores the increase in cost owing to higher taxes and rise in prices of inputs, due to which the actual benefit to the farmer gets limited.
Skewed acreages: Higher MSP in certain crops year-after-year leads to a skewed acreage and excess production for some crops and prolonged scarcity of others. This in turn brings in price instability, added storage and procurement cost along with import cost burden for the government for crops that are in short supply.
Untimed landing of imports: Another cause for weak domestic prices of certain crops has been untimed landing of imports in India, which has been coinciding with domestic harvest season and resulted in a steep decline in domestic prices in past years. This is one of the reason why the prices of certain crops fluctuated drastically between seasons.
Theoretically, however, MSP hike can have a near term impact.
Relief for farmers: If implemented successfully, the move stands to bring in much awaited relief for farmers and would help cushion incomes. But whether it increases farm productivity and addresses structural issues in agriculture remains to be seen.
Impact on the government's fiscal budget: According to the Cabinet note, the additional cost of the approved MSP rates would be 0.2 percent of GDP and the additional bill is likely to be around Rs 33,500 crore. Of this, almost Rs 12,300 crore is the expected outgo for paddy.
Inflationary impact: Strict implementation of MSP would lead to increase in the market price of produce and could potentially lead to some inflationary impact. Foodgrains, pulses and oilseeds have around 39 percent weightage in the Consumer Price Index (CPI) basket and an uptick in prices could impact consumer inflation by around 50 basis points. This will have a bearing on the Monetary Policy Committee's interest rate decision.
Impact on exports: An increase in crop prices has the potential to make domestic prices uncompetitive in international markets, which could impact exporters especially in the case of for cereals and cotton.
Outlook

Strict implementation of MSP would potentially increase farm incomes which would lead to improved rural incomes and spending in the short term. This augurs well for agrochemical, agri-input providers (equipment manufacturers, automobile companies, food processing and cold storages), logistic companies and construction sector. Companies like textiles, oil producers, farm feed producers, and others, which use farm produce as a raw material, would see higher input costs that could impact their operating margins.
Though MSP and its implementation address one problem of unjustified selling prices, there are many other issues which lead to compressed margins for farmers. The government's inability to provide adequate storage infrastructure, unequal allocation of water resources between crops, unmanaged imports, weak incentives for allied farm activities, low concentration of high value crops, skewed crop acreages and unjustified margins by middlemen and traders would be a few to name.
To move substantially towards the target of doubling farm incomes and expanding margins, the current MSP hike is not a solution as it will distort resource allocation further. The government needs to make agriculture productive and kick-start industrialisation in this country to reduce the number of people who depend on agriculture or the agrarian economy. MSP is a short term eye wash which can be called a myopic solution to the agrarian distress.
For more research articles, visit our Moneycontrol Research page
First Published on Jul 5, 2018 04:10 pm