He also added that opinion polls are not quite as inaccurate as conventional wisdom believes them to be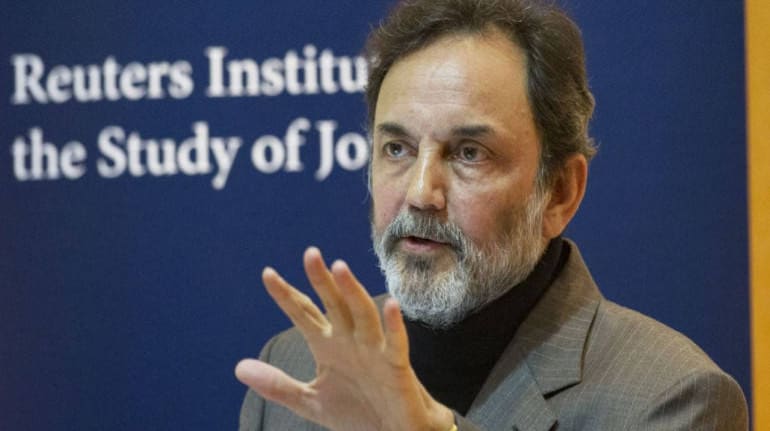 In an exclusive interview with Moneycontrol, renowned journalist Prannoy Roy talks about his bestselling book, The Verdict: Decoding India's Elections, his experience of covering elections over three decades and his take on the ongoing Lok Sabha elections.
Q: The Verdict: Decoding India's Elections is a treasure trove of knowledge. What inspired/prompted this book?
A: Tough question.  I guess the primary reason is that we have been studying elections for over 30 years — using and relying on the wonderful data base that the Election Commission has made freely available to everyone – and we felt that since this is a fascinating election, we should share all our experience with everyone.
The aim is also to foster a wider interest in analysing India's democracy and hopefully generate several PhDs on this — the most wonderful aspect of our nation.
Q: What makes the 2019 Lok Sabha election different to all the general elections you have covered in the past?
A: Based on our travels around the villages and small towns of the country, the factor that stands out the most is the level of polarization among Hindu voters that we have rarely seen before.   Voters either love and admire Modi – or dislike Modi intensely.  Virtually, no voter is indifferent.
Q: You have written about India as a "maturing democracy" and how we have moved from a 'pro-incumbency era' to a 'fifty-fifty phase'. What has been the single biggest change that you have witnessed among voters in all these years?
A: The single biggest change is that our voters are much more discerning and smarter than even a couple of decades ago.  No longer can our politician fool our voters easily – they have to work hard at it!  Our voters are no longer taken in by flamboyance and oratory – they demand real development and results on the ground, in their village or locality.
Another big change is that unlike the national media, voters rate panchayat and state assembly elections higher than they rate Lok Sabha elections. The number of voters that turn out for Lok Sabha elections is much lower than for other elections.  This was not the case even a couple of decades ago.
Q: You have also spoken about how millions of women in India remain absent from electoral rolls. What is the scale of impact this has on an election result? What, according to you, has stopped the Election Commission from fixing this problem?
A: It is indeed very disappointing that we, as a nation, have not done enough to ensure that these millions of women, who are 18 years and above and entitled to vote, are not denied this democratic right merely because their names are not on the electoral rolls.
While the EC has made substantial efforts to ensure our electoral rolls are accurate – the bottom line is that it has failed miserably.  Though it is perhaps wrong to blame the EC.  Our male dominated administration – especially in the northern Hindi belt – is perhaps the primary culprit in effectively disenfranchising millions of our women.
Also, in some parts of the country, there is resistance to getting women photographed and their ages revealed. What is most worrying though is that among the 21 million women that are denied the right to vote, a high proportion may be from the poorest sections – SCs and STs – as well as Muslim women.
Q: Even after writing this exhaustive book, are there questions that remain unanswered for you?
A: Many, many questions remain unanswered. Moreover, while we have raised issues and focused on problem areas – as Yogendra Yadav says – at least seven PhD these should emerge from this book.  We hope the book stimulates more research on our electoral system and our democracy.
Q: Opinion polls are often criticized for not being on point. What, according to you, is the reason opinion surveys and exit polls have been going wrong in recent years?
A: One of the findings of book is that opinion polls are not quite as inaccurate as conventional wisdom believes them to be – because for the first time, we have collated data from hundreds of polls and checked each poll's forecast against the actual result.
The result of this exercise shows that polls in India have a fairly high rate of accuracy in forecasting the party that will be the winner in Lok Sabha elections but tend to underestimate the number of seats that the winner gets.  The record of opinion polls for state assembly elections is not as good as for Lok Sabha elections.
Q: What, according to you, has led to a trust deficit in the media and how do we make amends?
A: The media itself has to accept much of the blame for the widening trust deficit with our voters.  All across the country, people tell us that over the last few years, the media overly sensationalizes news and, in the process, has lost the core value of balanced and objective news.
Advertising needs to accept some of the blame too.  All across the developed world, advertisers pay a much lower rate for advertisements on tabloid news than on serious news channels and newspapers.  For example, in England, the advertising rate for a serious newspaper like The Times is 7 or 8 times higher than the advertising rate on The Mirror.
This distinction has not arrived in India yet as advertisers here focus only on eyeballs – as a result, tabloidisation is virtually being encouraged in India.
First Published on May 13, 2019 02:54 pm