With "election" the buzzword for 2018, discretionary consumption will be in focus. In this context, a core consumption play like Hawkins Cooker (CMP: Rs 3169, M Cap: Rs 1676 crore) merits attention.
Hawkins Cooker
may not exactly be your unheard of multibagger stock waiting for its turn under the sun. But, favourable macro tailwinds for the sector make this well-run "slow and steady" player a good bet for the risk-averse investor.
With "election" the buzzword for 2018, discretionary consumption will be in focus. In this context, a core consumption play like Hawkins Cooker (CMP: Rs 3169, M Cap: Rs 1676 crore) merits attention.
Hawkins, a well-known household name in India makes and markets pressure cookers (84 percent of its revenue) and other cookware.  A strong brand equity, good track record of promoters and management, and healthy financial profile to a large extents offsets the slow growth and conservative approach of the promoters. The valuation at 28 times FY19 estimated earnings looks reasonable, in the context of  favourable macro trends supporting consumption, superior return ratios and a generous dividend policy.
Background
Hawkins was incorporated in 1959 by Mr. HD Vasudeva. Currently, the domestic market contributes around 94 percent of the overall sales and rest comes from overseas markets. The pressure cookers are marketed under the flagship brand Hawkins and also under Futura and Miss Mary; cookware is sold under the Futura brand name. The company has approximately 75 models of pressure cookers in eleven different varieties. While pressure cookers are manufactured at the company's plants, cookware sales are traded in nature.
Why Hawkins?
Unlike other consumption items, pressure cooker is a much slower growth category. An average household buys one pressure cooker probably once every 4-5 years. Cookware purchase are probably little more frequent. However, few have been able to create a brand like Hawkins, courtesy its constant innovation, improvement in design of existing products, relentless pursuit of quality, and advertising and distribution. We see tailwinds emerging from:
Favourable macro prospects:  Growth prospects of the pressure cooker and cookware segments is good on account of favourable demographics, increasing urbanisation, rising number of nuclear families, rising rural incomes and a shift to branded products.
Government push: In the long-term, the government's drive to provide Liquefied Petroleum Gas (LPG) connections to rural households and electrification of rural areas is expected to boost penetration of pressure cookers and cookware in the rural areas. A 'rural friendly' budget that returns more cash in the hands of the rural population will also boost demand in the medium term.
The shift to organised post GST: The market for pressure cookers is shared amongst organized national branded players, regional players and unorganized players. Over the years, the share of the unorganized players has been gradually reducing. Still, the market for unorganized brands is estimated at about 40 percent of the total market thereby leaving room for market share gains by the organised players.
Distribution footprint: Hawkins has a strong pan India distribution network supported by over 700 authorised service centres which has ensured a wide reach and has helped it build a strong brand franchise.
Healthy financial track record: The company's last ten-year track record shows a healthy CAGR (compounded annual growth) of 12 percent in revenue, 15 percent in operating profit and 17 percent in after-tax-profit. The company also boasts of industry leading return ratios and has robust cash generation from operations resulting in net debt free status.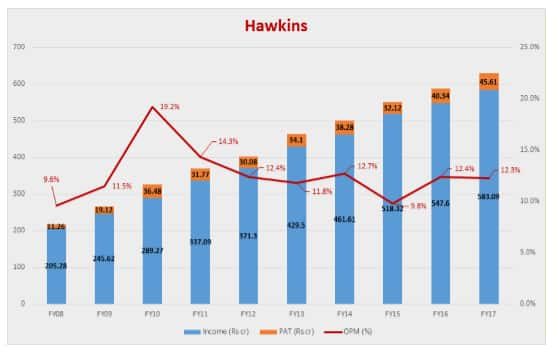 Returning cash to shareholders:  The management of Hawkins has demonstrated extreme discipline in capital allocation. They have refused to diversify beyond cookware so far thereby compromising on growth. For example, its competitor, TTK Prestige has grown at a faster pace than Hawkins by launching products in categories adjacent to cookware. Instead, the management of Hawkins have followed a liberal dividend policy to reward its shareholders.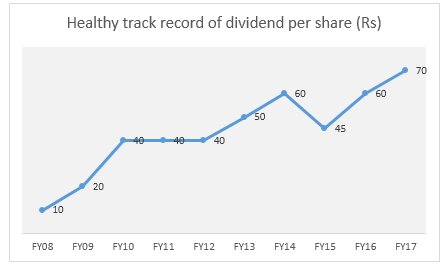 Despite this, the company's liquidity position is expected to remain adequate owing to comfortable operating profitability, minimal increase in net working capital requirements and low capital expenditure requirements.
Focusing on strength: Hawkins has been content with slower growth by focusing only within their circle of competence. Since inception, they have diversified only into cookware which is an area where the technology and distribution channels are closely allied to the original business of pressure cookers. Finally, the product of the company are unlikely to get disrupted by the advent of technology in the near future.
GST challenges largely behind:  While impact of Goods & Services Tax (GST) and softening in Canteen Stores Department (CSD) revenues impacted performance in the first quarter of FY18, the company appears to be coming back on track going by the earnings report for the second quarter.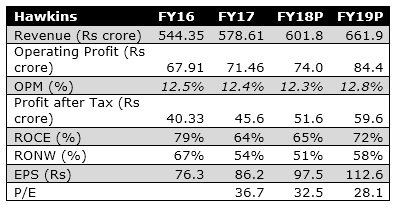 Hawkins over the years has demonstrated its competitive advantage in terms of its superior return on capital. The moat results from a number of things including the quality of their products both in terms of design and effectiveness, the Hawkins brand, the strength of their distribution, not to forget the disciplined management. While the growth outlook is moderate, the stock nevertheless deserves a place in a low risk portfolio.
First Published on Dec 29, 2017 01:04 pm