Illiquid projects, a slump in the real estate market and poor due-diligence have all contributed to the poor returns of these funds

The brochures are designed to make you reach for the cheque-book. Glossy images of high-rises, super-luxury properties that rise like a phoenix from the ashes; they could be all yours if you bought that one instrument. Real-estate has always been a preferred investment avenue for most Indians. And buying an independent house sounds that much more wonderful. Buying several of them, of course, through an instrument called a real estate fund was a supposedly great decision. The upside? A 15-20 per cent return over three to five years. Real estate funds have long held a fancy for many high-networth individuals (HNIs), especially after property prices soared between 2003 and 2009. They were adequately ring-fenced too. In other words, the underlying securities that most of these funds intended to invest in, were secured. More of that later. In the meanwhile, things have gone horribly wrong in the real-estate segment over the past several years. Forget returns, investors in many real estate funds in India have struggled to get back even their principal amount. This is the sad reality of real estate funds in India.
A real estate fund collects money from several investors and invests in real estate projects. The investments are made either as equity or debt instruments. Most of these investments are aimed at generating a return (internal rate of return; since money is given – and projects are exited – over a period of time) of 15-25 per cent. In reality though, most of these investments turned sour for a variety of reasons over the past few years because several real estate projects across the country could not be completed on time.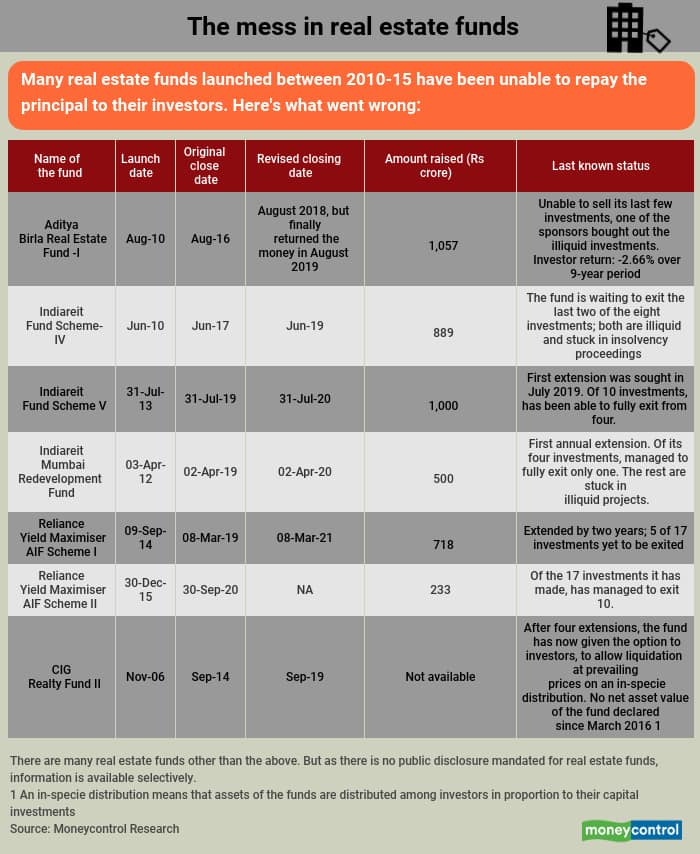 The story so far
Launched in August 2010, Aditya Birla Real Estate Fund (ABREF), a six-year closed-end fund was due to mature in August 2016. It finally wound up last month, after extending its tenure by three years. In a communication to investors on August 31, 2019, the fund house stated that one of its shareholders (we presume that it's Sun Life Financial Inc. of Canada) bought its troubled assets that the scheme wasn't able to sell towards the end of its tenure. Of Rs 1,057 crore that the fund had collected at its launch, it returned only Rs 969 crore to investors. But as the scheme collected funds over five instalments and had been returning money over the years—as and when it managed to sell much of its real estate assets—its return was -2.66 per cent, over nearly nine years.
Things aren't much better with many of the other funds in the category either. Three of the five real estate funds launched by Piramal Fund Management appear to be in a mess. Indiareit Scheme-IV has already extended its tenure by two years after its original closing date of  June 1, 2017. Two of its investments (35 per cent of its overall initial investment) are stuck, it said in a communication sent to investors in May 2019.
Another of Piramal's scheme, Indiareit V, which was launched in 2013, was to be redeemed on  July 31, 2019. The fund has now sought the first of its two extensions, as per a communication it sent to its investors in July 2019. The scheme will now aim to close on  July 31, 2020, although it is allowed to get extend the period by yet another year, according to the fund's features. Of the 10 investments it had made, it has been able to fully exit four and partially get out of one. Its funds are stuck in the remaining five investments, including in the project of a Pune-based real estate developer, Darode Jog Developers, against which Piramal had initiated bankruptcy proceedings earlier, but is now looking for an out-of-court settlement.
The worst of the lot appears to be Piramal Fund Management's other scheme called Indiareit Mumbai Redevelopment Fund (IMRF). Launched in April 2012, the fund aimed to capitalise on projects that were into slum rehabilitation in Mumbai. The fund's original tenure was to have come to an end on April 2, 2019, but it sought its first of the two allowable extensions in a communication sent to investors on  March 19, 2019.
That makes the fund house's third scheme this year for which it sought an extension. IMRF had invested in just four projects, of which three are now stuck. Three of its four projects were executed by the same builder – Omkar Realty & Developers. One of these projects is at the National Company Law Tribunal battling insolvency proceedings (the same investment also figures in Indiareit – IV). In another one, Shapoorji Pallonji, a well-known Mumbai-based realty developer, quit the project mid-way on account of regulatory delays the project had suffered from.
Reliance Yield Maximiser AIF Scheme I, launched in September 2014 and due for maturity on March 8, 2019, has also witnessed its redemption date being extended by two years (most real estate funds typically get extended by a year in troubled times) and now aims to wind up in March 2021. Of the Rs 717.8 crore the fund had received from investors, it has so far managed to return just Rs 632 crore. Of the 17 investments, it has completely sold 12 and is in the process of exiting the remaining ones.
Reliance Yield Maximiser AIF Scheme II was launched in December 2015 and is due to close on September 30, 2020. Of the 17 investments it had made over time, it has managed to exit 10 investments.
Moneycontrol has a copy of the documents of the above funds. These give the details that we have shared with you in this story.
CIG Realty Fund, run by Unitech Advisors (India), was due to mature on  September 28, 2019. After a number of extensions, it, too, sent a letter to its investors a few months back, giving them two options due to its inability to exit projects at a fair price. Investors either give the consent to the fund house to sell its investments at whatever price (even a loss) it could exit at or allow it for an in-specie distribution of assets. An in-specie distribution of assets means that the underlying assets of the fund would be passed on to investors proportionate to the money they had invested. In this case, the investors would then need to find buyers for those assets and recover their money.
The fund house does not even have a website; Moneycontrol did not get a copy of its portfolio as it did with the other real estate funds mentioned in the story. Industry officials say in private that most of its investments were made in housing projects launched by its own sponsor company, Unitech, the real estate developer. Moneycontrol could not independently verify this claim. Its managing director, Sanjay Chandra and his brother Ajay Chandra are lodged in prison at the moment for allegedly cheating home buyers. According to company filings, both the brothers are directors of Unitech Advisors (India); the fund managers of CIG Realty Fund.
There are several such real estate funds that are stuck with projects from which they are waiting to exit and paying off their investors. Many of these funds have barely returned the principal back, much less made any gains. Although the real estate funds space has many schemes, these are the only schemes that Moneycontrol could get details about; there is little to no information in the public domain.
Is it the economy?
Real estate funds sought to indicate that economic and policy events are to be blamed.
While the note ban of 2016 almost abolished cash transactions that were inherent to the real estate sector, the introduction of the Real Estate (Regulation and Development) Act, 2016 sought to regulate the sector stringently. Both events, though, slowed the sector down as they imposed structural changes. The Goods and Services tax (GST) that came into effect in July 2017 also dealt a blow. Further, Budget 2017 limited the loss that tax payers could claim as a set-off against income, to Rs 2 lakh. Earlier, there was no such limit.
As a result, it became unattractive for consumers to buy homes on loans, as a means to save tax. "The confluence of these events in quick succession have led to deterioration of the real estate market and the operating environment particularly for developers has become extremely challenging with the tepid sales velocity of residential units and the funding crunch faced by the sector. The tightened liquidity has also resulted in shrinkage of borrowing options for the developers, leading to very low availability of refinance," said the AIF spokesperson from Reliance Nippon Life Asset Management, over email.
Real estate developers need consistent cashflows to fund their projects, which anyway have a long gestation period. As state-owned banks went through intense scrutiny on the back of rising non-performing assets in recent years, they drastically reduced their lending to the real-estate sector. Non-banking finance companies (NBFC) filled the gap. But then, the NBFC crisis broke out last year and even they reduced lending to the real estate sector. After the Infrastructure Leasing & Financial Services (IL&FS) default in September 2018, the net disbursals of NBFCs and housing finance companies to real estate developers declined by around 48 percent—from Rs 52,000 crore in FY 2017-18 to on estimated Rs 27,000 crore in FY 2018-19, according to JLL. The funds crunch led to further project delays for builders.
According to data from JLL India, nearly 2.2 lakh residential units across India, are delayed. Out of these, about 30,000 units are confirmed to be scrapped. The National Capital Region (NCR; Delhi, Gurugram, Noida and surrounding areas) contributed to more than 90 per cent of the total scrapped units. NCR and Mumbai together contributed to 91 per cent of the troubled units. The value of the delayed units is roughly Rs 1.56 trillion. Of this, 36 per cent is the value of units stuck in Mumbai, whereas 56 per cent is caught in NCR—two of the biggest regions that many real estate funds have invested in.
"The commercial real estate sector has been doing well due to limited supply and reasonably good demand. Affordable and mid income housing which provides value for money has been selling well. The problem is in premium housing, where a lot of developers are in trouble. Premium housing previously had investors as a class apart from end-users. The investor class has vanished and in fact they are also are part of supply apart from the developers. Inventories in this segment are at the highest numbers in many regions and markets. This is where most of the real estate funds also invested. And that's why they also seem to be in trouble. It seems no one paid attention to the fact that real estate is also cyclical. The upcycle of 2002-2013 had to give way to a down cycle, especially after the massive price rises in this period," says Jiten Parmar, co-founder of Aurum Capital, a registered investment advisory firm.
But that's only a part of the story.
Or is it bad fund management?
 A deep dive into the portfolios of some of the real estate funds gives away the other side.
There were frequent fund manager changes at ABREF. Three portfolio managers came and left the fund house in its eight-year history; the last one is said to have quit after spending just about a year. "In a real estate fund, it's very important for fund managers to stay on throughout the scheme's tenure because the money that gets lent to the real estate developers needs to be monitored continuously. Money also needs to be recovered on time, and the fund manager plays a crucial role," says a mutual fund manager who did not wish to be quoted.
Typically, change of fund managers in a mutual fund is normal, but in a real estate fund – a closed-end scheme – where big money gets deployed in illiquid assets that come with long gestation periods, fund manager continuity is important. Too many fund manager changes can impact the running of the scheme, how it is managed, its strategy and approach.
Industry officials say that one of the reasons behind frequent changes at Aditya Birla real estate funds was that the management did not launch any subsequent series of funds, as ABREF itself was heading into turbulent weather.
Among the investments that ABREF was stuck with, and still is, even though the sponsor has bought over the remaining troubled investments, is in the now-defunct Amrapali Group, a Noida-based real estate developer. Last month, the Supreme Court cancelled the registration of Amrapali Group of companies under the RERA and appointed NBCC (India), formerly known as National Buildings Construction Corp, a government of India Navratna enterprise, to complete the various under-construction projects.
The fund house did not respond to our queries.
The other problem with real estate funds was the valuation of its portfolios. The communication that Aditya Birla sent to its investors indicates that the fund was valued at 1.32 times the original corpus as late as on March 31, 2017. Then, it was valued at 1.23 times as on September 30, 2017 and 1.17 times as on March 31, 2018. Finally, it was valued at 0.89 times as on June 27, 2019, according to communications made to investors that Moneycontrol reviewed.
The way many underlying projects in some of these real estate funds have come stuck, also points to a possibility of lack of adequate due diligence done by the fund managers. Take the case of Indiareit Mumbai Redevelopment Fund (IMRF). It had invested in an Omkar Realtors & Developers' slum re-development scheme at Ghatkopar, a Mumbai suburb. In an October 2015 communication (a copy of which is with Moneycontrol), the fund had targeted a return of 21 per cent from this project and was looking forward to a successful exit. But its March 2019 update painted a depressing future. The fund had recovered only a part of its investment, but the update talked about an "inordinate delay in slum clearance" as well delays in getting height approval due to the project's proximity to Mumbai airport and finally the exit of Shapoorji Pallonji, one of the original joint venture partners for the project. The scheme's funds are still stuck in this project.
There's more. All the three troubled Piramal funds mentioned above have invested in the Mumbai projects of Ariisto Group. As per its various investor communications it sent to investors over the years, IMRF invested around Rs 125 crore, Indiareit IV had invested around Rs 75 crore (here, it got back Rs 91.6 crore as partial exit) and Indiareit V had invested roughly Rs 200 crore in it too. The group is now facing court proceedings under the Insolvency & Bankruptcy Code on of these projects. The fund house's July 2019 investor communication says that it, too, has joined these proceedings to try and recover as much as it can.
The AIF spokesperson from Reliance Nippon Life Asset Management also told Moneycontrol that the fund is seeking legal remedies to recover its money from some of its real estate investments.
"The fact that many of these projects are so badly stuck that funds have to seek such legal remedies shows the rot that lies in the real estate sector. Besides, slum rehabilitation projects take a long time and various clearances are needed. To give so much money to such projects makes me believe that perhaps real estate fund managers ought to have done more due diligence", says a distributor of financial products based in Mumbai.
Most of the real estate funds' brochures wax eloquent about the securities and guarantees (personal guarantees of real estate developers also in many cases) that these funds have got, if the projects aren't delivered on time. "The extension of fund life is typically meant for liquidating one or two tail positions in order to optimise or maximise the IRR (returns). When you have a non-performing structured loan, you either exercise the collateral immediately, or sell down the loan to another financier instead of allowing the matter to drag and impact the fund's IRR," says an aggrieved investor in one of these funds who did not wish to be named.
Amidst piling loses, did funds violate rules?
Most real estate funds launched before 2012 were governed by SEBI's Venture Capital Fund Regulations, 1996. But in 2012, SEBI repealed the VCF guidelines and introduced more comprehensive Alternative Investment Funds Regulations. Real estate funds got classified as Category – II of alternative investment funds. Schemes launched under VCF guidelines, such as ABREF, continued to be governed by the erstwhile VCF guidelines but these fund houses could not launch any new funds – not even under the new AIF guidelines – or raise more money than what they had originally called for. The minimum investment for AIFs became Rs one crore and no single AIF scheme can have more than a thousand investors.
Other than these, SEBI rules don't really dictate how AIFs should invest, except maintain basic hygiene factors such as how they value its underlying assets and disclosures made to investors. AIFs cannot hold more than 25 per cent of their corpus in a single company. Industry experts say that some real estate funds do not invest more than a certain percentage of their corpuses in a single group. This, said one real estate fund manager on condition of anonymity said, is more stringent than SEBI's 25 per cent cap for a single-company investment. "A single developer can have multiple companies," he adds. SEBI also doesn't impose city limits on projects in which real estate funds can invest in, a condition that industry experts believe should be there, to ensure diversification.
ABREF's investor, who was quoted above, told Moneycontrol that he complained to the SEBI on multiple occasions for the losses he incurred on his investment. This investor had been simultaneously communicating with the fund house as ABREF had sought repeated extensions, all the while telling its investors that it attempts to resolve the matter at the soonest. On August 8, SEBI finally emailed the investor and alluded to these communications that Aditya Birla had been sending him and closed the matter. "..In case the matter is not resolved, you may lodge afresh. Therefore, the compliant is considered as suitably addressed and hence closed," SEBI's closure letter to the investor said. Moneycontrol has a copy of this letter.
"SEBI has been shockingly lenient with several fund sponsors, presumably because investors are deep-pocketed and therefore require no protection. This is a flawed assumption and severely hurts investor confidence in close-ended products. While the external environment did take a turn for the worse, the sponsors are equally to blame for mis-selling these products and thereafter managing funds in an opaque manner without proper governance or transparent, credible disclosures", says this investor.
Most of these funds extended secured debt, which in theory was adequately collateralised, even in a downside scenario. However, they failed to envisage the downside. The security didn't quite come to help in their hour of need.
Substantial management fees
Typically, real estate funds charge around two per cent fees ever year. While many of these funds are stuck or, like in the case of ABREF, returned amounts less than the principal, they have earned management fees throughout, as per its annual reports. The minor consolation here is that some of these funds have waived the fees for their extended tenures. ABREF did not charge fees after the fund's full tenure (including the extension period of two years) expired on August 31, 2018.
Reliance AIF informed Moneycontrol that it has waived off fees for the extended tenures of its schemes.
Moneycontrol's take
The sordid saga of real estate funds is a wake-up call for many investors and holds an important lesson: if something looks too good to be true, then it probably is. Although all these funds are regulated by the SEBI (Alternate Investment Funds) Regulations, 2012, the nature of the investments is risky enough to scare most investors. Yet, fund houses continue to sell them. There is nothing wrong with this, per se, but only if funds are managed well enough. High networth investors continue to take exposure in them, in search for 'something new.'
Moneycontrol spoke to three investors for this story and all three of them had already taken steps to diversify sufficiently across equity and debt mutual funds. And then they chose real estate funds for the sake further diversification and extra returns. Of course, this doesn't absolve the fund houses of poor management and selling unrealisable dreams.
First Published on Sep 25, 2019 09:04 am