The company is focusing on bolstering its sales and distribution network in southern and eastern markets where the per capita consumption of liquor is relatively higher than other parts of India
Som Distilleries & Breweries reported a healthy performance in Q1 FY19. Topline growth was driven by volumes and the bottomline benefitted from expansion in operating margin. Its business prospects seem exciting at this juncture as SDBL has delivered strong operating performance over the past few quarters and the management is aggressively targeting market expansion in a growing liquor market.
Result snapshot

Revenue in Q1 FY19 grew 10 percent year-on-year (YoY) to Rs 125 crore. This was led by a robust 9.5 percent volume growth in the beer segment, but the same was offset by a volume contraction in the Indian-made foreign liquor (IMFL) segment. Both gross and operating margin expanded YoY due to softer raw material prices and operating leverage. Earnings before interest, tax, depreciation and amortization (EBITDA) for the quarter came in 23 percent higher at Rs 22 crore. However, profit after tax grew only 11 percent on account of higher depreciation and interest expenses.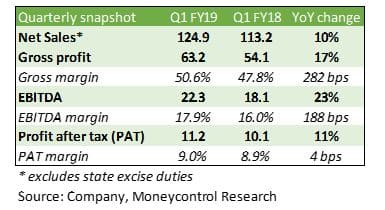 Strong presence in the central region

SDBL has a diversified product portfolio consisting of beer, rum, brandy, vodka and whisky. Beer is the flagship product of the group and its Hunter, Black Forest and Black Fort beer have gained significant popularity in a short span of time. Overall, it has 2 percent market share in the beer segment on a pan India basis. Madhya Pradesh is the company's core market. It has a 38 percent share in the beer segment and 15 percent share in the IMFL segment within the state.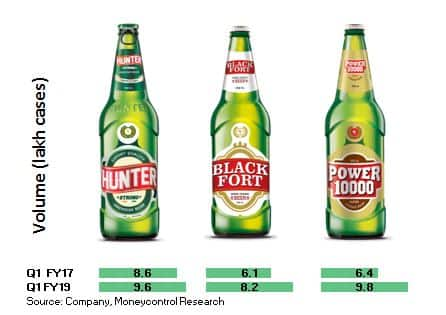 The company derives majority of its revenue from the beer segment. Presence of IMFL brands compliments beer brands and reduces seasonality to a certain extent. While beer volumes jumped during summer months (April, May and June), IMFL sales increases around winter (mainly December and January).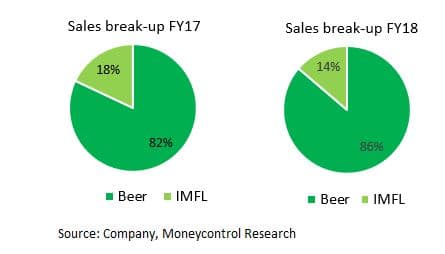 Volumes continue to be on an uptrend

During the quarter gone by, the company sold 27.6 lakh cases of beer along with 1.7 lakh cases of IMFL. This compares with 25.2 lakh cases of beer and 2 lakh cases of IMFL in Q1 FY18. The volume growth for the segment was a bit soft as the SDBL had recorded a very strong volume growth of 39 percent in the beer segment during last fiscal.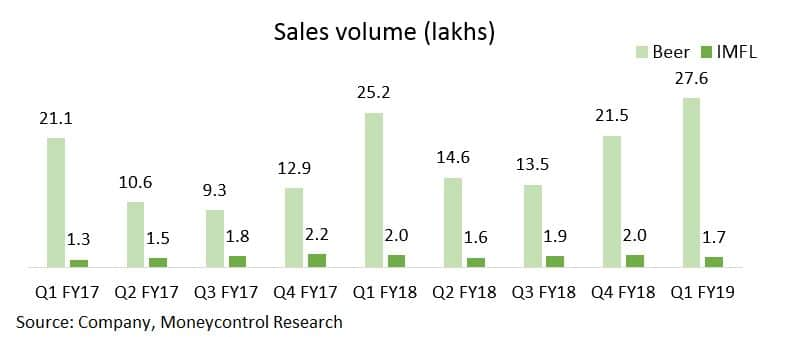 Realisations improved moderately

The company has benefitted from increase in realisations along with growth in volumes. While beer realisations have jumped on account of premiumisation as well as price hikes, IMFL realisations have remained largely stable over the past 12 months. The management has undertaken a price hike of 5 percent in beer in recent months, which should aid in realisation and profit growth in coming quarters.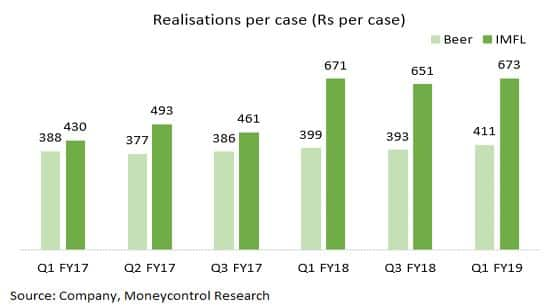 Competition has intensified in recent years

In FY18, SDBL outperformed its larger peers (
Radico Khaitan
and
United Spirits
) in terms of volume growth. The numbers are strictly not comparable as both Radico and United Spirits have an IMFL-focused portfolio in which SDBL has a very small presence.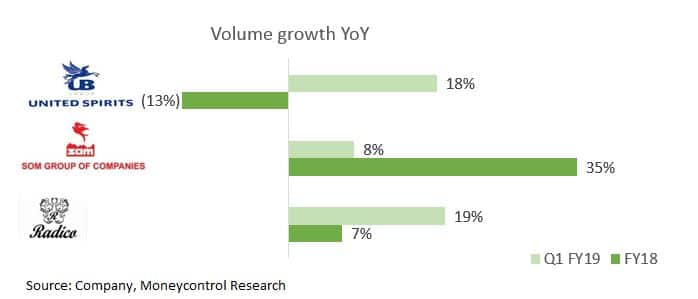 Competition in the beer space has intensified in recent years with entry of Bira 91: Indian craft beer. Bira 91 has been on an aggressive expansion spree since its launch in 2015. It plans to further expand its production and geographic footprint after its latest fund raising of $50 million (Rs 350 crore). This along with the growing popularity of microbreweries (in metros like Bengaluru) needs to be monitored closely as it poses a near term threat to SDBL.
New facilities to aid market penetration

The company has recently commenced commercial production at its subsidiary Woodpecker Distilleries & Breweries located in Hassan, Karnataka. This plant has a manufacturing capacity of 34 lakh cases of beer and 27 lakh cases of IMFL. The management has ramped up beer unit capacity utilisation to 40 percent within 3 months of commencement of production. The IMFL unit has also commenced production from August and should aid bottomline and topline growth from Q3 onwards. Going forward, the company plans to tap Karnataka, Kerala and Pondicherry markets from this facility and aims to achieve full capacity utilisation for this plant by FY19-end.
In July, SDBL has acquired a brewery in Odisha for Rs 46 crore with a capacity 42 lakh cases. The company plans to incur expenditure of around Rs 25-30 crore on upgradation of this manufacturing unit. The acquisition is aimed at strengthening its presence in eastern markets. The transaction has been funded through a preferential allotment of Rs 100 crore.
Besides expanding its presence in the domestic market, SDBL is also planning an entry into the US market this year. The initial trial run of its products in 4 states has been completed. Going forward, the management plans to be present in around 40 states in the US by FY19-end.
Outlook and recommendation
Liquor consumption presents an attractive opportunity as India has a large young population and remains an underpenetrated market in the alcoholic beverage segment. Our positive outlook on the sector is based on the fact that per capita consumption of liquor is India is far lower compared to Western countries and provides huge growth opportunities.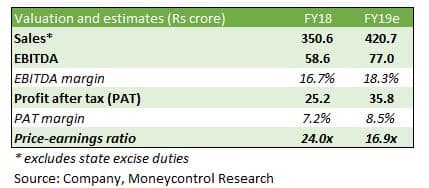 The management is focusing on bolstering its sales and distribution network in southern and eastern markets, where per capita consumption of liquor is relatively higher than other parts of India. Growth momentum seen in FY18 by liquor companies will continue ahead as we are nearing state elections in Madhya Pradesh, which is SDBL's core operating market. We therefore advise long term investors to accumulate the stock on dips as the business remains well positioned to capitalise on market opportunities on account of high brand recall and an expanding distribution network.
For more research articles, visit our Moneycontrol Research page
First Published on Sep 24, 2018 02:26 pm