Stock prices or indices tend to remain in a trend/ general direction until something causes that direction to change.

Shabbir Kayyumi
Narnolia Financial Advisors
Understanding the trend is the most important aspect for a trader to make money in financial markets. While using tools of technical analysis like patterns and statistical indicators a prior knowledge of the basic trend of the market is vital to improve odds of success in trading.
The general definition of the term – a trend is really nothing more than the general direction in which a stock or indices are headed over time. Stock prices or indices tend to remain in a trend/ general direction until something causes that direction to change.
Types of Trend
Trends can be classified into three major types:
1) Uptrend
2) Downtrend
3) Sideways trend
While it's fairly easy to identify these trends based on historical data, the difficult part can be determining the trend in real-time.
Uptrend
Uptrend is classified as a series of higher highs and higher lows. It is also called as higher top and higher bottom formation. As mentioned in below diagram, point 3 is higher than point 1 which was a previous high, then point 5 is greater than point 3 which was a previous high this indicates continuous formation of higher high and higher low. Hence, we say that the stock is trading in uptrend.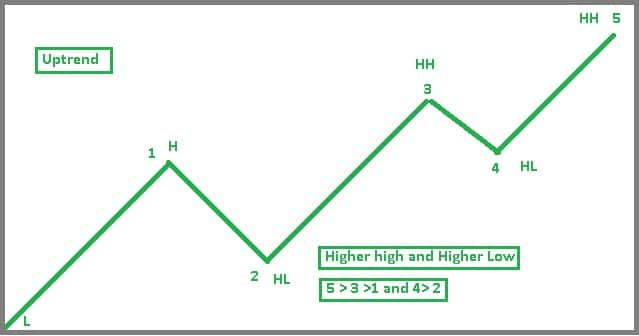 Figure 1: Uptrend formation Diagram
Higher highs indicate that the stock is making consecutive peaks than previous highs. Higher lows indicate that bottom is higher than the previous lows, this can be easily seen on charts.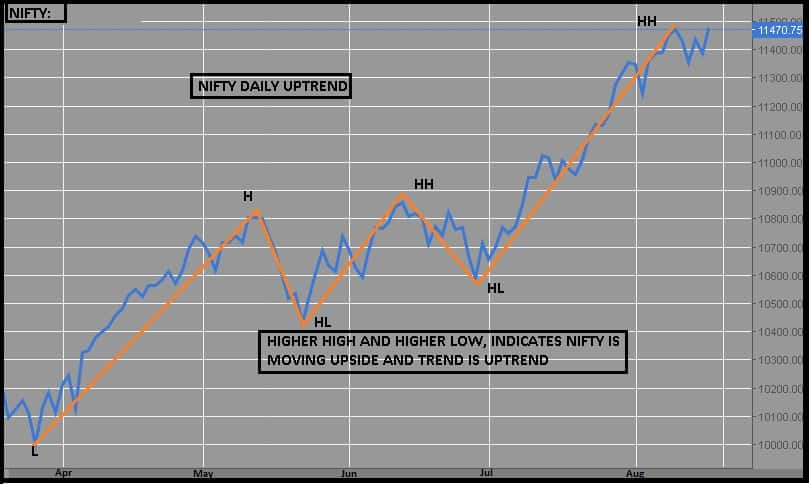 Figure 2: Nifty is trading in an Uptrend
As you can see from above chart, Nifty was in an uptrend from April to Aug, which is clearly visible marked with orange lines. Nifty formation is clearly talking that it is trading with higher high and higher low. When stock is in uptrend, it is advisable to trade with 'Buy on dip' strategy. The optimism is that the stock may rise further.
Downtrend
Downtrend is consists of lower lows and lower high. It is also called as a lower top and lower bottom formation in technical analysis.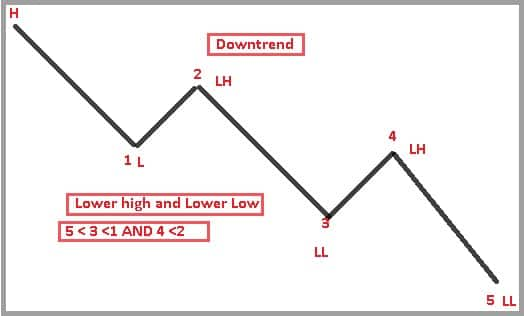 When the stock is making lower highs & lower lows, it is considered to be in trading in a downtrend. Lower highs mean that previous peak is higher than the current peak. Lower lows mean the current bottom is lower than the previous bottom which is shown in above diagram as point 3 is lower than point 1 and at the same time point 4 is less than point 2.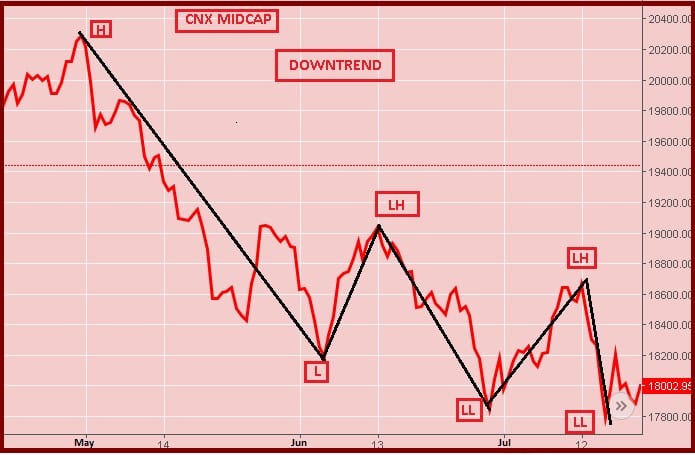 Figure 4: CNX MIDCAP Index is trading in a Downtrend
As you can see from above chart, CNX MIDCAP INDEX was in complete downtrend since May to Jul and it came down to 18000 levels from higher mark of 20200. This clearly indicates that it was in a downtrend for almost 4 months. When the stock is in downtrend, it is advisable to sell on bounces as there is pessimism that stock could fall further.
Sideways trend
When the stock trades in a range, it is called sideways trend. In this trend prices make higher top and lower bottom or lower top and higher bottom formations, where as it is very difficult for trader to trade in this trend. Generally accumulations and distributions happens in this range.

Figure 5: Sideways trend formation
Sideways trend occurs when the force of demand & supply are nearly equal. A sideways trend is also called 'horizontal trend' or 'consolidation'.
Figure 6: BANKNIFTY Index is trading in a tight range
As you can see from the above chart BANKNIFTY Index was in sideways trend and traded in a horizontal range of 26000 - 270000. However trading range bound movement is the most difficult task for a trader.
Trend & Timeframe
In addition to their direction, trends can be classified in terms of their time frame. Most traders consider trends short-term, intermediate-term and long-term. Long-term trends occur over a timeframe of longer than one year; intermediate-term trends occur over one to three months; and, short-term trends occur over less than one month.
It is highly probable that different trends can co-exist in different timeframe. Sometime for a stock price, long term trend could be up while its intermediate trend could be sideways and short term trend could be down. Any combinations of these are possible. Trend traders prefer to initiate trade only when the entire three trends are same.
Conclusion
Using trend analysis is a very important aspect of technical analysis, but keep in mind that it is only one of the many tools and techniques available.
It is important to identify and understand trends so that you can trade with rather than against them. Very important sayings in technical analysis is "the trend is your friend".
Look for buying opportunities when long term trend is up, and short selling when long term trend is downtrend.
Avoid trading or stay away in sideways trend, nevertheless experts can use both long and short trade in consolidation on the basis of short term trends.
First Published on Sep 2, 2018 10:17 am