Retail remains a promising industry in the Indian context, given the large consumer base throughout the country.
In what was supposed to be a weak quarter because of a high base last year, India's retail majors, surprisingly reported a good financial performance. Aditya Birla Fashion and Retail, Future Retail, Trent and V2 Retail are our top picks from this space.
Business overview

Barring Future Retail and Shoppers Stop (that have been involved in a slew of restructuring initiatives over the past year), sales traction was visible in all cases. Except for Aditya Birla Fashion & Retail and Shoppers Stop, margins remained flat.


The path ahead
Network
Retail majors have been expanding their store count to bolster sales, offset slowdowns in same-store sales growth and tapping new geographies. In some cases, the focus is on cluster-based expansion, wherein new outlets will be opened in proximity to the existing ones.
Online
Since a blend of online and offline retail is the need of the hour today, brick-and-mortar outlets are working on either developing their own omnichannel or tying up with marketplaces (ie. Amazon, Flipkart etc) to widen the customer base.
Product
The share of private label brands (owned brands) to total revenues of retailing companies is slated to increase in due course since they are margin-accretive vis-a-vis third-party brands. Since retailers deal in a wide range of products, adopting the right mix is equally crucial.
Overheads
To rationalise rent costs, retailers are increasingly focusing on small-sized stores, renegotiation of lease agreement clauses, closure of unprofitable outlets and reduction of gestation periods through faster operationalisation.
Channel mix
In the case of apparel retailers, a multi-channel sales strategy is essential. Product presence across multi-brand outlets, exclusive brand outlets, large format stores, franchise-run stores and e-commerce portals can be a key differentiator.
Marketing
In H2FY19, retail companies are likely to increase their promotional spends to capitalise on the upcoming wedding and festive season demand. However, it remains to be seen as to how these expenses normalise (as a percentage of sales) over a period of time without disrupting margins.
Outlook
Retail remains a promising industry in the Indian context, given the large consumer base throughout the country. Nonetheless, a few roadblocks that characterise the sector are worth taking note of.
These include extended end-of-season-sale periods, steep fixed overheads at regular intervals, unavailability of the requisite real estate, high competitive intensity and inefficiencies on the working capital front.
Which stocks should you choose?
More often than not, most retail stocks, prima facie, capture most of the company-specific moats and are unlikely to be available at reasonable valuations.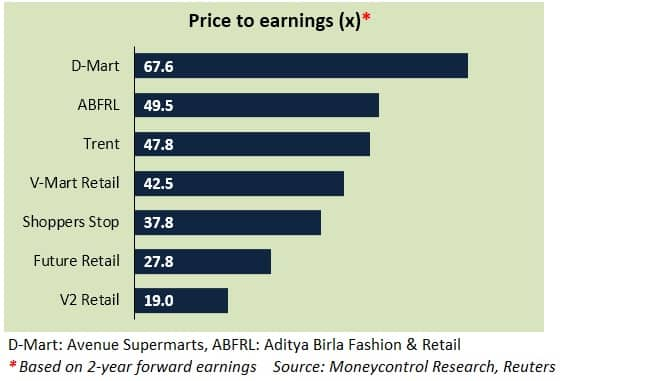 Aditya Birla Fashion & Retail's 'Madura' segment consists of a strong brand portfolio, whereas its 'Pantaloons' division is becoming operationally efficient and profitable too. A noticeable uptick in revenues from lifestyle brands, coupled with a consistent reduction of losses in the fast fashion category, can cause the stock to re-rate.
For D-Mart, supply chain efficiency, debt repayments and expansion of D-Mart Ready will be the factors to watch out for. The stock, despite its pricey valuations, should be able to withstand the ongoing market volatility. In our view, the upside is limited.
Future Retail is consolidating its strengths and has a wide network to capitalise on. Despite the stock's undemanding valuation, it may take a while before the slew of complex initiatives undertaken by Kishore Biyani reflect in the earnings. Therefore, it may be considered for the long haul.
Full debt repayment by FY19-end and a change in product mix (towards non-apparel products) should boost Shoppers Stop's margins. The stock's steep rally in the past one month leaves little room for re-rating in the near term. Buying on downsides is suggested.
Growth consistency in its apparel arm and gradual reduction of losses in the hypermarket division should boost Trent's operating leverage. The stock, despite being expensive, has been range-bound for quite some time. The time correction provides a good entry opportunity.
Aggressive store expansion in the smaller regions of India and a strong balance sheet make V2 Retail a stock worth considering. The stock trades at a discount to its peers and hasn't rallied too much from its 52-week low either.
Healthy fundamentals and a strong margin profile will work in favour of V-Mart.  The stock has been among the top performers in the sector in terms of price return. At current levels, we advise accumulation on dips.
For more research articles, visit our Moneycontrol Research page
Moneycontrol Ready Reckoner
Now that
payment deadlines have been relaxed
due to COVID-19, the Moneycontrol Ready Reckoner will help keep your date with insurance premiums, tax-saving investments and EMIs, among others.
First Published on Sep 18, 2018 06:09 pm