We see HDFC as one of the key beneficiaries of liquidity shift towards strong and top quality names and expect it to accelerate market share gain.
A strong loan book growth and stable spreads, key parameters for any lender, helped Housing Development Finance Corporation (HDFC) post a 25 percent net profit growth at Rs 2,467 crore in the quarter ended September 2018.
Despite its high base, HDFC is growing its mortgage book faster than the industry. On the margin front, spreads continue to remain in a narrow range of 2.2-2.35 percent irrespective of the interest rate cycle.
The correction in HDFC's stock price following liquidity concerns for HFCs presents a good opportunity to pick up the blue chip name at attractive valuation. HDFC's 9 percent equity stake in the beleaguered IL&FS could also have extended the stock fall. While the equity investment in IL&FS could be marked down, the impact of the same will be negligible as book value of investment stood at Rs 78 crore as at end March. It is worth noting that HDFC is a passive shareholder in IL&FS with no board representation. More importantly as indicated by the CEO earlier, HDFC did not subscribe to recent rights issue of IL&FS.
We remain positive on the growth prospects for HFCs but the current scenario of tight liquidity and rising rates calls for a selective approach. We see HDFC as one of the key beneficiaries of liquidity shift towards strong and top quality names and accelerate market share gain. Investors cannot ignore this financial powerhouse.
Robust loan growth despite large size
Total lending book of HDFC stood at Rs 379,091 crore as of September-end, up 17 percent year-on-year (YoY). Growth in the total loan book after adding back loans sold in preceding 12 months was 22 percent YoY. Individual loan book grew 18 percent YoY (25 percent after adding loans sold) and now constitutes 70 percent of the total book. Non–individual book increased 13 percent, aided by traction in lease rental discounting and construction finance.

The management is increasingly targeting the economically weaker section (EWS) and lower income group (LIG) segments in affordable housing. The latter constituted 37 percent of approvals (incremental sanctions) in volume terms and 18 percent in value terms during the first half of FY19. Average loan size for the EWS and LIG segments stood at Rs 10.1 lakh and Rs 17.6 lakh, respectively, much smaller when compared to the average loan size of Rs 27 lakh in the individual segment. Lower ticket sizes in affordable segment means growth will be volume driven and contingent on project launches.
HDFC stands to benefit from structural growth drivers in the sector (GDP growth, under penetration in the mortgage space, etc) as well as government initiatives (interest subvention scheme, tax incentives, Housing for All by 2022, infrastructure status accorded to affordable housing). Hence, its loan book growth looks sustainable despite its large size.
Stable margins
Spreads in the overall book remained almost stable at 2.28 percent (individual book: 1.91 percent and non-individual book: 3.11 percent). This demonstrates the company's ability to maintain the margins across interest rate cycles and amidst rising competition. Thanks to its strong brand name and diversified resource profile, its cost of funds is very competitive.
Superior funding profile
HDFC's resource profile is well diversified and provides a key competitive edge vis-à-vis other HFCs. For instance, HDFC has so far raised Rs 9600 crore through masala bonds. The lender also enjoys huge public deposits base which is now nearing Rs 1,00,000 crore.
Apart from aiding low cost of funds, its resource raising capabilities and funding mix helps in mitigating the inherent tenure mismatch and interest rate risks in the housing finance business (HFC). We are encouraged by the fact that HDFC runs a well matched asset liability maturity (ALM) book with lower gaps in medium term buckets as against peer HFCs.
Impeccable asset quality, excess provisions provide cushion
With gross non-performing loans at 1.13 percent, asset quality continues to be pristine. Non-performing loans in the individual portfolio stood at 0.66 percent while that of the non-individual portfolio stood at 2.18 percent as of September- end. The lender utilised the one –off gain of Rs 891 crore from sale of stake in HDFC AMC in Q2 to shore up provisions.  The management's policy of creating 30 percent provisions from one-off gains has resulted in total provisions at 1.33 percent of loan book, which is in excess of the regulatory requirement.  The lender reported provision coverage of 39 percent for stage 3 assets disclosed under Ind-AS.
 Compelling valuations
While the core mortgage business is on a stable growth trajectory, the financial conglomerate stands to gain from equally strong performance of its subsidiaries. Its subsidiaries (HDFC Bank, GRUH Finance, HDFC Standard Life and HDFC Asset Management Company) have an equally blazing track record. With increasing scale and profitability of subsidiaries, more than 50 percent of the value of the company is now derived from subsidiaries.
HDFC's stock has corrected 12 percent from its 52 week high. While HDFC's headline valuation seems on a higher side, the core lending business is getting valued at 1.4 times FY20 estimated book value, a significant discount to its historical average. Though transition to Ind AS can make quarterly earnings volatile, the core performance of HDFC continues to be strong.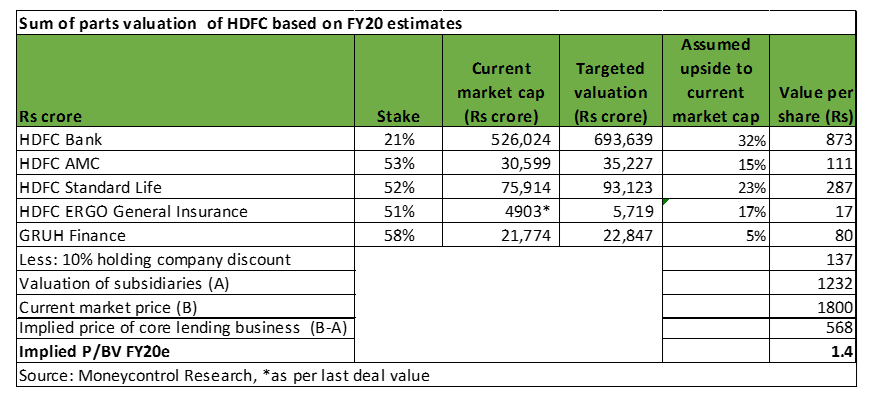 Additionally, investors get exposure to its valuable subsidiaries. Even after reducing the target value of HDFC AMC post SEBI's cap on mutual fund fees, we see strong upside to current market price. It is a rarity to find a quality financial services franchise (and not just a housing finance play) at a compelling valuation. Markets are staring at multiple headwinds in the near-term. Hence, investors should look to build portfolio consisting of high quality business with predictable earnings growth and HDFC should be core holding of any such long term portfolio.
For more research articles, visit our 
Moneycontrol Research Page.
First Published on Nov 2, 2018 01:31 pm