We remain optimistic on the earnings growth of both these companies and expect them to deliver strong growth over the next couple of years
TCI group companies - Transport Corporation of India and TCI Express - delivered a strong set of numbers in the first quarter of FY19. Both these logistic companies have gathered momentum after the rollout of Goods & Service Tax and reported a robust growth in topline as well as bottomline in the last few quarters. These players continues to gain market share over competitors and are well positioned to reap the benefits of industry reforms.
Transport Corporation of India (TCI)

Multimodal logistics service provider TCI reported a sales increase of 17 percent year-on-year to Rs 581 crore. Earnings before interest, tax, depreciation and amortisation (EBITDA) grew 15 percent to Rs 51 crore. Profit after tax jumped 60 percent to Rs 28 crore. While operational performance was largely stable, the sharp jump in profit was due to higher other income and reduction in finance costs.

Growth in revenue and profitability was driven by strong performance across all business segments.
Freight division reported a topline of Rs 278 crore for Q1 FY19, implying a segmental revenue growth of 14 percent. Margin came in better as compared to last year as the management in focusing on large clients and key account management with value-added services. This segment continues to grow at a steady pace as organised players like TCI are witnessing uptick in demand for full truck load and less than truck load services after the rollout of GST and e-way bill.
The supply chain solutions (SCS) segment continues to witness strong demand across sectors, especially automobiles which contributes to the largest revenue share in this segment. This segment reported a revenue growth of 20 percent to Rs 237 crore. EBIT increased 38 percent on account of operating efficiencies.

Seaways division reported the strongest revenue growth across its three business verticals and reported a 23 percent jump in Q1 revenue. The revenue for this segment has been boosted by higher volumes on account of fleet expansion.
In March, TCI has added another ship to its existing fleet of five ships which operate on the east and west coast. The new ship will be deployed on the west coast and will start contributing to the topline and bottomline from Q2 onwards. Going forward, the management expects the seaways business to contribute Rs 75-80 crore of revenue on a quarterly basis with EBITDA margin of around 25 percent.
The company has planned a capital expenditure of Rs 250 crore for FY19. This capital will be used for setting up new warehouses and acquiring a new fleet of trucks and ships as the current capacities are nearing optimum utilisation. The investment will be funded through a combination of debt and internal accruals. The balance sheet remains healthy and the debt-equity ratio is expected to remain at current levels (0.6 times) as majority of the debt is required for working capital.
TCI continues to perform well on the operational front and current valuations makes the stock noteworthy at current levels.
TCI Express

Revenue of TCI Express (TCIX) for the quarter gone by increased 22 percent to Rs 248 crore. EBITDA came in 46 percent higher than last year at Rs 27 crore. Profit after tax rose 33 percent at Rs 16 crore. The company has started the fiscal on a solid note, continuing the momentum which gathered pace in the past few quarters. In Q3 and Q4 FY18, it delivered topline growth of 22 percent and 23 percent, respectively.

While revenue continue to be on an uptrend, TCIX's enterprise resource planning (ERP) integration with clients has resulted in cost savings. The company has also been able to generate operating efficiencies through changes in its distribution strategy. Margin continues to grow in spite of the rising fuel prices as TCIX follows fuel surcharge-based pricing mechanism to counter rise in crude and diesel prices.
These factors along with strong operating leverage on account of an asset light business model has resulted in operating margin improving from 9.1 percent in Q1 FY18 to 10.9 percent in Q1 FY19. PAT margin, however, saw lower increase from 6 percent to 6.5 percent on account of higher interest expenses and tax outgo.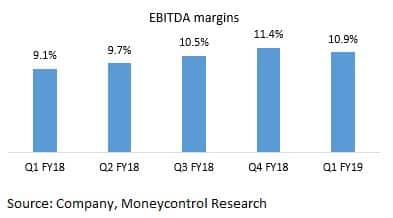 The company offers express logistics services for high value products to companies operating across multiple industries. In the quarter gone by, it witnessed strong demand from pharmaceutical, automobile, retail and lifestyle sectors. Pick up in economic activity has resulted in strong demand from consumer-oriented sectors.
TCIX derives 50 percent of its revenue from the small and medium enterprises (SME). These SMEs are the engine of economic growth for India as it contributes 45-50 percent of the country's industrial output. TCIX with its unique offering and strong business relationships remains well position to capture potential in this segment.
Outlook and recommendation
Aided by industry tailwinds and increased economic activity, the logistics sector is set to grow at a healthy rate in FY19.This growth will be supported by recent government initiatives such as dedicated freight corridors (DFC), Sagarmala and BharatMala as well as growing industry demand. The new axle load norms (load limits increase by 10-15 percent) is an added opportunity.

We remain optimistic on the earnings growth of both these companies and expect them to deliver strong earnings growth over the next couple of years. From a valuation standpoint, TCIX trades at 28 times one-year forward price-to-earnings multiple and appears priced to perfection considering near term growth prospects. Investors with a medium to long term view should look to accumulate TCIX on dips given its strong fundamentals, low leverage (debt-to-equity ratio of 0.1 times at FY18-end) and market share gains from competitors.
TCI trades at a significant discount to the former and offers an attractive investment opportunity at a forward price-to-earnings multiple of 16 times with significant scope for re-rating. Growth in revenue and profitability will be driven by strong performance of the seaways and SCS segments. TCI continues to perform well on the operational front and the current valuations makes the stock noteworthy at current levels.
First Published on Aug 9, 2018 04:26 pm