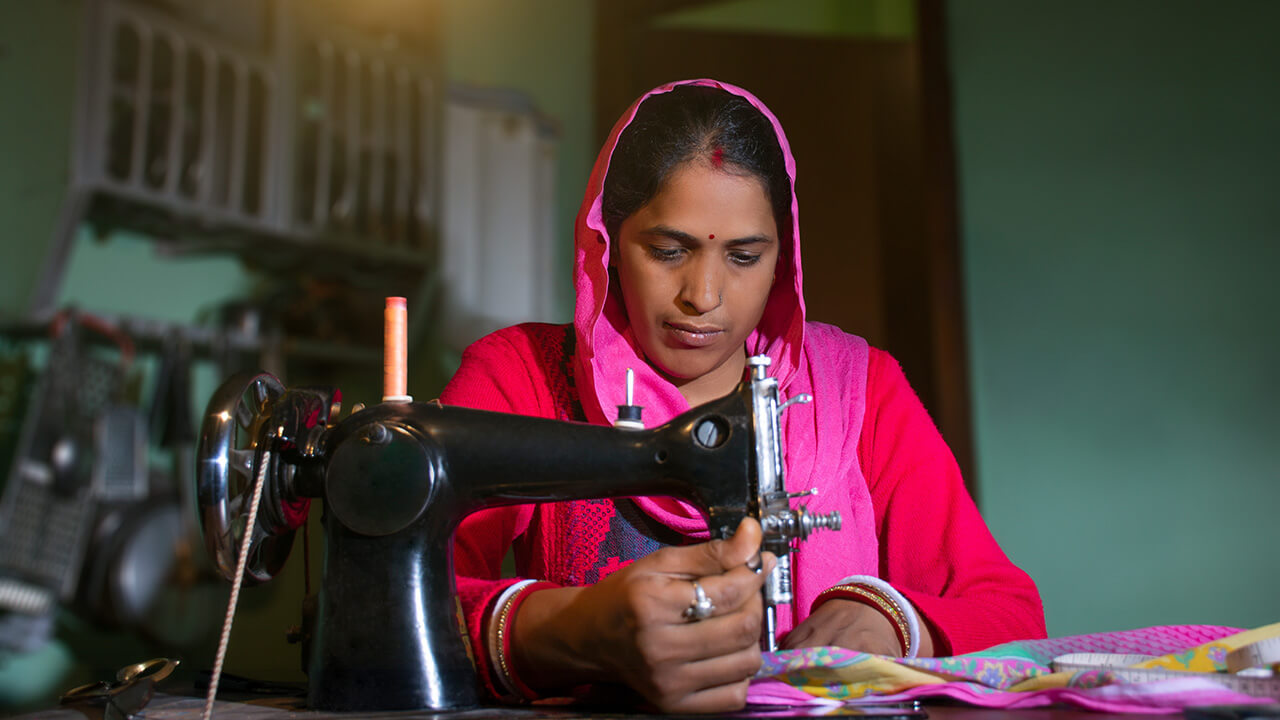 In its effort to support the industry through stimulus packages and digital platforms, the government is playing an active role in this transformation.The government has launched initiatives such as Digital India, Make in India, Start-up India, Skill India, Innovation Fund, and more to propel MSMEs' digital advancement and help them take their marketplaces online. Last year, many MSMEs began marketing their products through a government e-Marketplace (GeM), which is owned and run by the government and allows ministries and PSUs (public sector undertakings) to source their procurement. As of September 2020, this platform recorded an encouraging number of transactions worth

Rs 55,048 crore

a (US$ 7.5 billion). With new-age Indian consumers becoming more digitally savvy during the lockdown, MSMEs have the potential to reap the benefits of digital solutions, such as e-commerce websites and live chat support to solve customer queries. We uncover the numerous advantages of implementing digital technology solutions for building business resilience in MSMEs moving forward.

Effectively running a small business from home

While the multi-fold benefits of a remote setup exceed its counter-enforcing drawbacks, most MSMEs often face the fear of uncertainty, a lack of control, and the jurisdiction of keeping in the loop with employees' activities and behaviour. With digitisation rapidly taking command, one needs to trust this process in keeping a professional and streamlined system while managing the activities of all the connected devices.

Using a unified system software, such as Dell's cloud workspace setup, can proactively help you resolve issues remotely, secure a system that develops a strong wall against attackers, and connect with thousands of employees under one roof enabling you to run your business just like a physical office setup. Through Dell's solid software and secure video conferencing and chatting tools, this uninterrupted 'work culture' can encourage individual productivity, conference meetings and discussions that get work done in real-time.

Boost productivity with digital solutions

Working remotely with the right digital tools can substantially fuel a business' growth and help stay connected with the team. While remote working has a few drawbacks, such as the many distractions that can hamper work from home, using devices that enable an easy-to-use remote setup, quick connectivity and long-lasting battery can greatly enhance employee productivity.

For instance, Dell's 'Express' feature ensures that every minute of productivity counts. Its Express Sign-in provides a super-quick sign in without a password, and ExpressConnect connects the device to the nearest best WiFi, ExpressCharge accelerates the device's battery charge to 80% in an hour, and the Dell UltraSharp Dual Monitors delivers a comfortable and focused 'office' setup, ensuring productive use of time and input.

Adding a layer of maturity to this setup is the Direct to Consumer approach. The elimination of third-party barriers connects a business's IT professionals with Dell's customer service and tech wizards in real-time, allowing dialogue exchange to receive instant clarifications that assist in mapping action strategies for working on unexpected roadblocks.

Mitigating Cyber Security Risks

While the work-from-home setup boosts employee productivity and promotes flexible work styles, it comes at the threatening price of cybersecurity risks. With

84% of IT professionals expressing concerns to protect a remote workforce

, the inclusion of encrypted and tight-security systems aims to reverse the seesaw of safety.

As a small business surviving and thriving on data, safeguarding your labour of hard work is crucial. Opt for Dell's trusted devices that include effective approaches to protect professional communications, privacy, sensitive employee information, and more.

Unlocking opportunities for small businesses with digital

As per the

'Dell User Group Pulse Survey, 2020'

, 40% of the workforce will continue to operate remotely in the long run, making digital transformation a necessity. Utilising digital tools will help MSMEs streamline workflows, access a larger talent pool, amplify marketing activities to strengthen consumer relationships, maximise resource allocation, and mitigate security risks.

With remote working now the norm, teams need to function seamlessly and collaborate from anywhere with ease. To simplify and enhance the remote work experience, MSMEs can opt for Dell's 

Intelligent Business PCs with Dell Optimizer

that are built with a rock-solid AI system, enabling thousands of people to navigate the changing online landscape.

With the aim to empower and enable MSMEs to reimagine their businesses through rapid digital transformation and accelerate their growth potential, Dell Technologies, in collaboration with Moneycontrol and CNBC TV-18 recently launched

The Challengers

. Through this platform, we explore why MSMEs need to leverage digitisation to develop business agility, and the numerous advantages of implementing digital technologies.

Investing in digital tools can help businesses expand operations beyond geographic boundaries and scale-up across the country. In the past few years, many MSMEs have taken their ventures online and launched their websites, introduced e-commerce platforms, developed online payment portals, and marketed extensively on social media platforms to establish their online footprint that drives their powerhouse of vision. Given the promising opportunities digital adoption offers for small businesses, it's time to leap over the other side of the operational spectrum.

While this digital transition tunnel experienced numerous roadblocks like comprehending technology tools, acquiring the necessary digital skills, and accessing the right talent, the tunnel's digital exit point holds tremendous potential for small businesses to fire up their revenue numbers and growth charts.