It is that time of year… it's Valentine's Day! While recent studies have indicated that consumers today do feel that Valentine's day is nothing but a commercial occasion rather than a proper celebration, brands are still latching to it. Whether you like it or hate it, you can't certainly miss brands and love notes on this day. Watch Storyboard18's curated Valentine's Day ad playlist for some laughs and smiles.
Swiggy is known to release fun, heart-warming and occasionally mouth-watering campaigns. This one is no different. The ad involves no human visuals at all. Just templates, and text messages with a compelling voice-over conversation. The ad takes you through the various stages in a relationship. From wooing the person to finally confessing love, to fighting to moving in, it captures it all beautifully. Not to forget the little secret that the story reveals in the end. The ad is about two neighbours who live in Bangalore. The guy's Swiggy order gets wrongly delivered to the girl's house and there starts a beautiful story. Very bollywood-esque minus the unnecessary drama.
All the happily single people out there, this one's for you! All public places are bound to be cluttered with couples celebrating Valentine's Day. It becomes difficult for single people to navigate through this and avoid all the coziness. It is a real problem! Cadbury 5 Star identified this and came to the rescue. They launched an app that tracks 'mush zones.' Yes, you can track where a public place, street or garden is packed with lovers and avoid them. The app will indicate where the gathering is extensive so you can easily avoid the crowded spots and enjoy 'doing nothing' in peace. This one is clever and helpful.
Well, whoever said Valentine's Day could only be celebrated by youngsters? This ad by Parvathy Hospital is extremely heartwarming and picks up a new angle to campaign itself on this day of love. They display an old couple, a man bent down on one knee offering a rose to an old lady sitting on a bench. The catch here is the tagline that the brand is promoting. Knee replacement surgery! Absolutely incredible, this ad. Age-appropriate too. In a mix of brands banking on young love, this ad stands out for its out of the box thinking and unique selling proposition (USP).
Only Britannia can turn being 'friendzoned' into something optimistic. Continuing the 'Live the Moment' tag for their offering the 'Pure Magic Cookie', Britannia launched an interesting ad where a guru tells you to forget all your worries and irrespective of the outcome, just live the moment. The ad captures the essence of Valentine's Day aptly and twists the consequence in a fun and comical manner.
Who doesn't love a good slice of pizza? If there was ever any doubt, Domino's has now given you a chance to love the pizza even more. For this loveable occasion that is Valentine's Day, the brand has launched its first ever heart-shaped pizza. GenZ and millennials are often known to express their love through food, and the brand has found the perfect way for the customers to celebrate their loved ones with the launch of the heart-shaped pizza. The campaign #SayItWithAPizza showcases this aspect of the dating arena including all the confusion and gushing that comes along with it. The brand has also launched a social media campaign to support this product launch. In a three-part Instagram reel series highlighting the protagonists' experience of 'situationship', the brand speaks to millennials and Gen Z in a language, attitude and format that resonates with them. In order to create an immersive experience for the audience and lead them to root for the couple, the campaign created Instagram accounts for the characters with Domino's acting like the catalyst.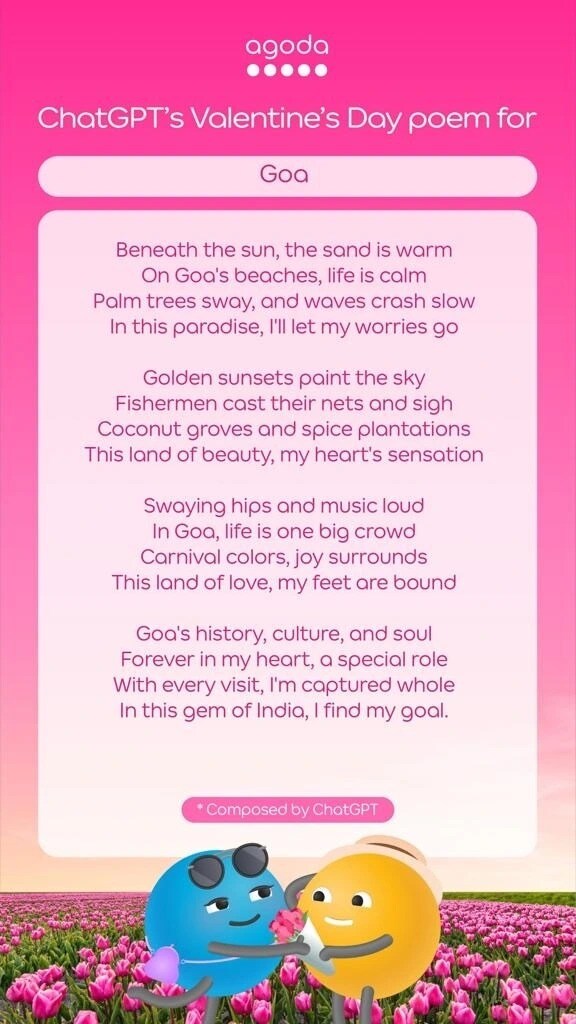 Agoda, a global travel platform conducted a research and found out the hotspots that couples plan on visiting this Valentine's Day. The research revealed that most people from Asia Pacific prefer to spend their time in cosmopolitan cities preferably with beaches. These hotspots include Goa, Bali, Dubai, Da Nang, Bangkok and Tokyo. To showcase this, Agoda decided to use ChatGPT, an AI platform that in all the buzz today. Everyone is talking about ChatGPT's capabilities so why not showcase them? Agoda asked the AI platform to bring out its inner Shakespeare. ChatGPT composed a poem that included all the cities and described them correctly.
Agency - What's Your Problem
This one is different. It was experimental and unique. It could have gone either way. However, this campaign showed us the power and capabilities of AI. This campaign included a profile of the perfect boy, Aaditya Iyer. His social media life was perfect. The photos he uploaded were perfect, his captions were perfect. Even his dog was perfect. He even had the perfect chocolate boy face. The experiment was a success as all of social media, especially girls were swooning over him. Now for the reveal, Bharat Matrimony released an ad where they revealed that all of it was created by AI. The dog, the perfect pictures, captions, even Aaditya Iyer (AI), everything. Everyone fell for it. No one could believe that all of this was actually artificially created. Aaditya Iyer doesn't actually exist. Well, for Valentine's Day, that's a lot of hearts broken. However, this truly was a brilliant campaign.
While your date might stand you up, your pet will remain forever loyal to you, always be available whenever you need them. That is exactly what pet essentials brand Wiggles latest social media post says with the cutest picture of a cat on the internet. This one is sure to link some hearts this Valentine's Day.
Here's a different take on Valentine's Day. Zomato never fails to impress with its on-point social media game. This post compares love to a plate of pani puri. It's a clever comparison directing that love too can make you cry just like a plate of spicy pani puri but we need both equally as much. Whoever wrote this social media post for Zomato, please rightfully demand a raise.