RK Laxman's The Common Man is seated next to a window in a plane. Next to him is a person in a suit and right next to him is a person wrapped in a kambal (blanket), with boriya bistar (luggage) and a rail chombu (water jug) on the floor.
The suited man says to the Common Man, "If these airlines bring down the fares any further, I will start travelling by train."
The cartoon, drawn by the late Rasipuram Krishnaswami Laxman (RK Laxman), had appeared in 2003 in the Times of India.
This was around the time when the low-cost carrier Air Deccan—now defunct—was a few months old and was selling air tickets at Rs 500.
Air Deccan and its brand mascot
It had been 56 years since India gained independence. Yet, the common man could not reach for the sky or get a seat in one of the planes flying in it. Captain Gorur Ramaswamy Iyengar Gopinath, also known as Captain Gopinath, a retired captain of the Indian Army, wanted to change that. He wanted to build the people's airline.
An Irish airline Ryanair DAC, which operated as a low-cost carrier had been in the market since 1984. Gopinath wanted to introduce an airline with a similar model that could bridge the gap between rural and urban India, and make flying accessible to all.
In 2003, he founded Air Deccan.
The original brief was to position Air Deccan as a low-cost carrier. But, the team which included marketing head John Kuruvilla and Thomas Xavier, chairman and national creative director of Leo Burnett Orchard, were of the opinion that it ran the risk of not holding any badge value. Xavier said, "The objective was not to be seen as a discount player."
To clarify their doubts, the team members asked Gopinath about his aspirations. As the latter traced his steps back to his growing up years in Gorur village, in the Karnataka district of Haasan, and spoke about how he witnessed air travel as a medium only the rich could afford, his vision became clearer to them.
Gopinath wanted to market Air Deccan in a manner which would "reach the hearts of the people, not just the eye box."
In the market, Indian Airlines and Jet Airways were the key players. But, their fares were unaffordable for most Indians. The price of a one way ticket from Delhi to Bangalore for an economy class seat back then was a whopping Rs 12,000.
The team decided that instead of focusing on the experience, they would appeal to people's emotions. The advertising budget was Rs 50 lakh. The agency and client locked in on the idea of having a brand ambassador or a 'brand mascot' because they thought it would add more value to Air Deccan.
In the brainstorming sessions they went through a long list of celebrities. Gopinath said, "In those days, the normal trend for a brand was to have a brand ambassador like Amitabh Bachchan or Shah Rukh Khan. Some even came up with, 'Captain! Why don't you become the brand ambassador?' I wanted Air Deccan to identify with a common man, who would not just eliminate cost or social barriers, but also caste barriers." Regional stars like Rajinikanth, too, were considered.
While brainstorming, the team came across Laxman's celebrated character, 'The Common Man', and connected the dots. They found the perfect match in the Common Man for Air Deccan.
Both Xavier and Kuruvilla thought the idea was brilliant. But Kuruvilla wondered if Laxman would even entertain the idea. Plus, the cartoonist had never really lent his creation to any brand.
How the Common Man came on board
Gopinath made up his mind to bring the Common Man on board. At the time, Laxman was living in Pune, and was not keeping well. The retired Captain called him and spoke in Kannada. From the other end, Laxman said, "Namaskara! Hege Iddira Captain."
As Captain introduced himself, according to Xavier's account, Laxman said, "I know you. I know your airline. I think it is really an idea whose time has come. It is the kind of brand India needs. You have created an airline for my 'Common Man' which I drew."
As they talked, Gopinath made his pitch. Laxman found the idea to be olle (good) and agreed, but with a twinkle in his eye and with a smile, he said, "I suggest one rupee fare. Many cannot even afford Rs 500." Then Laxman asked, "Why don't you come and meet me?"
Xavier said, "In his own words, Laxman felt that this was the only brand that deserved the caricature." So, the Captain along with the team flew to Pune. They took an Airbus model and a few samples of the ad. Gopinath said, "The marketing department put a cartoon of RK Laxman's Common Man on the Airbus model's door. In advertisements, we would show him boarding the plane as a passenger."
Laxman quickly sketched a few versions, including the one that was seen on the aircraft. In front of the Captain, he drew the Common Man in different situations and said, "You can keep them." This was in 2004.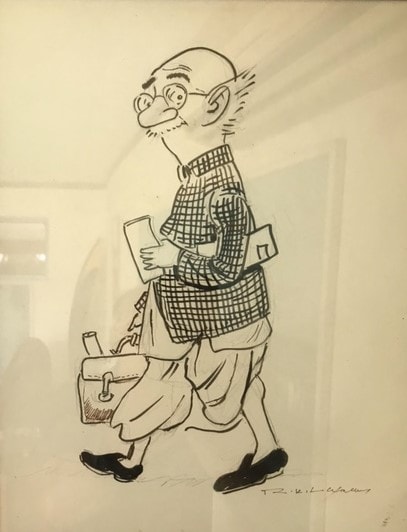 Air Deccan's 'The Common Man' (Image courtesy: Captain Gopinath)
At the start of 2005, The Common Man became the face of Air Deccan. The caricature was slightly changed where he was shown sporting a bag with an Air Deccan tag.
How Air Deccan's Common Man went places
As they spoke, Gopinath asked Laxman how the Common Man materialized. Laxman told him that the Common Man had manifested over a period of 4-5 years.
Gopinath recalled the meeting, "We both were happy seeing each other. His house was a typical South Indian middle-class household. Laxman's father was a headmaster of a high school in Haasan and my father turned out to be his student."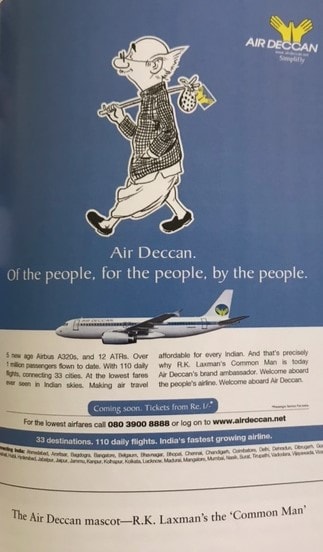 Laxman's Common Man in a print ad for Air Deccan. You can find it in the book 'Simply Fly: A Deccan Odyssey'. (Image courtesy: Captain Gopinath)
They also came up with advertisements with the tagline 'Simplifly Deccan' and a logo featuring the Common Man. In another ad, one can see him climbing the stairs, and the line reads, "Every Indian can fly."
During their conversation, Laxman had also mentioned that Rs 500 for a ticket was very costly. That is when Rs 1 tickets began to be sold. Gopinath said, "I would sell one or two tickets at Rs 1. Four to five tickets at Rs 500, and another set between Rs 1000-Rs 5,000 depending on the sectors. We sold around three lakh tickets, from Rs 1 to Rs 500 during that period." Air Deccan became the first airline to eliminate the class system.
Leo Burnett's Orchard helmed the film 'The Old Man & The Sky' that ran on television for a few years and was well appreciated. The voiceover artist who worked on the film did not charge any fee.
For print, magazines and outdoor ads were used to announce new routes, to get into what Air Deccan actually did and stress on fares.
There was a cartoon where The Common Man carried a stick with a little cloth hanging at one end. Xavier said, "It looked like a traveller, carrying his belongings. It was put in print, on the aircraft, and on the ticket."
Breaking barriers and reaching new heights
One of the advertising strategies was to create topical cartoons by Laxman on everyday issues related to flying. This connected The Common Man's ambition to fly with Captain's ambition to make everyone fly. Air Deccan came up with web bookings and flew to smaller towns. This resulted in people warming up to the brand.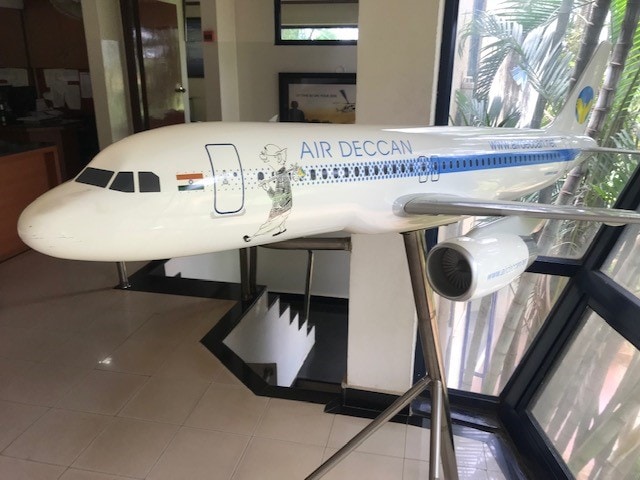 A model of an Air Deccan plane in the company's office in Bengaluru. The model plane featured an image of the mascot. (Image courtesy: Captain Gopinath)
There were three A(s) which Air Deccan adopted. The Common Man was just one peg in the marketing mix. They were awareness, accessibility, and affordability.
40,000 post offices in rural towns, 6,000 Hindustan Petroleum (HP) petrol pumps, 10,000 travel agencies, and Indian Railway Catering and Tourism Corporation (IRCTC) sold Air Deccan tickets. The airfares started from Rs 1, Rs 500, Rs 1000 and went up to Rs 1,500. Plus, two hoardings of the brand mascot were put at the entrance and exit of every HP petrol pump.
Gopinath recalled that wherever he travelled he came across people who had a certain connection with Air Deccan. One of them would say, "I was studying on my first flight." Somebody else would say, "I got my parents to fly for the first time and I also flew with them. I had just got a job then and got hold of a one or a Rs 500 ticket."
Award-winning filmmaker, Guneet Monga, who produced the Tamil film Soorarai Pootru, which is dubbed in Hindi as Udaan, that is inspired by events from the life of Gopinath, mentioned to him that her first flight with her parents was from Dehradun to Bombay. It was an Air Deccan flight plane they flew in for Rs 500. At the 68th National Film Awards, Soorarai Pootru, which is streaming on Amazon Prime, went on to bag five awards for best actor, best actress, best feature film, best screenplay and best background score.
The Common Man continued to be the face of the brand until 2007-08 when the low-cost airline was rebranded Simplifly Deccan and merged with Kingfisher Airlines. Gopinath said, "The owner wanted to do a makeover of the brand. So he changed the logo and everything of Air Deccan."
The enduring appeal of mascots
Today, most brands have celebrities as their ambassadors. Very few brands like Amul continue to keep their mascot front and centre.
"Mascot is a caricature created and owned by the brand. But a celebrity is not created or owned by the brand," Xavier explains. The only question that would trouble any brand is, "'Will the mascot have the same immediate impact like a celebrity?"
The Amul Girl or Air India's Maharajah did not get famous overnight. When Air Deccan used the caricature, the Common Man was a mascot as well as a celebrity which worked in the brand's favour. "Celebrities are used by brands as props when they do not have a great idea. If you have a great idea, you do not need a celebrity. The best work in advertising comes from brands like Fevicol," Xavier explained. Further, a brand must go for a mascot if they are disciplined and committed to the idea and not bring a change every six months.
When people arrived at the airport for the first time to fly, they enjoyed the overwhelming feeling of being there. When they saw The Common Man by their side, Xavier said that they felt "I am with people who are like me."