Subversive advertising is going mainstream and 2022 has witnessed many such ads including the latest campaign by fintech platform CRED where the company used newspaper classifieds format to promote BidBlast. The product is actually a bidding game at the CRED store wherein you bid through CRED coins, and if a user's bid is the lowest and unique, he/she wins.
CRED has aced this space of advertising of a subversive nature or anti-advertising. During IPL 2022, the company released a spot spoofing the vintage Nirma detergent ad where actor Karishma Kapoor is seen emulating character (Deepika ji) but talking about CRED platform.
However, the catch is whether CRED's classified campaign can be dubbed as misleading or even legal because it does not appear like an advertisement. While there is no defined law on such kind of advertising, ad industry watchdog Advertising Standards Council of India (ASCI) can take suo moto action against the advertisement.
Mathew Chacko, partner, Spice Route Legal notes that there are general principles against misrepresentation.
"I don't think the law requires you to do this which is unfortunate. If ASCI wants to - they can extend the principle for sure," he adds.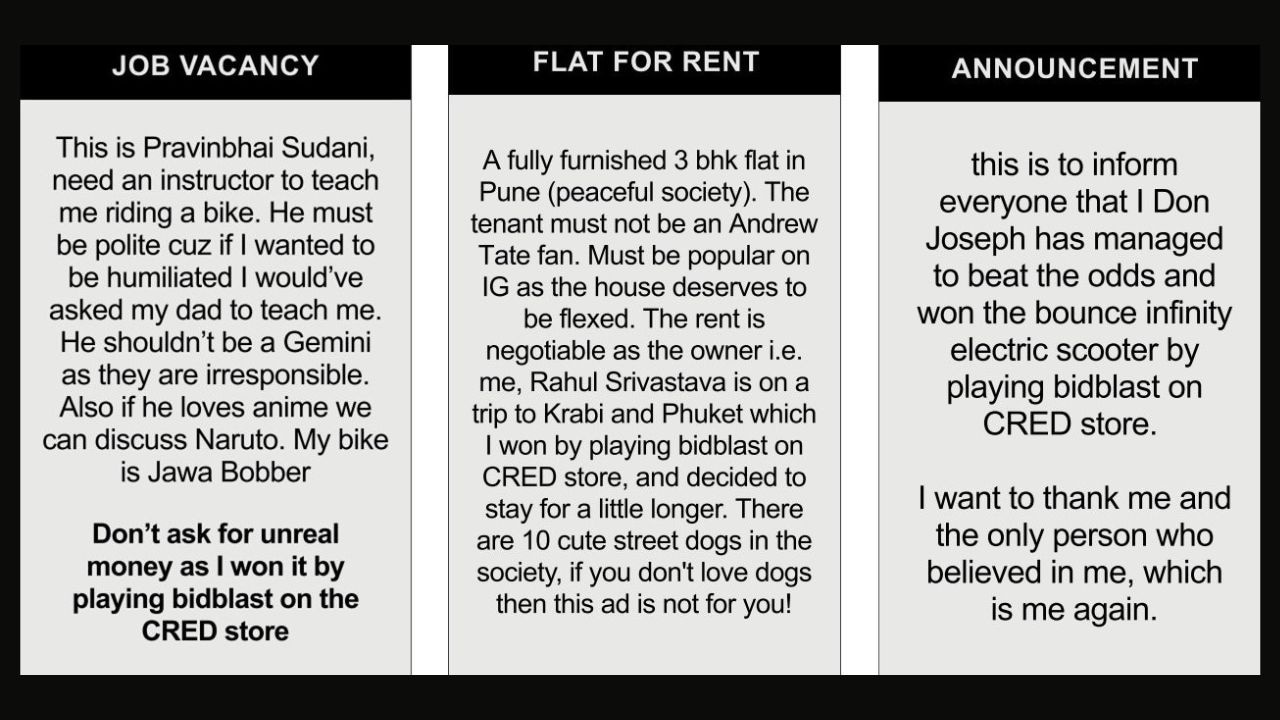 CRED's latest campaign
Storyboard18 reached out to ASCI which clearly stated that CRED's classified ad campaign could be considered misleading.
"This ad may potentially violate the ASCI code and be considered misleading as the format mimics an editorial format and may mislead consumers by omitting to declare this as as an ad. Further it could be ambiguous whether these are true testimonials. As of now we have not received any complaints regarding these ads," says Manisha Kapoor, CEO & secretary general, ASCI.
Content Marketing for a new world
In hot pursuit of virality, the last few months of 2022 saw brands using various tactics, gimmicks and pranks to garner attention and likes on the internet. The objective is to create curiosity and push consumers to look up for a product or service being promoted. The execution and idea can be a fake fight, meme or bizarre execution that hardly resembles an ad. There's a confluence of a few things happening in such cases. A teaser campaign, meme marketing, making brand acts look organic so they spread, chasing virality, prankvertising, shockvertising and whatnot.
For instance, Hindustan Unilever owned dish wash brand Vim rolled out an ad for a "limited edition" product called Vim Black aimed at men. The brand released am online video of a partially clothed Milind Soman spouting the virtues of using Vim Black For Men. It was meant to be a satirical conversation starter.
But it didn't quite land and eventually the campaign's execution overshadowed its purpose which was to promote the equal division of household chores between men and women. The campaign elicited a range of responses including backlash as many took the ad at face value, thinking HUL did in fact release Vim Black as a legitimate product. Later, the brand said very few bottles of Vim Black were produced and it was just to spark conversation.
Similarly, things didn't go well when Cadbury's malt-based drink brand Bournvita launched its Force Pack campaign aimed to sensitise parents against forcing kids into preset career moulds. To make a point, the brand showcased the product in containers meant for other items such as tissue holder, disinfectant, ketchup bottle instead of a regular Bournvita packaging. The campaign elicited a wide variety of reactions. While a section of readers found it remarkable, another section also found it forced and cringeworthy.
Puma and Anushka Sharma created a stir by faking a face-off on Instagram for using actor's picture for one of their EOSS promotions. It turned out to be a pre-meditated exercise to announce Sharma joining Puma as brand ambassador.
It seems like that brands have found a new way of garnering attention of consumers either through memes, eye-catchy posts or even an engineered social media post. In the digital savvy world where attention is the key currency, it seems shocking or awing consumers works for these marketers. But the big question is at what cost?