Digital revolution is changing content consumption patterns in India. Traditional High-Definition (HD) channels are losing their appeal, as streaming services and on-demand content are gaining more popularity. As a result, Connected Television (CTV) has emerged as the preferred mode of television viewing, especially for sports enthusiasts.
The free streaming of the Indian Premier League (IPL) this season is only expected to add to the number of CTV users in the country.
As per MiQ, a programmatic media partner for marketers and agencies, connected TV is projected to grow at a 35 per cent CAGR in India until 2025. With higher average view through rates of 95 per cent and video completion rates of over 97 per cent, it is currently one of the most efficient mediums for advertisers.
The shift towards CTV is especially noticeable when it comes to cricket tournaments. Over the past few years, there has been a considerable decline in the number of households that tune in to watch cricket on High-Definition (HD) channels. For instance, BARC shows that in 2022, while 4.3 million urban households in India watched IPL'22 on HDTV, only 3.6 million urban households watched the ICC T20 World Cup on HD TV, and only 1.5 million households in major cities viewed the tournament on HD channels.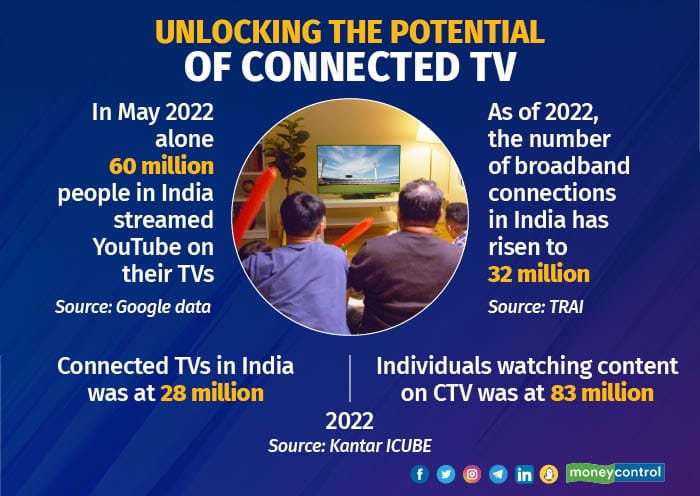 Benefits of CTV for consumers and advertisers
CTV provides advertisers with the ability to reach their audience through highly engaging, full-screen, high-quality video ads that can be delivered to specific households based on their viewing habits and demographic information. This allows advertisers to effectively reach their desired audience with highly relevant and impactful ads bringing back brand marketing and generating a higher recall value along with performance driven ROI ads.
Jio Cinema's Connected TV proposition on CTV will offer the best of both worlds (TV+Digital) to the advertisers. Not only will the advertisers reach a large, engaged, and affluent audience, but they will also have the guaranteed viewability of their campaign. Advertisers are offered 10 second spots on CTV on Jio Cinema. Advertisers can also track impressions, which is a very valuable set of information as it provides insight into the effectiveness of their advertising efforts and allows them to make data-driven decisions about future campaigns. The combination of impression tracking and spot buy model makes CTV an attractive option for advertisers looking to maximize the impact of their marketing efforts. One of the biggest advantages of CTV is the flexibility it offers to both consumers and advertisers. With multiple feeds available, consumers can choose to stream the IPL in their preferred language and on heir preferred device. 
Consumers, part of the cord-cutters and cord-nevers demographic, prefer CTV as they have access to vernacular and global content, coupled with relevant ad breaks as compared with linear TV. Consumers get a convenient viewing experience on any device regardless of location providing advertisers an omni channel presence with access to a massively growing audience. With CTV now becoming mainstream, viewers can enjoy free streaming of matches on the big screen from the comfort of their homes ensuring they do not miss a single game of this season's IPL. The ability to access high-quality live sports content through a connected television provides consumers with an unparalleled viewing experience. It is bringing fresh excitement into the living rooms where families have long bonded over entertainment. 
Sandeep Anand, EVP and chief marketing officer, Domino's Pizza India affirms and says, "With the continued growth of CTV, it is clear that the way people consume and engage with TV content is changing significantly, making it a preferred medium for advertisers as well."
Vishal Subharwal, chief marketing officer and head of e-commerce and digital business, HDFC Life highlights the shift to CTV and speaks. "Our research suggests that CTV adoption is good amongst the affluent, internet literate and younger audiences.
Ankur Pujari, co-founder and growth lead, Hyper Connect Asia says, "Digital is ought to grow when it comes to viewing sports as people have stepped out of office and that added to the fact the device and data rates offer a very easy access to the sports on CTV,"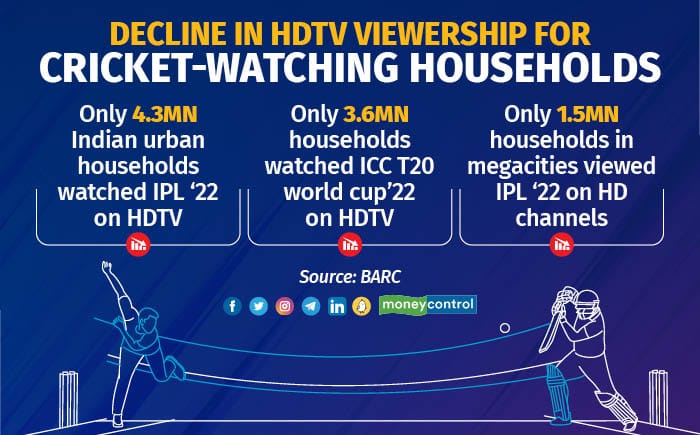 CTV and IPL – A WIN – WIN situation
The anticipation for the upcoming season of the Indian Premier League (IPL) is palpable, and with the integration of CTV, the cricket fever is set to reach new heights. The IPL is already a highly awaited event, and JioCinema's decision to offer free streaming of the matches has made it even more enticing for sports enthusiasts and advertisers alike. Overall, brands across sectors are optimistic about CTV integration in advertising.
Ankit Oberoi, CEO and founder, Zelto Inc, says  "CTV also provides advertisers with detailed insights and analytics on their ad performance, allowing them to measure the success of their campaigns as well as make data-driven decisions and adjust them in real time, ultimately to achieve a higher ROI, according to him, the demand for seamless viewing of specific content, especially sports both local and global, fuelled the growth of Connected Television (CTV). Marque IPs like IPL push more and more consumers towards CTV. Experts say the free streaming of Indian Premier League (IPL) this year will increase the audience pool like never before making it an even more enticing option for advertisers".
Maneesh Krishnamurthy, head of marketing, eyecare division at Titan Company Limited says CTV will get a further boost with IPL this season and IPL 2023 will accentuate CTV adoption further. We are excited about this trend as it offers a large canvas size to advertise to reach cord cutters".