COVID-19 and its various variants have totally changed the concept of the workplace. It's tough for companies to set 'all employees to return to office' dates, and in most cases, a hybrid model is evolving. This prolonged, work from home hybrid work zone involving long hours of communication with colleagues and clients via video calls has had a dramatic impact on the workplace dress code.  
Formal attire is no longer the de-facto choice. It has given way to 'business casuals' which have fast evolved into what can be best described as a 'business comfort' dress code. With no need for 'impression management' whilst working from home, work wear attires quickly pivoted towards comfort wear, sweats, shorts and track suits became the preference. For those long video calls with colleagues and clients, dressing down below the waist ruled favor with one and all.    With offices re-opening, after almost two years of wearing pretty much whatever we wanted, wearing traditional, uncomfortable, formal office attire like business suits, neck ties, dress shirts, formal dresses with high heels, sarees etc. is the last thing that most of us want to do. 
Most office environments are still to adjust to the changed expectations of their work force from what office space should be like. In the midst of all this, commuting in most Indian cities is not a pleasant experience and there is understandably a certain 'revulsion' to dressing uncomfortably for office/client meetings.    While I do put in thought and effort into what I wear to the workplace, what works for me now is a more flexible wardrobe, with a mix of smart casuals and some formal wear. I am not in favour of keeping work wear completely casual. My mantra is to dress smart!
Currently, I love to mix up my blouses or t-shirts or printed shirts with a tailored jacket and trousers/skirt or with a comfortable pair of jeans. Lightweight, organic and sustainable are the adjectives driving my choice of fabrics. In terms of fit, relaxed and functional are what I choose over tight, skinny fits, and high heels! I am also now making bolder choices with prints and colours vs the neutrals that I mostly wore pre-pandemic.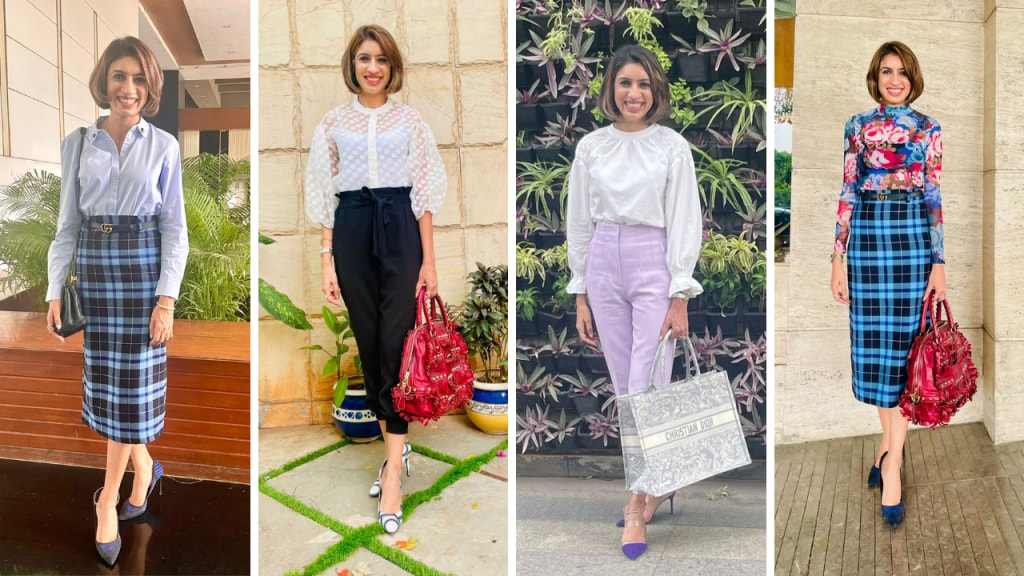 Singh (pictured here) says, "Dressing smart helps leave a good first impression, present a positive, professional image of my organisation and enhances my self confidence."
A lot of this is very subjective, what matters is that one should feel natural and comfortable in their choice of clothes and dress 'appropriately'. Recently for a client meeting, I deliberately chose to wear a shirt of their brand colour. The client took notice and did appreciate it. It was my way of sending a soft signal of our understanding of their brand values and given an opportunity would work with them as an extension of their own team.   I am a team leader, with many people looking up to me and I like mixing up the casual, comfortable look with a bit of formal wear because I like to look the part, whilst I go about doing my job. How you mix the fabrics, colours and fit for a given setting determines your style, is it formal or casual, edgy or traditional, young or mature, understated and powerful. It can set the tone for your work. Personally I don't follow any ONE particular style of dressing. I choose depending on my schedule and my mood on a particular day. 
I believe, what you wear — or dress, sends nonverbal cues to other people. Our clothing - the fit, colour, styling, and how we carry it off, how we appear, all this is connected to how our ideas are received. It can affect our credibility. I think dressing smart helps leave a good first impression, present a positive, professional image of my organisation and enhances my self confidence. 
But whatever you wear, it's most important to feel good and comfortable in it. Because there is no magic bullet. Experiment and have fun as you find your style rhythm best suited for you.
Rubeena Singh is the country manager of Josh, VerSe Innovation. Views expressed are personal.