Note to readers: 'Influencers' have forever changed the way brands and people engage with each other. Bringing together brands, content creators and digital publishers and curating a narrative for marketers are the influencer marketing agencies. They are the new-age agencies focused on the biggest disruption in the world of brands - influencer marketing. Storyboard18's special series brings to you a view of what these influencer marketing mavericks do and how they think. 
Finnet Media started with one influencer. The company went from one to hundred creators within a year. What's interesting is that the founder and CEO of Finnet Media, Ayush Shukla, is an influencer himself, specializing in edutainment. Maybe that's what makes this 23-year-old entrepreneur from Bengaluru shine bright in the influencer management and marketing ecosystem. His personal experiences make him better at his job, he tells us.
A post from one of his social media accounts explains how he is passionate about helping his creators grow. The post was about one of the financial influencers he manages - Sharan Hegde, who has quickly grown to become one of the country's most popular influencers in the financial category.
An excerpt from Shukla's post: "The first time I spoke to Sharan was in April 2021 when he was creating content for just 7k followers. We had a long talk about brands and how I can help him scale up his social media game.Cut short it's been 18 months, he's at 2.5 Million. Last year in July when he was at 30k followers, I remember telling him "try 50k this month" and the guy touched 100k that month. The reason behind his influence on other people is his stronghold on finance and the ability to explain that in the most entertaining manner ever."
Finnet has at least a dozen similar success stories.  
So, what is Finnet and what does it do? 
It is a Mumbai-based influencer management agency.
We ask Shukla why he thought of starting Finnet. Here's what he said.
"Finnet Media was launched to solve the biggest roadblock in the Indian digital landscape - the lack of an institution that prioritizes efficiency, performance and execution without sacrificing on quality in the content creation space," he tells Storyboard18.
"We work with a singular vision, which is to bring finesse, create impact and drive growth for all our stakeholders," he adds.
Let's dig into Finnet's origins. 
The backlash (against finance influencers) was harsh and not justified at all. You don't blame the Indian Cricket team if BYJU's is not performing well. It's the same thing.
Revenue: Rs 13.4 crore between June 1, 2021 and March, 31 2022
Key Clients (Brands): Amazon, Groww, Cred, Flipkart, Meta, Skill Share, Slice, upgrad, small case. The client list has more than 70 brands. Key Clients (Influencers): Sharan Hegde, Anushka Rathod, Jay Kapoor, Vedant Rusty, Lakshya Narula, Caslynn. Finnet works with close to 150 creators.
We worked with brands on their TV advertisements which is quite a new thing. We don't usually see content creators in mainstream TV ads, so it was both fascinating and challenging. Stock Gro and Tyke heavily advertised these during the IPL and our creators like Sharan Hegde, Anushka Rathod, Shreyaa Kapoor, Ujjwal Gadhvi, and Caslynn Naha were a part of it.
We had replaced the celebrities with these creators on TV. Our creators don't worry about monetizing their content, that's what we do. They can just focus on creating content and leveling up.
This project was also the most challenging one. It was difficult to pitch the idea of replacing celebs with content creators. But they were also smart enough to understand that getting creators is very economical as opposed to big celebrities. And we were replacing the traditional system of celebrity sponsorship, hence the load to deliver and outperform ourselves was huge, and luckily it was all worth it.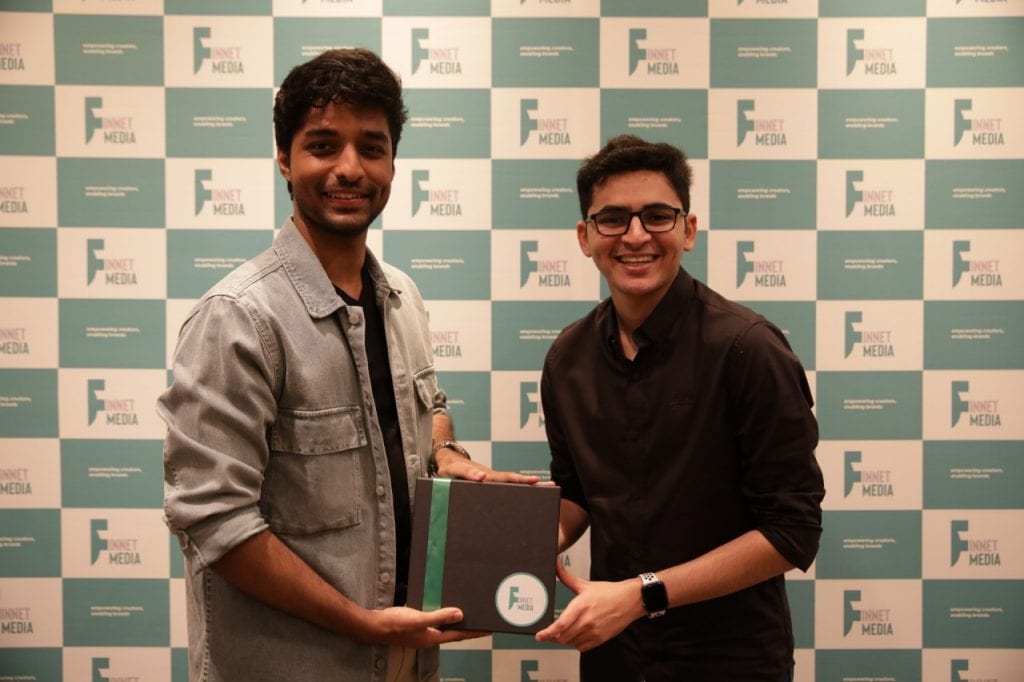 Shukla with one of India's leading finfluencers, Sharan Hegde
Biggest challenges/issues facing the influencer marketing agencies and solutions
Hiring has been a challenge for the agencies for sure. 
We don't typically work like a corporation. We're more of a creator enabler, and we have no cap on the creative freedom of our employees. This approach is new to the job market as a whole, which is a reason why hiring becomes very challenging. Also, making brands understand that influencer marketing is way different than performance marketing. We're not salesmen but a credible face for your brand.
Backlash against finfluencers: Justified?
The backlash was harsh and not justified at all. You don't blame the Indian Cricket team if BYJU's is not performing well. It's the same thing. The influencers job is to educate and spread awareness and thanks to ASCI norms, influencers always give declarations of paid promotions, so it is clear that none of the content they put up is organic endorsement. It is on the audience if they follow trends blindly and then blame the influencers. It doesn't work that way.
Introduction of ad/promotion regulations
The industry is very open to regulation. Regulation brings in checks and balances. Introduction of regulations will put an end to a lot of instability that might be there in this space. So we are all waiting for any development on regulations and we will be more than happy to welcome it and fortify our creators.
Biggest opportunities coming up 
Fintech creators have the distribution. So leveraging this distribution for brands and helping them grow is always a big opportunity because the agencies help them multiply their business by closing more clients.
Creators are turning into entrepreneurs. Fintech creators would become fintech founders, edtech creators become edtech founders.
Top three trends that will change the ecosystem
Creators are turning into entrepreneurs.   They are focusing more on building a community. Having a close community of 100k is better than having a million followers.   They're also doing brand consultancy, workshops, courses, to impart more skills for better employability or entrepreneurship.
Next big disruption coming down the line for the industry
Creators are turning into entrepreneurs. Fintech creators would become fintech founders, edtech creators become edtech founders. 
Three annoying things all clients do
Treating influencer marketing like performance marketing. 
Changing the content and not trusting the creator's style and content. 
Taking a long time for approval. 
Three questions for influencers
Who are they creating content for?
Why are they making content in the first place? 
What are they getting from this? It's important to recognize if they are doing it for money or just because it looks like a lucrative space. This can always give them a perspective.