The Western states of Montana, New Mexico and Wyoming also reported their biggest one-day jumps in cases, as did Oklahoma and West Virginia.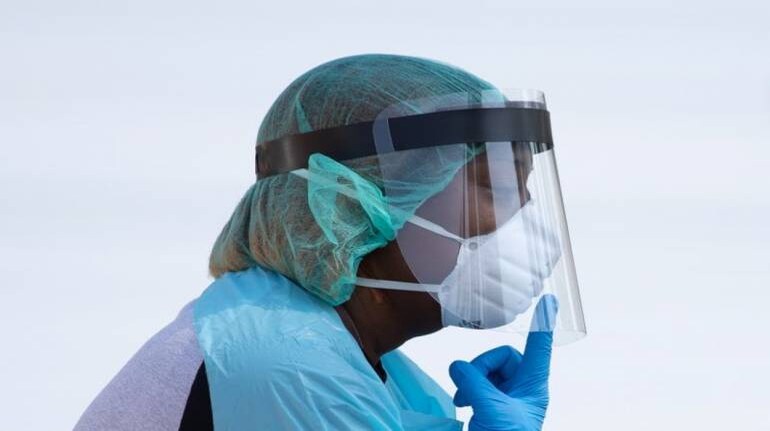 New cases of COVID-19 in the United States hit a two-month high on Friday with over 58,000 infections of the new coronavirus reported and hospitalizations in the Midwest at record levels for a fifth day in a row, according to a Reuters analysis.
Ten of the 50 states reported record one-day rises in cases on Friday, including the Midwestern states of Indiana, Minnesota, Missouri and Ohio. Wisconsin and Illinois recorded over 3,000 new cases for a second day in a row – a two-day trend not seen even during the height of the previous outbreak in the spring, according to Reuters data.
The Western states of Montana, New Mexico and Wyoming also reported their biggest one-day jumps in cases, as did Oklahoma and West Virginia.
Nineteen states have seen record increases in new cases so far in October.
COVID-19 Vaccine
Frequently Asked Questions
View more
How does a vaccine work?
A vaccine works by mimicking a natural infection. A vaccine not only induces immune response to protect people from any future COVID-19 infection, but also helps quickly build herd immunity to put an end to the pandemic. Herd immunity occurs when a sufficient percentage of a population becomes immune to a disease, making the spread of disease from person to person unlikely. The good news is that SARS-CoV-2 virus has been fairly stable, which increases the viability of a vaccine.
How many types of vaccines are there?
There are broadly four types of vaccine — one, a vaccine based on the whole virus (this could be either inactivated, or an attenuated [weakened] virus vaccine); two, a non-replicating viral vector vaccine that uses a benign virus as vector that carries the antigen of SARS-CoV; three, nucleic-acid vaccines that have genetic material like DNA and RNA of antigens like spike protein given to a person, helping human cells decode genetic material and produce the vaccine; and four, protein subunit vaccine wherein the recombinant proteins of SARS-COV-2 along with an adjuvant (booster) is given as a vaccine.
What does it take to develop a vaccine of this kind?
Vaccine development is a long, complex process. Unlike drugs that are given to people with a diseased, vaccines are given to healthy people and also vulnerable sections such as children, pregnant women and the elderly. So rigorous tests are compulsory. History says that the fastest time it took to develop a vaccine is five years, but it usually takes double or sometimes triple that time.
View more
Show
Amid the resurgence in cases across the nation, President Donald Trump, who recently contracted COVID-19, is set to resume his re-election campaign on Saturday by addressing supporters from the balcony of the White House.
He is then scheduled to travel on Monday to central Florida to hold his first campaign rally since leaving the hospital.
Trump and his administration have faced criticism for their handling of the pandemic that has claimed over 213,000 lives in the country, as well as for a lax approach to mask-wearing and social distancing in the White House.
There is no federal mandate to wear a mask, and 17 states do not require them, according to a Reuters analysis.
In addition to rising cases, hospitals in several states are straining to handle an influx of patients.
Seven states on Friday reported record numbers of hospitalized COVID-19 patients: Arkansas, Kansas, Missouri, Montana, North Dakota, Oklahoma and Wisconsin.
In the Midwest, hospitalizations rose to nearly 9,000, continuing a streak of records that began on Monday.
There are now over 34,000 hospitalized nationally, up 18% in the past two weeks.
While deaths nationally continue to trend downward, the United States is losing on average 700 lives a day. Three states reported a record one-day increase in fatalities on Friday: Arkansas, Missouri and Montana. Health experts caution that deaths are a lagging indicator and usually rise weeks after cases climb.
First Published on Oct 10, 2020 03:53 pm