Italy is set to receive 3.4 million doses of Pfizer's COVID-19 vaccine in January, enough to provide the requisite two doses to 1.6 million of the country's 60 million people, according to Special Commissioner Domenico Arcuri.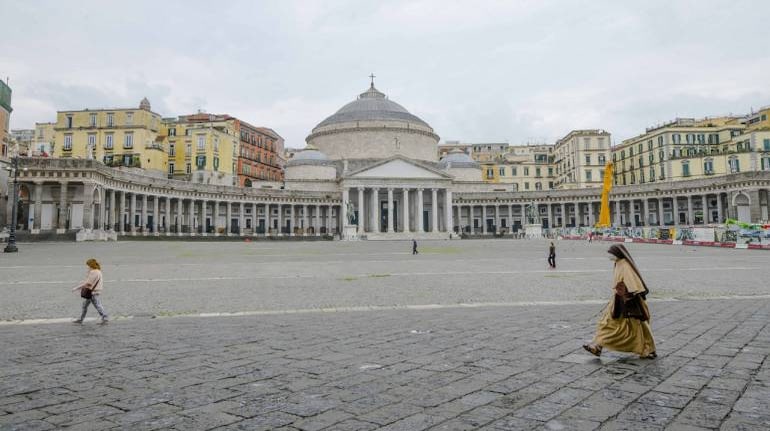 A significant number of Italians who want to be vaccinated against COVID-19 should have received their shots by next September, Italy's special commissioner for the virus emergency said on November 19.
Italy is set to receive 3.4 million doses of the Pfizer vaccine in the second half of January through the European Union's purchase program, enough to provide the requisite two doses to 1.6 million of Italy's 60 million people, special commissioner Domenico Arcuri said. He said elderly Italians and individuals with the most risk of exposure would get first priority.
"This will be the biggest campaign to administer a vaccine that we can remember, not just in Italy but in all of Europe and many parts of the world,'' Arcuri said during a news conference in Rome.
Follow our LIVE blog for the latest updates of the coronavirus pandemic
COVID-19 Vaccine
Frequently Asked Questions
View more
How does a vaccine work?
A vaccine works by mimicking a natural infection. A vaccine not only induces immune response to protect people from any future COVID-19 infection, but also helps quickly build herd immunity to put an end to the pandemic. Herd immunity occurs when a sufficient percentage of a population becomes immune to a disease, making the spread of disease from person to person unlikely. The good news is that SARS-CoV-2 virus has been fairly stable, which increases the viability of a vaccine.
How many types of vaccines are there?
There are broadly four types of vaccine — one, a vaccine based on the whole virus (this could be either inactivated, or an attenuated [weakened] virus vaccine); two, a non-replicating viral vector vaccine that uses a benign virus as vector that carries the antigen of SARS-CoV; three, nucleic-acid vaccines that have genetic material like DNA and RNA of antigens like spike protein given to a person, helping human cells decode genetic material and produce the vaccine; and four, protein subunit vaccine wherein the recombinant proteins of SARS-COV-2 along with an adjuvant (booster) is given as a vaccine.
What does it take to develop a vaccine of this kind?
Vaccine development is a long, complex process. Unlike drugs that are given to people with a diseased, vaccines are given to healthy people and also vulnerable sections such as children, pregnant women and the elderly. So rigorous tests are compulsory. History says that the fastest time it took to develop a vaccine is five years, but it usually takes double or sometimes triple that time.
View more
Show
The commissioner said he expected Pfizer's authorization from the European Medical Agency to be completed in time for the first vaccines to be administered in January. He said he was "anxiously awaiting" approvals of other vaccines against the coronavirus so they can be provided to all Italians on a voluntary basis.
"We don't know how many Italians will want to get the vaccine,'' Arcuri said. '"I can say on the basis of forecasts not yet validated, an important part of our population will be able to be vaccinated in the first half of the year, or in any case by the end of the third quarter."
COVID-19 Vaccine Watch: What you need to know about manufacturing and pricing
The Italian government, based on the Health Ministry's recommendations, will inform parliament of the order in which various categories of citizens will receive the doses as they arrive, Arcuri said.
Arcuri's agency plans to open Friday the bidding process for the syringes and needles needed to administer the vaccine. He said three types of syringes and at least six kinds of needles are required.
More than 47,800 Italians have died in the pandemic, the second-highest number in Europe after Britain.
Click here for Moneycontrol's full coverage of the coronavirus pandemic
First Published on Nov 20, 2020 11:20 am