But expansion is forecast to have remained solid amid still-strong demand for steel and other construction materials, and as mills in southern provinces with less stringent smog restrictions cranked up production to gain market share.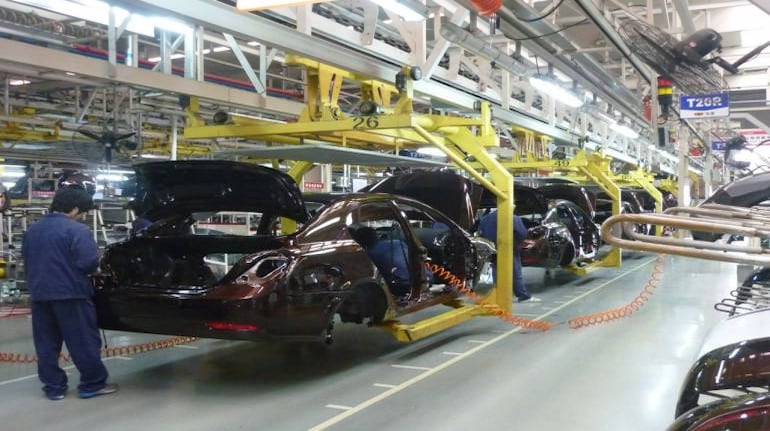 Activity in China's manufacturing sector likely grew at a slightly slower pace in November, a Reuters poll showed, as export orders softened and tough pollution measures forced many northern steel mills and factories to curb production.
But expansion is forecast to have remained solid amid still-strong demand for steel and other construction materials, and as mills in southern provinces with less stringent smog restrictions cranked up production to gain market share.
China's war on air pollution is clouding the outlook for the world's second-largest economy at the same time that global markets are fretting over Beijing's campaign to curb excesses in the financial sector and a rapid build-up in debt.
The official manufacturing Purchasing Managers' Index (PMI) on Thursday is expected to come in at 51.4 for November, down marginally from 51.6 in October, according to a median forecast of 28 economists polled by Reuters.
While activity is seen cooling for a second month, it would still mark the 16th straight month of expansion, supporting views that China's manufacturing sector remains resilient despite a number of challenges. The 50-mark divides expansion from contraction on a monthly basis.
A recovery for China's manufacturing and industrial firms - boosted by government spending, a resilient property market and unexpected strength in exports - has helped the economy post better-than-expected growth of nearly 6.9 percent through the first nine months of this year.
Profits for China's industrial powerhouses surged 25.1 percent in October, down only slightly from September's nearly six year high, as coal mining and other upstream sectors continued to benefit from strong commodity prices.
While the winter pollution curbs had been expected to dampen demand, resources prices have rallied this month on worries about supply shortages, keeping profit margins and production at robust levels.
The high-price trend has persisted, with domestic iron ore futures [DCIOcv1] prices up over 13 percent since the start of November, while coking coal [DJMcv1] has risen over 20 percent.[IRONORE/]
Prices in the world's largest steel consuming country will continue to remain strong in 2018 with supply and production becoming more balanced, an official from the China Iron and Steel Association (CISA) said last week, according to a report by the official Xinhua news agency.
GROWTH COOLS
Still, factory activity in the world's second-largest economy is clearly moderating.
After a near two-year tear in the real estate market, new construction starts and property sales have started falling due to a flurry of government measures to tame hot house prices.
Beijing's ongoing crackdown on riskier forms of financing is also slowly driving up borrowing costs, which is expected to weigh on investment and other business activity.
Growth in China's exports also eased in October, with overseas shipments rising 6.9 percent from a year earlier, compared to 8.1 percent growth in September.
STEPPED UP MEASURES
In recent weeks, Beijing has stepped up its efforts to wring risks from China's financial sector, specifically targeting areas linked to shadow banking.
Authorities have issued sweeping guidelines to tighten rules on asset management business and have urged provincial governments to suspend regulatory approval for new internet micro-lenders.
They are also looking more closely at infrastructure spending on projects such as railways and subways, which along with property has been one of the economy's main growth drivers but is racking up more local government debt.
That has led to jitters in mainland markets, with selling that began on Thursday continuing this week, as the spectre of rising borrowing costs hitting company profits spooked investors.
But the recent clampdowns are aimed at controlling the flow of liquidity away from loss-making "zombie" firms and into productive areas of the economy and should not be seen as a prelude to broad tightening in China, Rafael Halpin, head of research at Sun Hung Kai Financial, wrote in a note on Monday.
Economists expect the findings of a private survey on China's factory activity on Friday will also show activity in November expanded at slightly slower but still solid pace.
They predict the private Caixin/Markit Manufacturing Purchasing Managers' index (PMI) will be 50.9 in November versus 51.0 the previous month.
The private survey tends to focus on small and mid-sized firms, which have not benefited as much from the year-long state-led construction boom as large, government-owned "smokestack" industries.
The official PMI survey will be published on Nov. 30, along with a similar official survey covering the services sector.
The private Caixin PMI will be published on Dec. 1, with the Caixin services PMI to be released on Dec. 5.
First Published on Nov 28, 2017 12:08 pm