Community health experts say there is a need to urgently launch infection control audits across hospitals by the government to determine the scale of dangers faced by the health care workers during COVID-19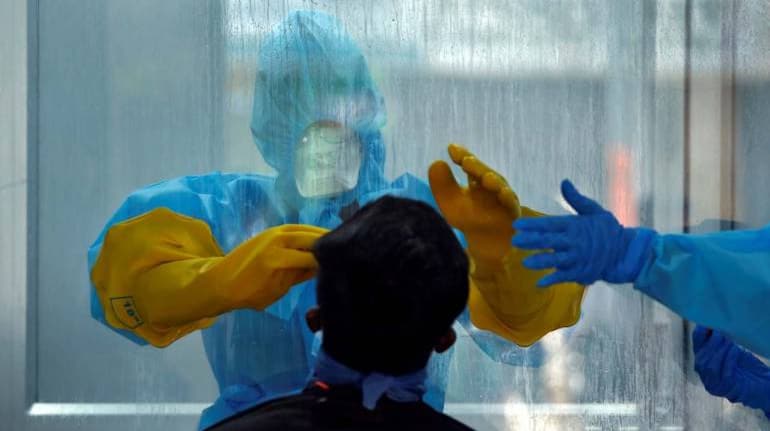 At least 70 doctors in India have died after contracting the novel coronavirus since the pandemic reached the country in January, reported The Tribune.
The death toll includes the doctors who were on the frontlines to help fight the COVID-19 disease that has officially claimed 17,839 lives in the country while infecting near six lakh people.
Recently, Dr Sayeed Ahmad Ali reportedly died due to the novel coronavirus infection. The doctor tested positive for COVID-19 on June 8 and died of lung collapse at a Noida hospital.
Earlier, 52-year-old Aseem Gupta, an anaesthetist at Delhi's Lok Nayak Jaya Prakash Hospital, and his wife contracted the coronavirus. The doctor died while his wife survived. In Delhi alone, at least four serving doctors die of COVID-19, the report said.
COVID-19 Vaccine
Frequently Asked Questions
View more
How does a vaccine work?
A vaccine works by mimicking a natural infection. A vaccine not only induces immune response to protect people from any future COVID-19 infection, but also helps quickly build herd immunity to put an end to the pandemic. Herd immunity occurs when a sufficient percentage of a population becomes immune to a disease, making the spread of disease from person to person unlikely. The good news is that SARS-CoV-2 virus has been fairly stable, which increases the viability of a vaccine.
How many types of vaccines are there?
There are broadly four types of vaccine — one, a vaccine based on the whole virus (this could be either inactivated, or an attenuated [weakened] virus vaccine); two, a non-replicating viral vector vaccine that uses a benign virus as vector that carries the antigen of SARS-CoV; three, nucleic-acid vaccines that have genetic material like DNA and RNA of antigens like spike protein given to a person, helping human cells decode genetic material and produce the vaccine; and four, protein subunit vaccine wherein the recombinant proteins of SARS-COV-2 along with an adjuvant (booster) is given as a vaccine.
What does it take to develop a vaccine of this kind?
Vaccine development is a long, complex process. Unlike drugs that are given to people with a diseased, vaccines are given to healthy people and also vulnerable sections such as children, pregnant women and the elderly. So rigorous tests are compulsory. History says that the fastest time it took to develop a vaccine is five years, but it usually takes double or sometimes triple that time.
View more
Show
In view of the doctors' deaths, community health experts say there is a need to urgently launch infection control audits across hospitals by the government to determine the scale of dangers faced by the health care workers during the coronavirus pandemic, said the report.
Follow our LIVE blog for the latest updates of the novel coronavirus pandemic
Rajib Dasgupta of JNU's Community Health Department said that the health care workers, including doctors, have faced the greatest risks in the COVID-19 pandemic. More than 2,000 health care workers have tested positive for COVID-19 in Delhi alone. As per an ICMR report, 1,073 positive cases among health care workers were reported till May 23, Dasgupta was quoted as saying.
"It's time the government analysed data of infections and deaths among health care workers and conducted infection control audits," Dasgupta said as per the report.
If the global numbers are accounted, COVID-19 infection rate in health care workers is at least 1 percent, the report suggested.
Meanwhile, the Delhi Medical Council has issued an advisory to all members to treat every patient as COVID-19 positive and maintain the highest level of precaution at all times.
Follow our full coverage on COVID-19 here.
First Published on Jul 2, 2020 10:28 am