As more Indians are going online, the airwaves are emerging as the latest frontier in the battle for eyeballs

India's enduring infatuation with the movies might be on the rocks. The silver screen has enraptured Indians for the better part of a century. In the infancy of Indian cinema, millions flocked to single screen theatres for a temporary reprieve from the prosaic of everyday life.
Multiplexes sprung up soon after, and cable television became entrenched as an irreplaceable part of the average home. But Indians' affinity for the theatrics has not dimmed, even with multiple suitors — their screens beaming the latest offerings from tinsel town — vying for their attention.
However, with the advent of streaming services disrupting the entertainment space, revenue from films is set to be eclipsed by digital in the next two years, according to a joint report by EY India and FICCI.
The film industry in India is expected to cumulatively clock a revenue of Rs 19,200 crore by 2020 compared with Rs 22,400 crore for digital in the same time.
This could represent an inflection point in the media and entertainment sector as dissemination platforms could eat into the revenue streams of established production houses.
YouTube, Netflix, and Amazon Prime, among others, boast of sizeable subscriber bases. Despite their substantial clout with end users, posing a credible challenge to Bollywood could yet be a pipe dream. Given that the amount of original content produced by these new players is much less than the hours of programming dished out by mainstream production houses, streaming services are reliant on licensing agreements to supplement their portfolio of syndicated content and original shows.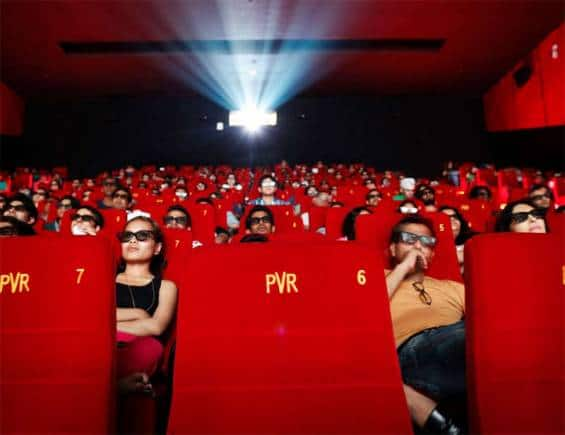 The exodus is not upon us yet, but the migratory trend in consumption preference poses an existential threat to the loosely organized cartel of production houses in Hindi and other regional languages. Income from distributors continues to be the biggest source of revenue for producers, but if cinema halls were to witness fewer footfalls, it could seriously affect their margins. Shying away from streaming platforms could keep content away from a substantial digital audience, but producers seem to be wary of an erosion in revenue that could arise from long-term licensing and royalty agreements with streaming platforms.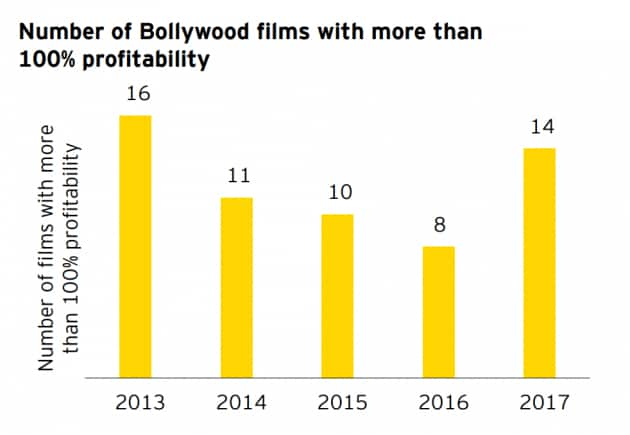 Hindi cinema continues to be profitable for producers with 2017 being a year of resurgence, with profits reversing the downward slope of the previous three years. According to the Bollywood news website Koimoi, the number of movies registering over 100 percent profit in 2017 stood at 14.
However, a number of big-budget movies did not fare well despite doing well at the box-office, suggesting that profitability is function of multiple factors such as the sale of television rights, overseas markets, and the sale of ancillary products and events.
Indians are consuming more video content than ever before. However, the future of the entertainment sector continues to be clouded by uncertainty despite posting robust gains.
Technological disruption has altered consumption patterns, and an improvement in internet penetration has been at the vanguard of India's digital revolution in entertainment.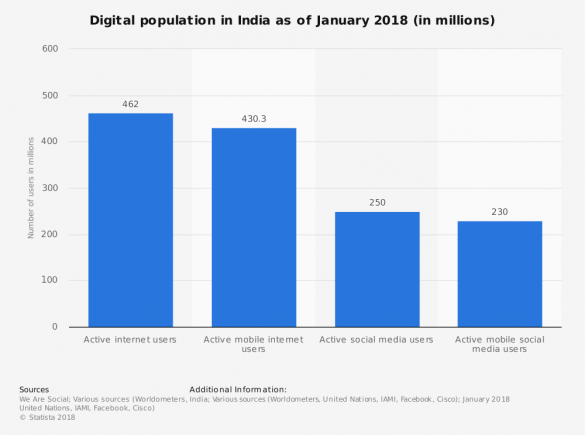 The number of active internet users has increased drastically over the last few years, aided by telecom companies' competitive pricing. As of January 2018, 430.3 million users accessed the internet through mobile devices, 93 percent of the total number of internet users in the country.
With over a third of India's 1.32 billion population already connected to the internet, the market for digital content represents a pool bigger than the population of the United States, highlighting the importance of India as a market for streaming services like Netflix.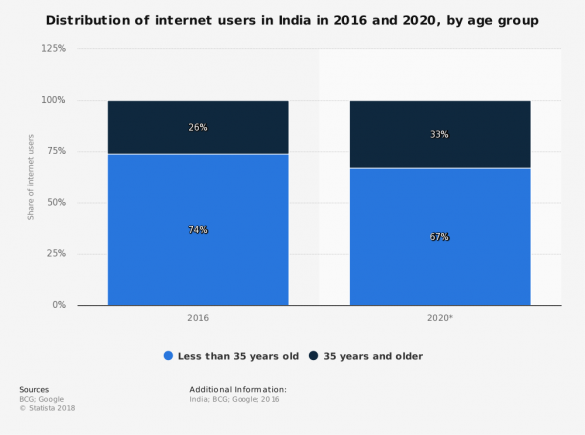 Research by Google found that in 2016, 74 percent of all internet users in India were under the age of 35. India's demographic dividend may be rife for a digital breakout, but the prime facilitator for the shift in consumption of content to the digital space has been the fall in data tariffs. The EY-FICCI report found that for a low value plan, the price per gigabyte (GB) of data has dropped to as much as Rs 3.55 in 2017.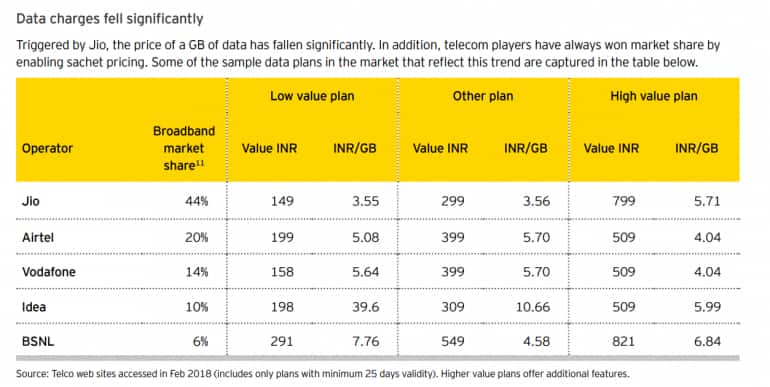 Even for high-value plans, the price per GB hovered between Rs 4.04 and Rs 6.84. This implies that users will have to pay less than Rs 10 towards internet tariff to stream a full-length feature film amounting to 1.4GB, in standard definition.
Even after taking the cost of subscription into account, streaming a movie is significantly cheaper than a night out at a multiplex, and less cumbersome than enduring a matinee on television with its bloated runtime padded by lengthy advertorial breaks.
The bouquet of international shows in their catalogue is also a determining factor in subscription choices.
The film industry in India is not completely averse to experimenting with digital subscriptions. Eros Group, which has over 40 years of experience in the entertainment business, was one of the few Indian production houses to be ahead of the curve. They launched Eros Now, a digital content platform a few years ago, and with around 3.7 million paid subscribers, revenue from digital accounted for around 25 percent of their overall revenue in the past year, reducing the company's reliance on the box office.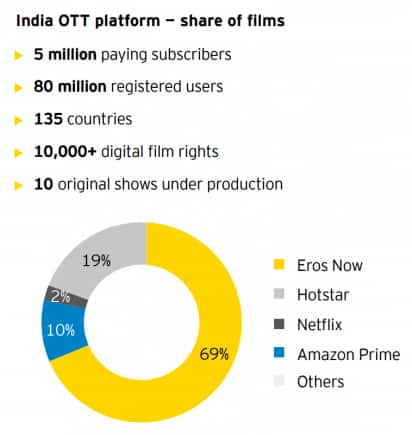 In terms of television shows, Hotstar and Netflix are ahead of the curve, but Eros Now has the lion's share of original movies streaming on its platform. Eros Now holds the rights to 69 percent of all movies available for streaming in 2017, as opposed to 19 percent for Hotstar and 10 percent for Amazon Prime.
The streaming ecosystem in the country might still be in a nascent state, but India has the second largest online video audience, more than Brazil and the United States. Ernst & Young estimates that India had 250 million video consumers in 2017, 190 million of those who were between the ages of 15 and 34. An increase in internet speed, fall in data tariffs and greater internet penetration could double the number of digital video consumers to 500 million by 2020, according the EY analysis.
The preference of content on these platforms is also indicative of the geography of the user base. The EY-FICCI report found that only 7 percent of the total time spent on streaming platforms was in viewing English-language content. Screen time for videos in Hindi and regional languages were 63 percent and 30 percent respectively.
This statistic highlights the fact that the key to unlocking the digital market in India is by focusing on regional content since viewers of programmes in English are in a distinct minority.
Also, the silver screen has literally shrunk, with the adoption of digital streaming. According to the EY-FICCI report, 77 percent of video consumption was through mobile devices, drawing a direct correlation between the rise in mobile internet users and the streaming revolution.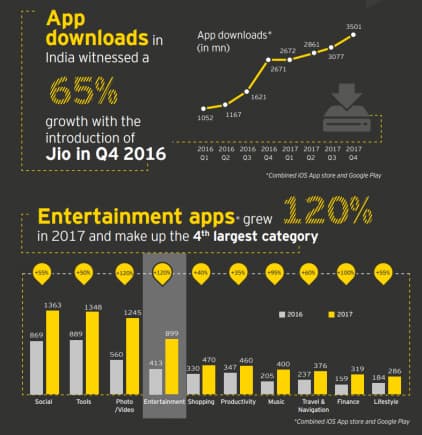 As more Indians are going online, the airwaves are emerging as the latest frontier in the battle for eyeballs. In 2017, digital media accounted for 17 percent of the total ad spend in India, up from 15 percent in the previous year. According to Zenith, India ranks fourth among the top 10 nations in terms of spending on advertisement, behind the United States, China, and Indonesia, in that order. Advertisement in video offerings amounted to Rs 3,800 crore in 2017.
With many new launches premiering exclusively on a select platform, streaming apps are facing stiff competition for a common consumer pool. Amazon Prime held nearly 10 percent of the total over-the-top (OTT) streaming market in 2017, with 0.61 million subscribers, marginally more than the 0.52 million subscribers of Netflix, according to data shared by London-based IHS Markit with Quartz.
In a price-conscious market such as India, the likelihood of users holding multiple streaming subscriptions is low; attractive offers have also been effective in tempting potential customers into subscribing.
Netflix's cheapest package in India costs Rs 500 per month, while an Amazon Prime membership, which was initially offered for Rs 499 a year, is now available for Rs 999.
Additional benefits of availing a Prime membership is access to extra content on the platform and same-day delivery on orders placed on Prime's parent Amazon's website.
Bollywood producers are coming out of the woods. While digital streaming might be terra incognito for many in the domestic entertainment industry, some have embraced the new wave of content dissemination.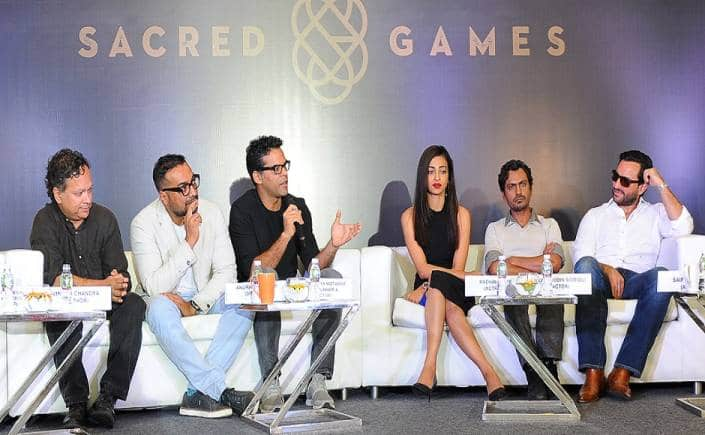 In their bid to strengthen their domestic portfolio to appeal to a larger audience, streaming platforms have been building war chests to conquer the Indian heartland.
Cash-burn might not yield results in the short term, but with a bigger catalogue on offer, the lure of entertainment on demand that caters to a variety of tastes will likely enhance brand value and a stronger subscriber base.
Powered by the deep pockets of Jeff Bezos, the richest man in the world, Amazon have been on a spending spree, acquiring rights to movies released by production houses such as Mukesh Bhatt's Vishesh Films and Karan Johar's Dharma Productions. Amazon also scored a coup by bringing on board Salman Khan, nabbing the right to exclusively stream his movies before they are released on satellite or TV channels. The e-commerce giant recently committed $300 million for the production of original content for the Indian market.
Bereft of Amazon's purchasing power, Netflix has been making modest inroads into capturing the imagination, and wallets, of Indian consumers.
Netflix signed a deal with Shahrukh Khan and his production house firm Red Chillies Entertainment. It has taken to commissioning original long-form content, such as the Anurag Kashyap-directed Sacred Games, which released on July 6.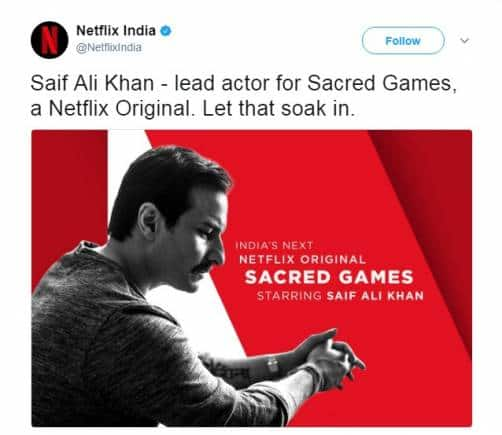 The streaming battle is far from being a two-horse race. While Amazon and Amazon Prime may have adopted an approach to differentiate their offerings from the competition by launching original content, Hotstar has clocked impressive numbers on the back of its acquiring streaming rights to popular sporting events such as the Indian Premier League (IPL), Pro Kabaddi League and the English Premier League (EPL).
Hotstar also has the digital rights to content produced by HBO, which is a major incentive for fans of television shows like Game of Thrones, with the option to stream episodes on the same day as it releases in the US.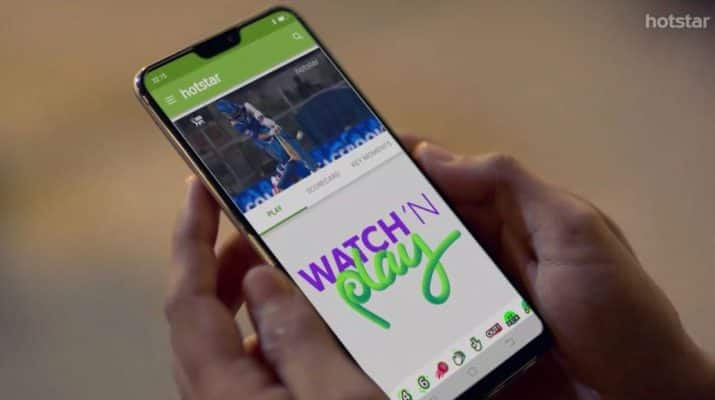 In addition to shows produced by the array of the Star Network's regional channels, Hotstar also has around 40-odd HBO shows in its catalogue. The premium version of Hotstar is priced at Rs 199 a month, making the cost over a year less than three times the subscription charge of Netflix, and eight times as much as Amazon Prime Video.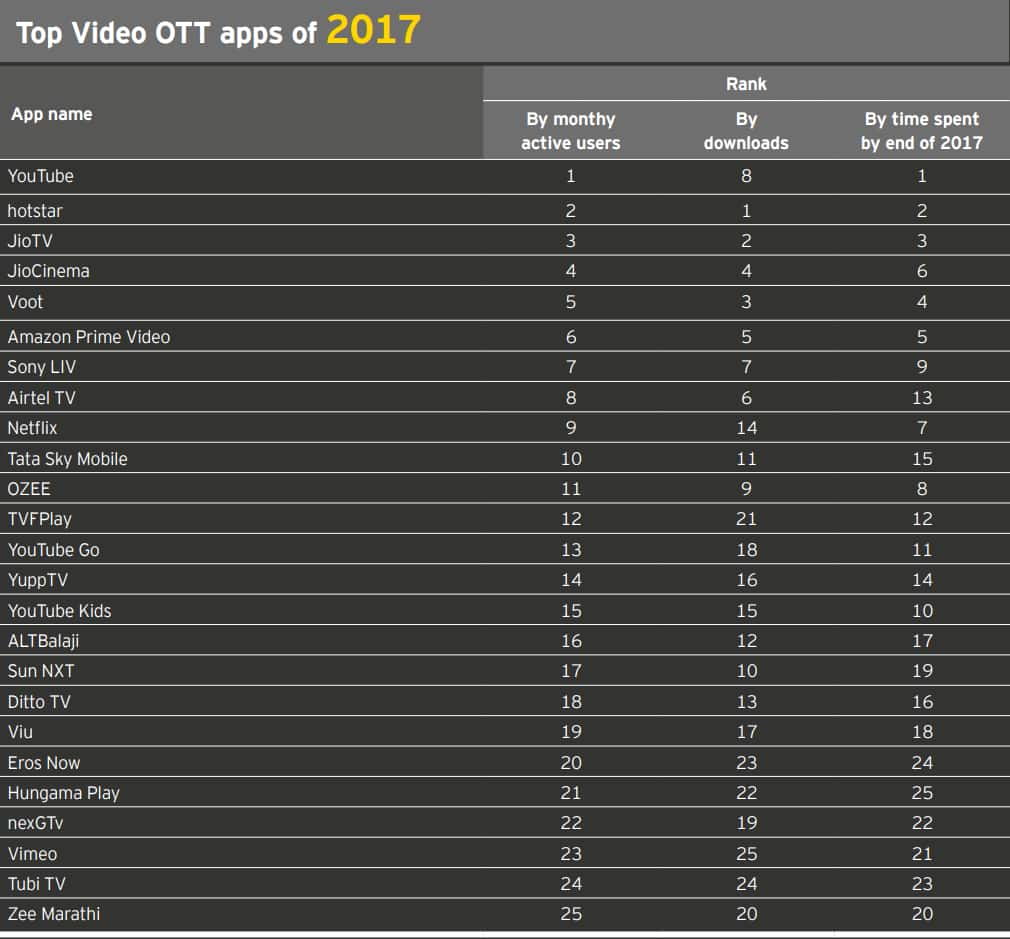 However, the usual suspects aren't the biggest players in the market for streaming applications on smartphones. According the EY-FICCI report, users in India spent the most time on YouTube, with Hotstar, Amazon and Netflix occupying the second, fifth and seventh spots respectively.
Telecom operators are also leveraging their hardware infrastructure to make an entry into the content space.
Among streaming apps, Reliance Jio's JioTV had the third most number of active users behind YouTube and Hotstar.
With the Indian market far from attaining saturation, growth in the user base and digital advertisement bodes well for the entertainment sector. Consistent growth over the past couple of years indicate that streaming platforms represent more than just a passing flirtation for Indian consumers looking to satiate their love for cinema.
First Published on Jul 9, 2018 07:14 pm