What's more surprising is that the driver in question had a 4.56/5 stars rating

Moneycontrol News 
An Uber driver in Mumbai stopped the car and threatened actress Mallika Dua to get out of the cab while at the same time verbally abusing her when the actress asked him to turn down the AC in the car.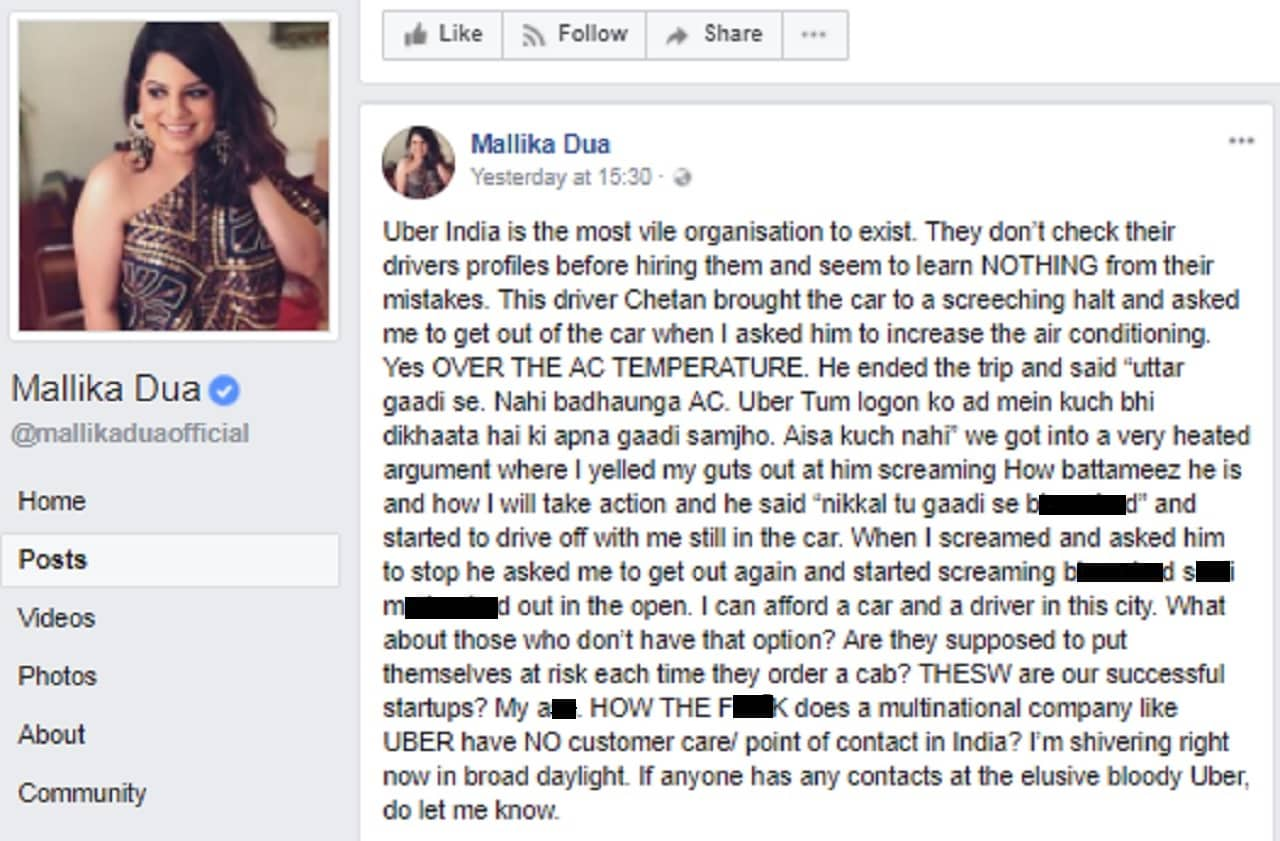 As per a Facebook post by the actress on social media, upon requesting the air conditioning to be turned down, the Uber cab driver responded by immediately ending the trip, saying: "Uttar gaadi se. Nahi badhaunga AC. Tum logon ko ad mein kuch bhi dikhaata hai ki apna gaadi samjho. Aisa kuch nahi." (Get out of the car. I won't increase the AC. Customers feel they can just assume things based on advertisements which ask you to assume this car is your own. It's nothing like that)
The driver was referring to Uber's recent advertisement campaign tagline of 'Apni gaadi samjho', targeted for the Indian market through which Uber is making efforts to try and win over the Indian customers' trust.
Also Read: Uber launches uberPOOL in Chandigarh, Jaipur and Ahmedabad
The actress, following the incident, got into a heated argument with the driver warning that she will take action against him.
Upon this, the driver turned extremely hostile and hurled verbal abuses at her, while simultaneously starting the car and driving off with her inside.
Following this, Mallika threatened the driver to stop, upon which he delivered further abusive slangs and threatened her to get out again.
Dua was on her way to her brother-in law's place.
The actress abused Uber for not having adequate customer care despite having a multinational presence.
Also Read: Uber boss seeks to charm London transport chief in licence row
What's more surprising is that the driver in question, Chetan, had a 4.56/5 stars rating.
You can read Mallika Dua's full post against the Uber driver here.
After Mallika Dua's post, Uber reached out to her and assured of corrective action from their side, and has blacklisted the driver from the cab service
First Published on Oct 9, 2017 05:43 pm