CISCE board has declared ICSE results 2017 (Class 10) and ISC results (Class 12) 2017 on its website cisce.org.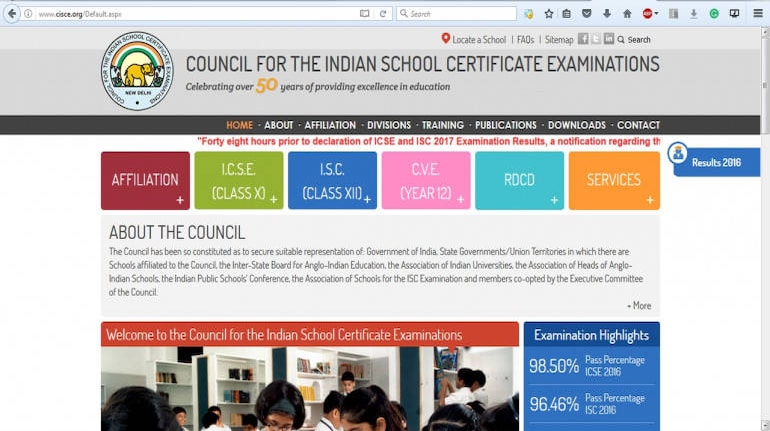 The Council for the Indian School Certificate Examinations (CISCE) has declared the ICSE 10th Result 2017 and ISC 12th Result 2017 on its official website www.cisce.org.
The official website is currently not working. But, students can still check their results on private education website like jagranjosh.com.
Alternatively, results will also be available on private education websites like Indiaresults.com and examresults.net.
The pass percentage of ISC class 12 results is 96.47 percent this year, almost same as last year's 96.46 percent. Kolkata student Ananya Maity is the class 12 topper with 99.5 percent, according to PTI.
In class 10, Muskan Abdullah Pathan from Pune and Ashwin Rao from Bengaluru topped with 99.4 percent.
According to a press release on cisce.org, the results of the ICSE and ISC 2017 examinations will be made available through the Careers portal of the Council, the website of the Council and also through SMS.
The results declaration would come as a sigh of relief to students who had been reeling under a perceived delay caused by a High Court ruling on marks moderation policy. You can read more details on the matter at ICSE 10th Result 2017, ISC 12th Result to be declared today at 3 pm on cisce.org: 8 things to know
Here's how students can check their results on the website:
> Log on to the official website
www.cisce.org
or examresults.net.
> Click on the link 'Results 2017'.
> For accessing the ICSE result 2017, click on ICSE and for ISC Result 2017 click on the ISC link.
> On the new page enter the correct Unique ID and captcha for either Indian Certificate for Secondary Education ICSE (Class 10 results 2017) or ISC Indian School Certificate (Class 12 results 2017).
> Click Submit.
> Download the ICSE Class 10 results 2017 or ISC Class 12 results 2017. Do not forget to take a printout for all future references.
How to get results via SMS:
> For receiving the ICSE Result 2017 via SMS, create a new message text by typing out your Unique ID in the following manner ICSE <space> 1234567 (seven digit unique id)
> Send the message to 09248082883. ISC results can also be accessed via SMS in the same manner.
> The SMS result would be displayed along with subject-wise score as follows: Karthik Krishnan (Name of student) ENG-98, HIN-87,MAT-85... and so on
ICSE and ISC students can now also have digitally signed statement of marks and pass certificate which will allow them access to the results anytime, anywhere.
The board has also made a provision for students to apply for rechecking of marks.
In 2016, the results were announced on May 6, 2016.
Out of 1,68,591 students who appeared for ICSE examination last year, 97.03 percent of boys passed, whereas for girls the number was higher at 99.13 percent.
First Published on May 29, 2017 03:15 pm