Amid tensions from neighbouring countries, India has stepped up its military spending by nearly 54 percent in the 10 years span aiming to be at par with other nation's defence power.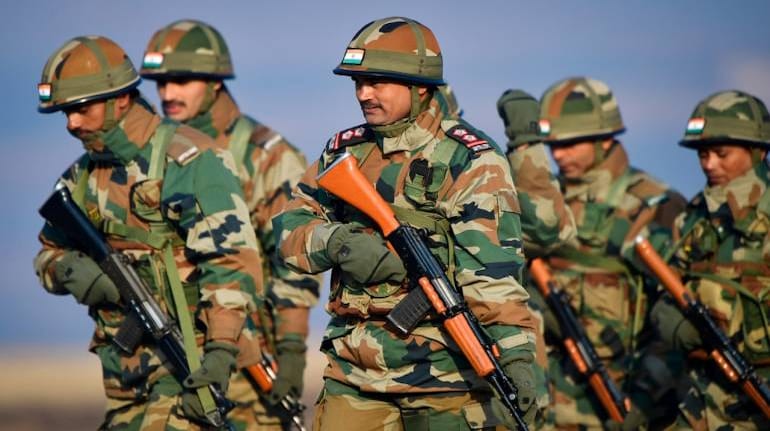 Amid tensions from neighbouring countries, India has stepped up its military spending by nearly 54 percent in a 10-year span aiming to be at par with other nations' defence power.
India recorded the third highest change in its military spending among major powers between 2007 and 2016, according to the data compiled by Statista based on Stockholm International Peace Research Institute's (SIPRI) annual report on defence spending during the same period.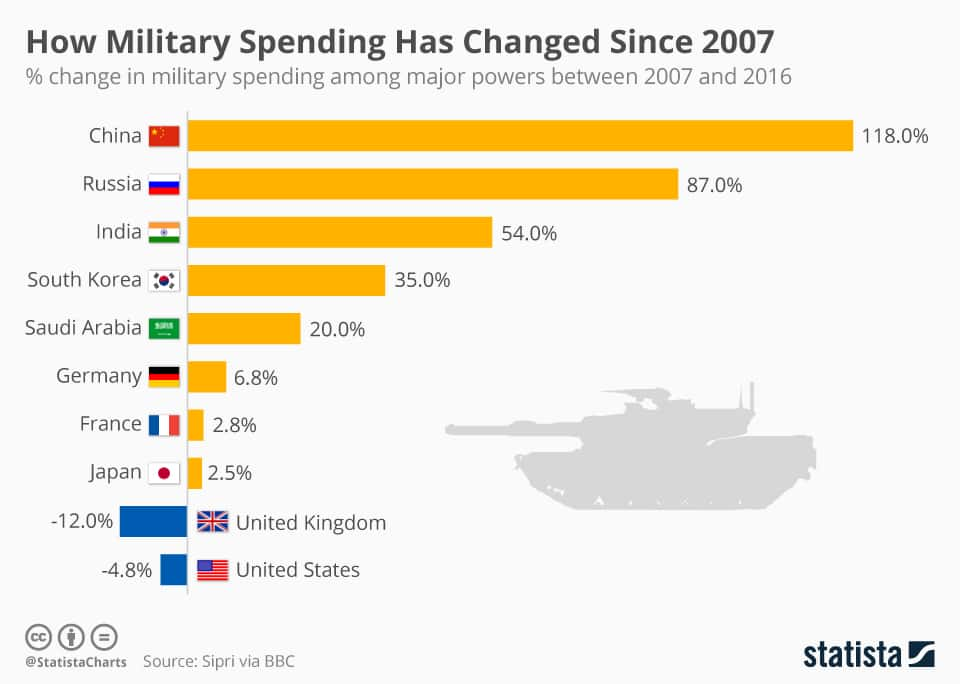 In Budget 2018, Finance Minister Arun Jaitley raised the defence allocation by 7.81 percent to Rs 2.95 lakh crore. The hike, however, fell short of expectations as the armed forces face growing challenges on the borders with Pakistan and China.
Nevertheless, the Indian Public Finance Statistics 2015-16 data, indicate that the spending on the military has been increasing constantly.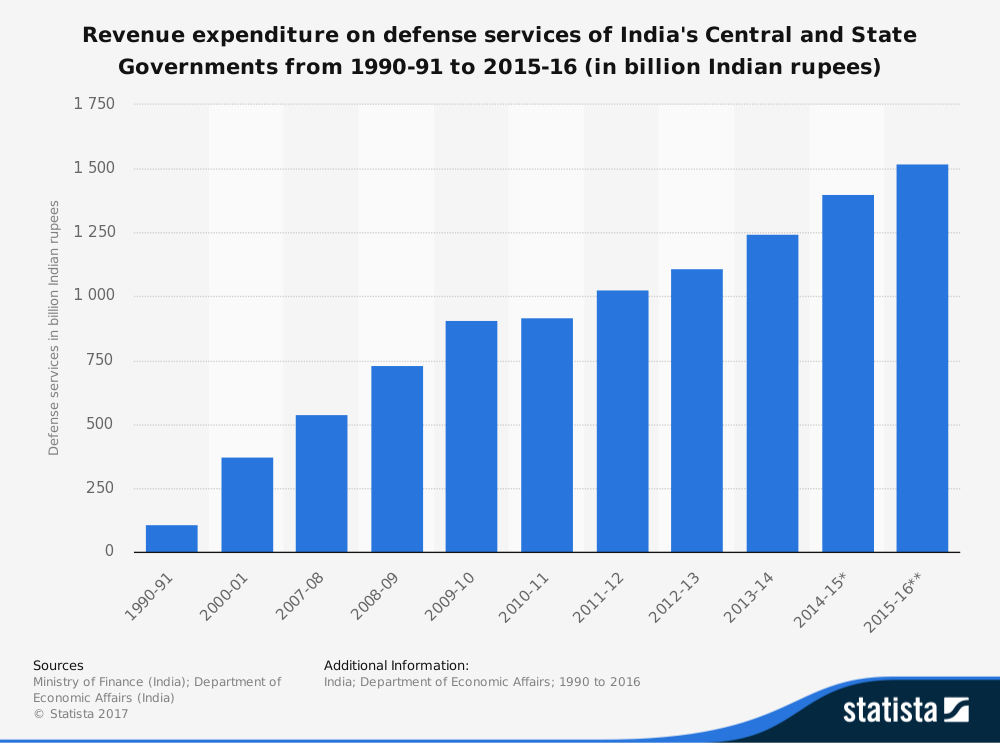 Here are a few reasons why India has been soaring its military funding over the years:
Increasing tension across border
India-China: India and China's relationship has been a roller-coaster ride as both the countries have different stakes in a range of matters such as the exact China-India border. China has been claiming over 40,000 square miles of Indian territory both in Ladakh and North-East Frontier Agency (NEFA). In 1959, India's decision to grant asylum to Dalai Lama soured the Indo-China relations further.
Recent disputes such as Dokalam standoff, blocking of India's NSG membership bid and opposition to declare the JeM chief Masood Azhar a global terrorist too haven't helped.
The year 2017, however, ended on a promising note with both sides vowing to create favourable conditions for the development of relations over Dokalam.
The fact that both India and China are emerging economies, the competitive element plays a huge part in the bilateral relationship, at times affecting trade relations between the neighbours.
India-Pakistan
India and Pakistan have been involved in four wars, several border skirmishes and military standoffs since the partition of British India in 1947. The differences over Jammu and Kashmir have been the main cause, whether direct or indirect, of all major conflicts between the two countries with the exception of the Indo-Pakistani War of 1971 where conflict originated due to turmoil in erstwhile East Pakistan (now Bangladesh).
Rising militancy in the Kashmir Valley also eats away into the defence outlay.
> Increased spending from neighbouring countries 
The SIPRI data shows globally military expenditure has been on the rise, with both developed and emerging economies investing billions of dollars to modernise their military prowess.



World military expenditure totalled $1,686 billion (2.2% of global GDP) in 2016: https://t.co/ginQBK40Oo. #SIPRIFacts #Milex #Arms. pic.twitter.com/OwMg6t4FFe


— SIPRI (@SIPRIorg) April 24, 2017
Among India's neighbours, China was the world's second-largest military spender with an expenditure of USD 215 billion in 2016. China's 5.4 percent increase in military expenditure is much lower than 118 percent rise seen over the 10-year span. This adds more pressure on India to strengthen its military power.
Modernisation of Military
Advancement of technology brought in new defence systems such as stealth fighter Sukhoi Su-57 PAK-FA and T-14 Armata tank, thereby leading to countries like Russia ramping up their war equipment. Segregated allocation for acquiring modern defence equipment in the Budget has allowed  India to record a higher spending on the acquisition of latest technology too.
Several mega contracts, including one for Rafale fighters, and Apache attack and Chinook heavy-lift helicopters, have been signed by the Indian Air Force in the past few years.

A number of contracts are lined-up to acquire modernised equipment for the Indian Army, Navy and Air Force.
Among the defence services, the Indian Army with an outlay of Rs 1,49,369 crore accounts for the biggest share in defence budget, followed by the Air Force, Navy, Defence Research and Development Organisation (DRDO) and Ordnance Factories (OFs).
The Achilles Heel
Increased budgetary outlay, however, may not convert India into an ultra-modern armed force. Nearly 83 percent (or Rs. 11,071 crore) of the overall growth of Rs 13,291 crore in the defence budget this year was primarily due to the hike in the manpower cost of the armed forces, according to an  Institute for Defence Studies and Analysis (IDSA) report.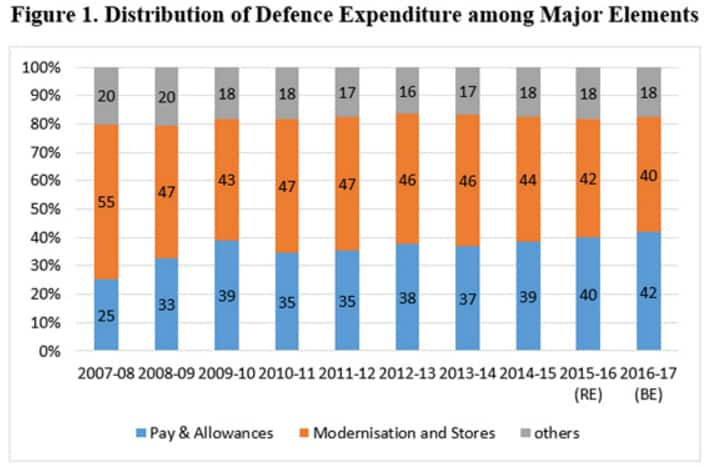 An increased manpower leads to an increase in the revenue expenditure as the government will have to be responsible for providing required provisions such as wages, pensions, perks for all the defence personnel.
A major chunk — Rs 1.95 lakh crore — of the total allocation of Rs 2.95 lakh crore for the defence budget, has been allocated for revenue expenditure which includes expenses on payment of salaries for nearly 1.4 million active military personnel and maintenance of establishments.
This means a lower budgetary allocation for capital modernisation. Only Rs 99,947 crore has been set aside for capital outlay to purchase new weapons aircraft, warships and other military hardware.
China had significantly cut down personnel strength 4 times by 1 million in 1985, 500,000 in 1997, 200,000 in 2003 and more recently 300,000 in 2015. India too may have to make such measures in its bid to be a military superpower as the country is facing further challenges due to increased manpower.
Indian military personnel have already been facing grave shortages in many areas ranging from ammunition, assault rifles, bullet-proof jackets, night fighting-devices to howitzers, missiles, helicopters, fighters and warships, the IDSA report said.
First Published on Feb 22, 2018 02:24 pm