Oct 30, 2017 03:45 PM IST | Source:
Moneycontrol.com
DATA STORY: 76% of LED bulb brands in India flout consumer safety standards
Non-compliance to norms poses a serious safety hazard and causes a significant loss in tax revenues for the exchequer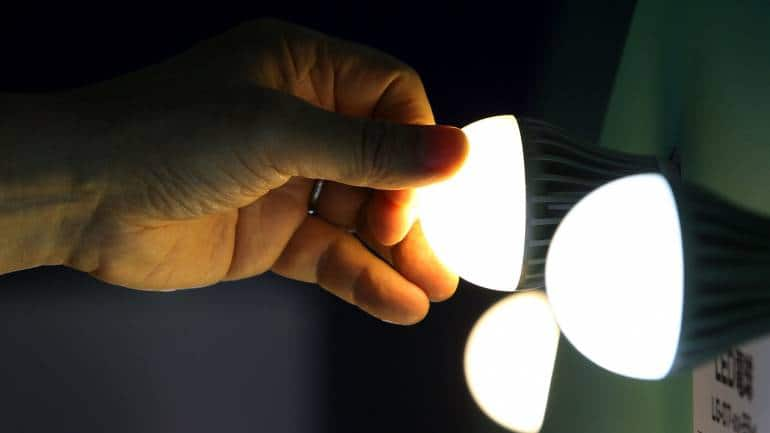 Amid the on-going push by the government to distribute LED bulbs to the citizens at a subsidised rate, over 70 percent of the LED brands of bulb and downlights have been flouting consumer safety standards, according to a study conducted by Nielsen.
On an average, 76 percent of LED bulb brands and 71 percent of LED downlighter brands across 200 electrical retail outlets were found to be non-compliant with the consumer safety standards as prescribed by the Bureau of Indian Standards (BIS) and Ministry of Electronics and Information Technology, Government of India.
The report claims that non-compliant products would also impact energy efficiency in the country, where the government is targeting replacing 770 million incandescent bulbs across India with LEDs under the UJALA scheme. The Nielsen survey findings serve an eye-opener for the government's push.
"Given this scenario, it is important for the government to act against these spurious and non-branded products for safeguarding consumer safety and protecting their revenues against these companies," the report states.
City-wise Data
Out of the four cities — New Delhi, Mumbai, Ahmedabad and Hyderabad — where the study was conducted, Delhi recorded the highest number of BIS violations with 73 percent LED bulbs manufacturers being non-compliant with BIS norms.

Source: Nielsen.
Delhi was followed by Hyderabad with 69 percent BIS violations by LED bulb manufactures, Ahmedabad with 53 percent and Mumbai with 36 percent violations in the same category.
BIS violations by the manufacturers of LED downlights across these cities were nearly the same. Over 73 percent of the Delhi LED downlights manufacturers recorded BIS violations, followed by Hyderabad (65 percent), Ahmedabad (53 percent) and Mumbai (41 percent).
The survey conducted in July 2017 showed that 48 percent of LED bulb brands had no mention of manufacturer's address and 31 percent brands did not have a manufacturer's name, which is a violation of the Indian legal metrology regulations that mandates manufacture to provide these details in the packaging.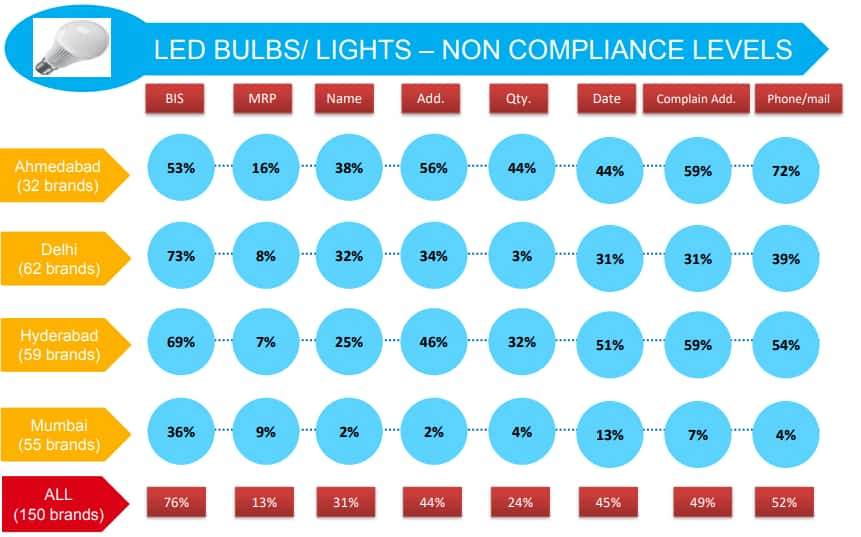 Source: Nielsen.
Over 56 percent of LED bulbs manufactured in Ahmedabad did not print manufacturer's address, while 38 percent failed to mention manufacturer's name.
In Hyderabad, 46 percent of LED bulb manufacturers did not mention manufacturer's address, while 25 percent of the LED bulb brands did not have the manufacturer's name.
The capital recorded 34 percent and 32 percent of the manufacturers who failed to mention manufacturer's address and name, respectively.
Among all the other cities, Mumbai recorded only two percent of the manufacturers violating the laws regarding the printing of manufacturer's address and name in the package.
Similarly, the study conducted on LED Downlighters showed that of the total sample size, 45 percent brands did not have a manufacturer's name and 51 percent brands had no mention of the manufacturer's address.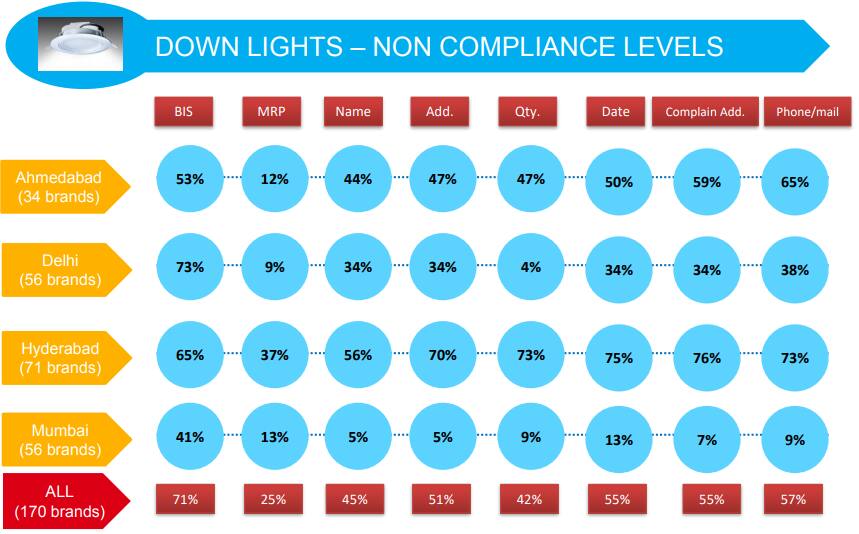 Source: Nielsen.
Among LED downlighters too, Mumbai recorded the least violations of norms for not mentioning manufacturer's address and name at 5 percent.
Hyderabad showed the highest number of violations by LED downlighters manufacturers with 76 percent of the brands selling their products without manufacturer's address and 56 percent without manufacturer's name.
Illegal manufacturing
"Non-compliance with the safety norms poses a serious safety hazard for consumers as well as causes a significant loss in tax revenues to the Government of India, as they are illegally manufactured and sold," the report states.
"It is very unlikely that the manufacturers of these spurious LED bulbs and downlighters pay any GST to the government, thereby causing a huge loss to the exchequer," Rakesh Zutshi, President of ELCOMA (Electric Lamp and Component Manufacturers' Association) said, how the non-compliant LED manufacturers threaten competition in the market.
The total LED market in India is worth Rs 10,000 crore, with LED bulbs and downlighters — used widely in homes, and offices — constituting 50 percent.
"As per an ELCOMA study, the Indian LED Lighting market has grown from Rs 500 crore in 2010 to Rs 10,000 crore today and constitutes over 45 percent of the overall Rs 22,000 crore lighting industry in India, comprising of all categories like GLS, FTL, CFL and other lamps," Sumit Joshi, Vice Chairman and Managing Director, Philips Lighting India said.
Impact on Energy Efficiency
"As these manufacturers already flout industry regulations and BIS standards with no action being taken against them, it is extremely likely that they will be non-compliant with energy efficiency parameters as well," Raju Bista, Managing Director of Surya Roshni said.
Considering the LED lighting market is likely to increase in the next few years, following the government's electricity schemes, important steps are required to prevent such violations.