The varsity, in a tweet on March 28, said, "The report has been updated to clarify its authors' affiliations and does not reflect the views of CDDEP, Johns Hopkins, or Princeton."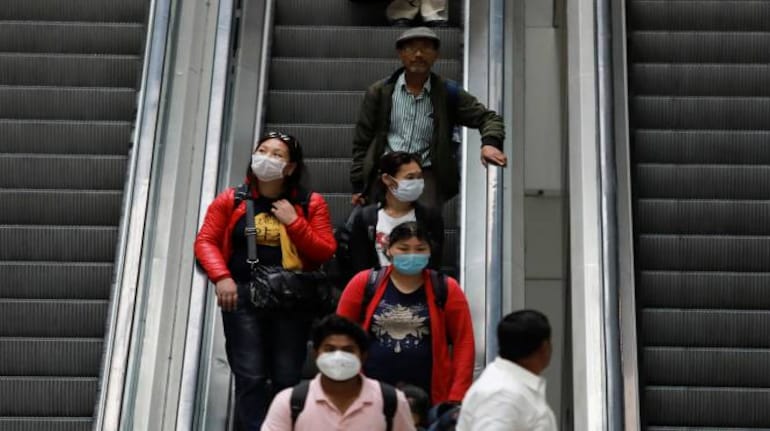 Johns Hopkins University on March 28 clarified that it did not authorise the use of its logo in the report titled 'COVID19 for India Updates'. While the university noted that the report was co-authored by its faculty along with researchers from Princeton University and the Center for Disease Dynamics, Economics and Policy (CDDEP), it added that the same does not reflect their views.
The varsity, in a tweet on March 28, said, "The report has been updated to clarify its authors' affiliations and does not reflect the views of CDDEP, Johns Hopkins, or Princeton."



To clarify: Faculty with appointments at @JohnsHopkinsSPH co-authored this report with @CDDEP and Princeton researchers. The report has been updated to clarify its authors affiliations and does not reflect the views of CDDEP, Johns Hopkins, or Princeton.https://t.co/QrFhRDq1Fs


— Johns Hopkins University (@JohnsHopkins) March 28, 2020
The original report, which was published on March 24 and is available on the CDDEP website, made an observation pertaining to the possible number of COVID-19 cases in India in the months to come. It said that come July, as many as 40 crore (400 million) Indians are likely to be infected (assuming there is no intervention). It also pointed out that community transmission of the coronavirus in India most likely started in early March, a claim which is not in line with the government's position on the subject.
As a result of the 'alarming claims' it made about the possible spike in the number of coronavirus cases in India in the months to come, the report was circulated widely.
COVID-19 Vaccine
Frequently Asked Questions
View more
How does a vaccine work?
A vaccine works by mimicking a natural infection. A vaccine not only induces immune response to protect people from any future COVID-19 infection, but also helps quickly build herd immunity to put an end to the pandemic. Herd immunity occurs when a sufficient percentage of a population becomes immune to a disease, making the spread of disease from person to person unlikely. The good news is that SARS-CoV-2 virus has been fairly stable, which increases the viability of a vaccine.
How many types of vaccines are there?
There are broadly four types of vaccine — one, a vaccine based on the whole virus (this could be either inactivated, or an attenuated [weakened] virus vaccine); two, a non-replicating viral vector vaccine that uses a benign virus as vector that carries the antigen of SARS-CoV; three, nucleic-acid vaccines that have genetic material like DNA and RNA of antigens like spike protein given to a person, helping human cells decode genetic material and produce the vaccine; and four, protein subunit vaccine wherein the recombinant proteins of SARS-COV-2 along with an adjuvant (booster) is given as a vaccine.
What does it take to develop a vaccine of this kind?
Vaccine development is a long, complex process. Unlike drugs that are given to people with a diseased, vaccines are given to healthy people and also vulnerable sections such as children, pregnant women and the elderly. So rigorous tests are compulsory. History says that the fastest time it took to develop a vaccine is five years, but it usually takes double or sometimes triple that time.
View more
Show
Responding to a Twitter user's query in this matter, Princeton University, on the other hand, said, "This work was indeed done at Princeton. An earlier version of the report included an unofficial logo and therefore needed to be corrected."

@CDDEP
If JHU and Princeton are distancing from the study why is the study still there on cddep site with ur logos@JohnsHopkins @Princeton


Time to get your act together.

— Prakash C (@prakashlive) March 29, 2020

The report uses the IndiaSIM Model to arrive at the key conclusions pertaining to the spread of coronavirus in India. The key parameters used include the force of infection, age- and gender-specific infection rates, severe infection, and case-fatality rates.
Joint Secretary (Health) Lav Agarwal on March 26 said that there was no proof of community transmission of coronavirus in India as yet, reiterating the government's stance that the country has not yet entered 'Stage-3' of the COVID-19 transmission. However, contrary to this, the CDDEP report noted that community transmission (Stage-3) of COVID-19 in India had most likely started in early March.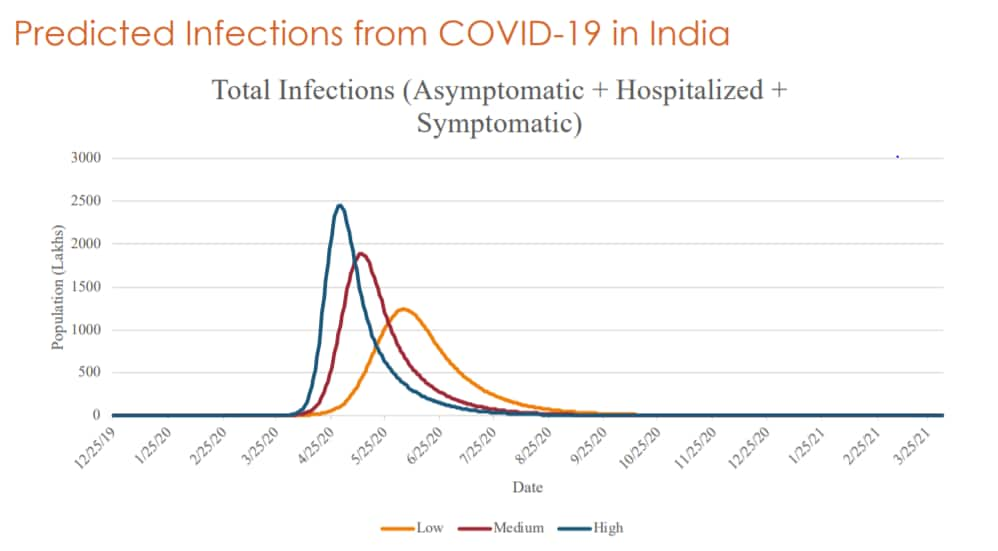 The graph depicts the numbers in three possible scenarios depending on the risk factor: high, medium and low.


High: trajectory with current lockdowns but insufficient
physical distancing or compliance.


Medium – most likely scenario with moderate to full compliance
but no change in virulence or temperature/humidity sensitivity.


Low – optimistic scenario with decreased virulence and
temperature/humidity sensitivity.


Even as the number of cases in India had breached the 800-mark as on March 28, with the country under a 21-day lockdown, the report says, "A national lockdown is not productive and could cause serious economic damage, increase hunger and reduce the population resilience for handling the infection peak. Some states may see transmission increase only after another 2 weeks and lockdowns should be optimized for when they could maximize the effect on the epidemic but minimize economic damage."
(An earlier version of the story said that 'India may have 400 million cases of coronavirus by July' as per a CDDEP-Johns Hopkins University report. The story was updated after Johns Hopkins University said that it didn't authorise CDDEP to use its logo on the report.)
First Published on Mar 27, 2020 03:55 pm