Globally, more than 2.03 crore infections and over 7.41 lakh deaths have been reported due to the COVID-19 pandemic.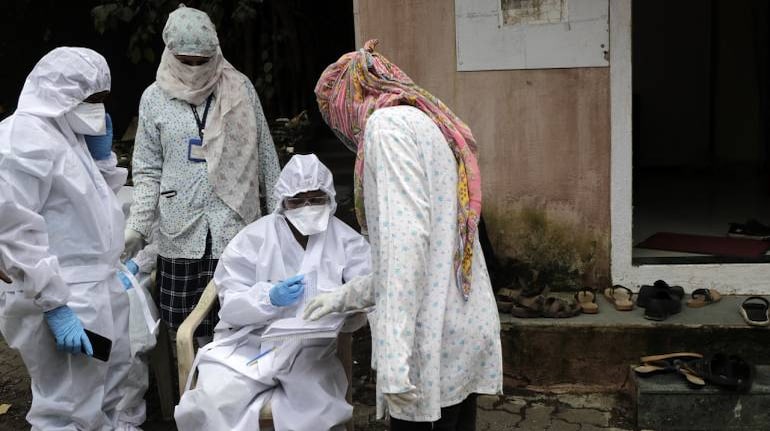 India's COVID-19 tally increased by 60,963 to 23.2 lakh cases on August 12, with 46,091 deaths, according to the Union Health Ministry's latest update,  Of these, more than 6.43 lakh are active cases, while over 16.39 lakh have recovered.
With 12,712 new infections, Maharashtra continues to remain the worst-hit state with more than 5.48 lakh COVID-19 cases. Tamil Nadu followed with 3.14 lakh cases and Andhra Pradesh with 2.54 lakh cases.
The health ministry updates its numbers a day after states release their data.
Globally, more than 2.03 crore infections and over 7.41 lakh deaths have been reported due to the COVID-19 pandemic, according to Reuters.
COVID-19 Vaccine
Frequently Asked Questions
View more
How does a vaccine work?
A vaccine works by mimicking a natural infection. A vaccine not only induces immune response to protect people from any future COVID-19 infection, but also helps quickly build herd immunity to put an end to the pandemic. Herd immunity occurs when a sufficient percentage of a population becomes immune to a disease, making the spread of disease from person to person unlikely. The good news is that SARS-CoV-2 virus has been fairly stable, which increases the viability of a vaccine.
How many types of vaccines are there?
There are broadly four types of vaccine — one, a vaccine based on the whole virus (this could be either inactivated, or an attenuated [weakened] virus vaccine); two, a non-replicating viral vector vaccine that uses a benign virus as vector that carries the antigen of SARS-CoV; three, nucleic-acid vaccines that have genetic material like DNA and RNA of antigens like spike protein given to a person, helping human cells decode genetic material and produce the vaccine; and four, protein subunit vaccine wherein the recombinant proteins of SARS-COV-2 along with an adjuvant (booster) is given as a vaccine.
What does it take to develop a vaccine of this kind?
Vaccine development is a long, complex process. Unlike drugs that are given to people with a diseased, vaccines are given to healthy people and also vulnerable sections such as children, pregnant women and the elderly. So rigorous tests are compulsory. History says that the fastest time it took to develop a vaccine is five years, but it usually takes double or sometimes triple that time.
View more
Show
Here are all the latest updates:
>> Union Minister of State for AYUSH, Shripad Y Naik, said he has tested positive for COVID-19.
>> National Expert Group on Vaccine Administration for COVID-19 met for the first time on August 12 and deliberated on a strategy to ensure COVID-19 vaccines' availability and its delivery mechanism, Union Health Ministry said.
>> The West Bengal government withdrew state-wide complete lockdown on August 28 and issued revised dates. It will now be observed on August 20, 21, 27 and 31, the state government said.
>> Puducherry witnessed the highest single-day spike so far with 481 cases.
>> Indian Premier League (IPL) team Rajasthan Royals' fielding coach Dishant Yagnik tested positive for COVID-19.
>> The COVID-19 pandemic has forced the organisers of the 2022 Commonwealth Games to opt for a multi-site athletes village instead of building single accommodation facility for players and officials.
>> Former Karnataka Chief Minister Siddaramaiah, who is undergoing treatment for COVID-19 at a private hospital in Bengaluru, tested negative and will be discharged on August 13, an official said.
First Published on Aug 12, 2020 09:04 pm