Products such as ignio and BaNCS have gained traction, especially in the wake of Covid-19. But it takes time for such efforts to pay off, say the experts
With the Covid pandemic wreaking havoc on normal life globally, Digital has never been as important as it is now for IT services providers. For many of their clients, Digital is the only way business can run and the IT companies' recent results bear testimony to that.
TCS, India's largest IT services provider, boasted deal wins worth $6.9 billion in the quarter ended June, a 15 percent year-on-year increase. The majority of the deals are in what IT companies call the Digital segment, which includes new-age services such as cloud.
But unlike its global rival Accenture, and local peers such as Wipro, which in addition to building in-house products make acquisitions that complements its portfolio, TCS has been building digital products and platform solutions in-house for its clients. It would not be a stretch to say that the company's robust digital portfolio has been built from scratch.
However, there are doubts over whether this in-house product and platform development strategy is working given that TCS's growth continues to decline despite the digital portion growing.
COVID-19 Vaccine
Frequently Asked Questions
View more
How does a vaccine work?
A vaccine works by mimicking a natural infection. A vaccine not only induces immune response to protect people from any future COVID-19 infection, but also helps quickly build herd immunity to put an end to the pandemic. Herd immunity occurs when a sufficient percentage of a population becomes immune to a disease, making the spread of disease from person to person unlikely. The good news is that SARS-CoV-2 virus has been fairly stable, which increases the viability of a vaccine.
How many types of vaccines are there?
There are broadly four types of vaccine — one, a vaccine based on the whole virus (this could be either inactivated, or an attenuated [weakened] virus vaccine); two, a non-replicating viral vector vaccine that uses a benign virus as vector that carries the antigen of SARS-CoV; three, nucleic-acid vaccines that have genetic material like DNA and RNA of antigens like spike protein given to a person, helping human cells decode genetic material and produce the vaccine; and four, protein subunit vaccine wherein the recombinant proteins of SARS-COV-2 along with an adjuvant (booster) is given as a vaccine.
What does it take to develop a vaccine of this kind?
Vaccine development is a long, complex process. Unlike drugs that are given to people with a diseased, vaccines are given to healthy people and also vulnerable sections such as children, pregnant women and the elderly. So rigorous tests are compulsory. History says that the fastest time it took to develop a vaccine is five years, but it usually takes double or sometimes triple that time.
View more
Show
Over the last five quarters, TCS's year-on-year revenue growth has seen a decline. The double-digit growth the company saw in the beginning of FY20 dropped to 6.8 percent in September on a constant currency basis year on year.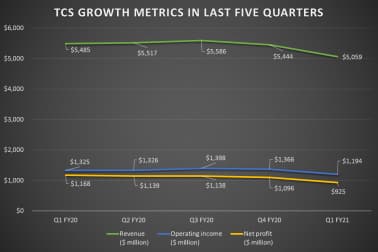 Source: TCS fact sheet
TCS's peers Infosys and HCL Tech reported double-digit growth during the same period. Even during the pandemic, while TCS's deal wins rose 15 percent, its margins missed market estimates by 160 basis points, a Motilal Oswal note said. Infosys has done better in this aspect.
Apples and oranges?
To be sure, it might not be fair to compare these Indian IT service providers with TCS, given the scale at which it operates. TCS's revenues for FY20 stood at $22 billion versus Infosys' $12 billion, Wipro's $8.6 billion and HCL Tech's $9.9 billion.
Digital accounted for 33 percent of TCS's revenue for the quarter ended September 2019. During the results announcement for the second quarter in October, the company stopped reporting the metric citing the difficulty it faced differentiating between Digital and Core revenue.
Most experts agreed that at TCS's scale, one cannot expect growth to be the same as that of its peers. "Large size does play its part in TCS growth. Moreover, unlike earlier years, now TCS has to fend off competition from accounts where it is the incumbent," said Yugal Joshi, Vice President, Everest group, a consultancy firm.
However, TCS's larger global rival Accenture, whose FY19 revenue stood at $43.2 billion, saw its revenue grow at an average rate of 8 percent versus 7 percent average for TCS in the comparable period (Accenture follows a September-August fiscal year). Digital accounts for about 70 percent of Accenture's revenue.
Long-term payoff?
So, why is India's largest IT services firm seeing a decline? And where does digital figure in all this? Experts and analysts say there might not be a simple answer.
Over the years, TCS has done reasonably well when it comes to developing platforms and services. "It is not a secret that TCS focuses on building capabilities organically," Joshi told Moneycontrol. They have done so at scale and at a much faster pace than the others, he added.
However, it will take time for these investments to yield results and gain momentum. Sanchit Vir Gogia, founder, Greyhound Research, pointed out that TCS iON, which is widely adopted, had been in the making for more than a decade.
The company is investing significantly in the space and it takes few more quarters to materialise, he added.
V Ramakrishnan, CFO, TCS, said in a recent interaction with Moneycontrol that products and platforms such as ignio and BaNCS have gained traction in the wake of Covid-19 and will be one of the key growth drivers for the company.
During the earnings call on July 9, TCS Chief Executive Rajesh Gopinathan said ignio, its cognitive automation software, acquired eight new logos in Q1. BaNCS, the financial services suite, accounted for seven new wins.
TCS's other products and platform solutions include Quartz Smart Ledgers, a blockchain solution that had two wins and HOBS, a software-as-a-service platform for communication service providers, which accounted for four new wins.
Acquisitions do not guarantee success
While its rivals have often relied on acquisitions to tap new areas and drive growth, the experts say this does not always pay off. "In recent times large acquisitions done by Europe-centric service providers have struggled. Many peers have struggled integrating acquired digital firms and creating a cohesive consistent story for their clients," Joshi explained.
"So, it is difficult to comment on whether merger and acquisition is the right way to go or not," he added.
Also TCS is not exactly shying away from acquisitions given that it acquired W12 and Bridge Point group in 2018. Gopinathan, too, said that TCS would make acquisitions when the time is right.
Given that it takes time to scale up the products, Pareekh Jain, founder, Pareekh Consulting, a tech consultancy firm, pointed out that there is a need to shift focus. One way to do it could be by widening its focus to other geographies such as the Asia Pacific region, India and Latin America, apart from the US and Europe, through smaller acquisitions, as Wipro has done. Wipro recently acquired a Brazil-based company IVIA Serviços de Informática to strengthen its presence in the region.
An analyst explained that TCS also need to take more risks when it comes to upping its risk metric when it comes to digital engagements, which not many IT firms have so far.
First Published on Jul 30, 2020 08:24 am