The structural Bull Run is intact and there is plenty of money to be made in Indian equities. For the year 2018, some analysts see the index heading towards 40,000 by December 2018-end.
The year 2017 was a blockbuster year for the Indian equities. The S&P BSE Sensex climbed many milestones in the last 12 months, and one such historic moment came along when index climbed Mount 30K.
The S&P BSE Sensex hit 30,000 for the first time on 5, April 2017. The index completed its journey from 30,000 to 35,000 recorded on 17 January in 198 trading sessions. The index might have just given nearly 17 percent return but there were plenty of stocks which rose up to 1000 percent in the same period.
As many as 30 stocks rose nearly 100-1000 percent from April 2017 from the S&P BSE 500 index include names like HEG (up 930%), Graphite India (up 491%), Indiabulls Ventures (up 310%), Rain Industries (up 301%), Himadri Speciality (up 263%) etc. among others.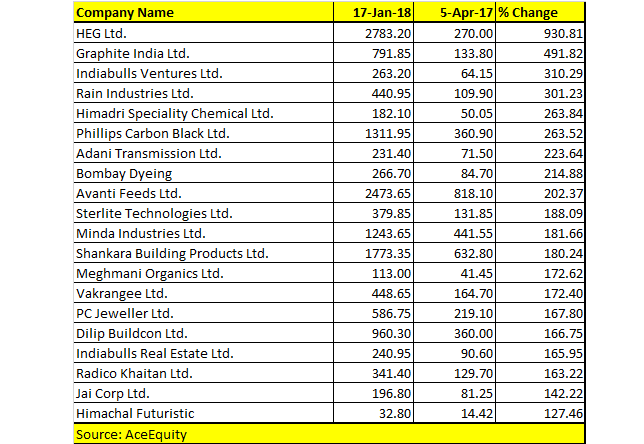 But, not every stock rallied in the Bull Run. As many as 107 stocks from the S&P BSE 500 index gave negative returns which include names like Indo Count Industries, Lupin, Dena Bank, Kwality, MCX, Fortis Healthcare, Sun Pharma, OBC, BOSCH, BHEL, LIC Housing Finance, Glaxo, Dr. Reddy's, NHPC, DB Corp, Aurobindo Pharma etc., among others.
The structural Bull Run is intact and there is plenty of money to be made in Indian equities. For the year 2018, some analysts see the index heading towards 40,000 by December 2018-end.
SP Tulsian of sptulsian.com said that investors should now have confidence on the India story. The person who saw Sensex at 1000, said that his target for the Sensex for the year 2018 is 40,000 and for the Nifty, it is 12,800, he said in an interview with CNBC-TV18.
The index picked up momentum earlier in the day after the government said that it reduced its borrowing to Rs20,000 crore from Rs50,000 crore which led to softness in yields, and smart rally seen in the banking space.
"The Sensex scaled another milestone to cross 35,000 levels with strong buying in banking stock, especially PSU Banks to gain by 4 percent as the government cuts the additional borrowing target to Rs20,000 crore easing some pressure on bond yields and fiscal deficit," Rakesh Tarway, Head of Research, Reliance Securities told Moneycontrol.
The year 2018 started on a bullish note supported by optimism around the earnings front. Most analysts' expect earnings to recover and bounce back to double digits in FY19.
What should investors do?
The liquidity wave drove valuations of many stocks to levels which are beyond their historical averages. Hence, stock selection becomes very crucial if investors are planning to put their money at current levels.
Analysts' advise investors to put their money in stocks which are economy linked or which are likely to benefit from the government's upcoming Budget. Sectors like consumption, metals, and IT will find favour in the year 2018.
"We believe markets will continue to deliver new highs with more focus on sectors like defence, infrastructure, railways and core manufacturing sectors ahead of the budget scheduled on 1st February 2018," said Tarway of Reliance Securities.
"Increase in farm income to boost rural spending and affordable housing push sectors like Banks, Cement, and Realty sector to remain in focus. Among sectors we remain positive on IT, Private Banks, Consumer and Cement sectors as overweight while select Pharma stocks can be added as defensives in the portfolio," he said.
However, not every analyst is optimistic about markets in the short term. Some advice investors to remain cautious and square-up their leverage bets, if any considering the fact we are trading near record highs and some bit of profit booking cannot be ruled out.
"Optimism is omnipresent in the markets right now with everyone calling on higher levels shortly, DII funds continue to pour in. We continue to remain cautious overall and would not advocate entering fresh positions at this juncture," Nikhil Kamath, Co-Founder and Head of Trading, Zerodha told Moneycontrol.
First Published on Jan 18, 2018 08:34 am