As an equity investor we want all our stocks to perform consistently as Virat Kohli. Although it is a far-fetched idea, but careful stock selection can help you achieve your goal.

D-Street is not very different from a cricket match and we say that because the ingredients are pretty much the same. You have to have patience, hard work, consistency as well as focus. Just like in a match, not all your batsmen will hit half-a-century or a century in your portfolio and neither will all your stocks outperform.
One of the consistent performers in India's cricketing team is Virat Kohli. As per data on Crickbuzz, he has a strike rate of 92 percent and has nearly 10,000 runs under his belt in over 200 matches.
Well, as an equity investor we want all our stocks to perform consistently as Virat Kohli. Although it is a far-fetched idea but careful stock selection can help you achieve your goal.
We looked at data of the companies in the S&P BSE 100 index and nearly 30 companies gave consistent CAGR return of over 20 percent in the last five years.
As many as 29 companies in the S&P BSE 100 index, including names like TVS Motor Company, Bajaj Finance, Bajaj Finserv, Britannia Industries, Eicher Motors, Aurobindo Pharma, Biocon, Ashok Leyland, Maruti Suzuki etc., among others have given consistent returns of up to 78 percent in the last five years.
"The Virat Kohlis of D-Street will continue to shine as these companies have become very strong in term of financials. The common thing in all stocks mentioned in the list is that all command either a leadership position or a very good market share in their respective sectors," Foram Parekh of Indiabulls Ventures told Moneycontrol.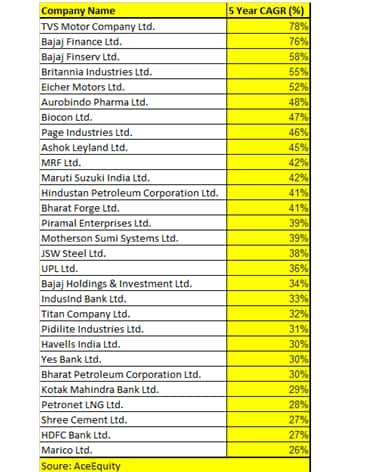 But, before we understand why these companies helped to deliver consistent returns. Let's first understand what is CAGR or compounded annual growth rate.
Well, the compound annual growth rate is more of a representational figure and not a true return. It is the rate at which an investment would have grown if it had grown at a steady rate. It is a way to smooth out an investment's returns for better understanding and comparison.
To calculate compound annual growth rate, divide the value of an investment at the end of the period in question by its value at the beginning of that period, raise the result to the power of one divided by the period length, and subtract one from the subsequent result, as explained by Investopedia.
One thing is certain that most of the stocks have been consistent performers have good corporate governance along with the management's visions to maintain their leadership position.
"When you see the stocks which have consistently outperformed, you would notice that most of these companies have doubled either their top line by market/product expansion or their bottom line through operational efficiencies," Arun Thukral, MD & CEO, Axis Securities told Moneycontrol.
"So consistency of companies that had historically outperformed depends on the potential to grow their top line or bottom line in the coming years. An investor could gain by investing in mispriced stock in short to medium term but a substantial CAGR gain over the year is possible from investing in growth stocks," he said.
Any other parameter which can help in picking stocks?
CAGR, as a parameter, is good for analysing historical performance of a company but picking a stock requires more forward-looking approach, both quantitatively and qualitatively, suggest experts.
On the qualitative aspect, investors should focus on quality management, market opportunity, clarity on earnings trajectory, competitive strengths, robust return ratios, manageable leverage, etc. are some of the parameters that need to be considered when investing in any company, suggests Jayant Manglik, President, Religare Broking.
On the quantitative side, focus on few parameters such as return on equity, understand the level of leverage on the books, consistency of cash flows, operating margins etc. But, not all parameters can be applied to every industry.
Apart from analyzing various ratios, investors should also carefully study the top and the bottom line as well as cash flow structure of the company
"Investors should use parameters such as EV/EBITDA, ROE, RoCE, Margins, Debt ratios, Cash flow will help an investor pick a stock but these parameters alone are not enough if not supported by consideration of the industry that they are operating in and the fundamentals of the company," suggests Thukral.
Can the momentum continue?
Nearly 30 stocks which gave consistent returns might not be able to deliver similar performance in the near future and analysts' advise investors to book profits in some of them.
"Among the 30 stocks in the S&P BSE 100 index which gave a CAGR return of up to 78%, avoid a few stocks in the auto sector and some OMC's. TVS Motors provided exceptional 5-year CAGR returns (78%) in the past mainly due to their low base and expecting a similar return in the future would be unrealistic as these levels will not be sustained," Jimeet Modi, Founder & CEO, SAMCO Securities & StockNote told Moneycontrol.
"Some OMCs such as HPCL and BPCL have been undergoing a declining market parity in their pricing which makes these stocks risky investments. Other cyclicals such as JSW Steel, Bharat Forge, and Ashok Leyland are extremely volatile and might not provide consistent returns on account of trade war woes and other macros," he said.
Modi further added that apart from the stocks listed above, rest of the stocks might prove to be good investments subject to their fundamentals and management integrity.
There are many stocks in the consumption sector which are reliable, steady and show consistent growth over the last many years.
Why consumption will be an outperformer because it not linked to the economy, macros, trade wars, currency fluctuations rather they are supposedly doing well as the country grows in terms of per capita income and spending by families, suggest experts.
"We don't see any problem in such stocks like Page industries, Relaxo, Godrej Consumer, Bajaj Finance and many more to keep outperforming. Will you buy them at the CMP or wait for some correction depends on your holding power and how you value margin of safety," an analyst from Bonanza portfolio said.
First Published on Jun 28, 2018 08:29 am