The company's capacity expansion updates and, in particular, its near-term sales guidance make us positive about the stock.
Earlier this week, JHS Svendgaard, the contract oral care manufacturer for Patanjali & Dabur, released its Q1 FY18 results. While the quarterly numbers highlighted solid topline growth, it also included one-time settlement income (Rs 27.3 crore) from its earlier customer – P&G – after a prolonged arbitration.
The company's capacity expansion updates and, in particular, its near-term sales guidance make us positive about the stock.
Q1 FY18: guided by improved volume offtake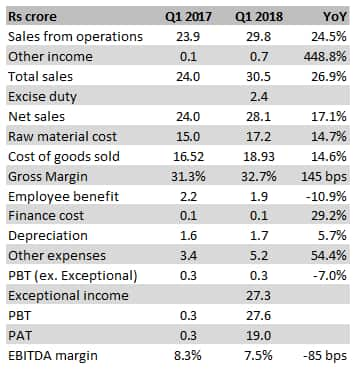 In Q1 FY18, JHS witnessed 17 percent YoY growth in net sales led by improved offtake contracts from clients. Gross margins improved by 145 bps due to relatively lower increase in raw material prices. EBITDA margin, however, decreased by 85 bps due to higher other expenses that was partially offset by lower employee expenses.
It is noteworthy here that excise exemption for the unit manufacturing toothpaste (Kala Amb) is over and hence from this quarter onwards the company has started paying excise duty. However, JHS continues to enjoy duty exemption for its unit manufacturing toothpaste till 2020.
FY17 witnessed decline in tooth paste contribution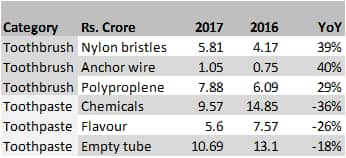 The raw material consumption trend for the company in the last fiscal suggests that there was possibly a value de-growth for the toothpaste category unlike toothbrush category. This can partially be attributed to lower order flows from Dabur. However, in the current fiscal year, we expect this to reverse on the back of higher growth from Dabur (+15 percent sales in FY18 expected) and the toothpaste contract with Patanjali, also aided by capacity expansion.
New capacity to be commissioned from Q2 FY18
The company has recently concluded its capacity re-alignment. It has raised its toothpaste manufacturing capacity to 175 million tubes (from 90 million tubes) which is now aligned with its manufacturing cum packaging capacity of 28,000 TPA. This capacity enhancement is expected to be commissioned in the current quarter.
Oral Care: Substantial participation in the growth of market leaders
Our read-through of FY17 annual report brings some interesting insights. Though the company has not revealed the names of its clients, a careful assessment and our calculation suggest that the company participated in about 5 percent of the total sales from the leading oral care manufacturers – Dabur and Patanjali in FY17.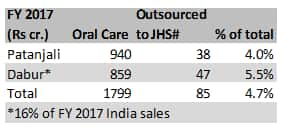 It is noteworthy that both the clients have seen their oral care market share expanding in recent years. While Patanjali has seen a pan-India improvement, Dabur has gained market share in south of India, thereby providing a resilient end-client growth for JHS.
Patanjali & Dabur – key to near-term growth
Taking cue from the company's segmental guidance and vision for FY20, we have redrawn our projections. We are, particularly, enthused by the company's disclosures in the annual report. Based on this, we expect a 30 percent sales CAGR and 330 bps operating profit margin expansion during the period FY17-20E.
In FY18, the company expects a 20-25 percent revenue growth on account of capacity expansion and another 10-15 percent by way of organic growth in the business. We think organic growth of 15 percent can easily be achieved, particularly due to the base effect as FY17 was impacted to the tune of Rs 20-25 crore owing to demonetization.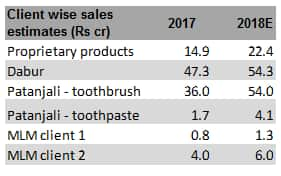 Getting a bit granular, as per our estimates, in FY18, sales to Patanjali could constitute about 41 percent of the total with the major sales accounted for by the toothbrush category. In the toothpaste category, the company has started manufacturing for Patanjali from Q3 FY17 and this is expected to grow in double-digits in the current year.
Including Dabur, sales to major FMCG oral care manufacturers could be about 80 percent of the total sales. Sales to other international clients like Amway can be pegged about 5 percent and to proprietary brands at 16 percent. Overall, we expect 36 percent sales growth in FY18.
Valuation and Recommendation

Looking at valuation, excluding a one-time settlement amount from the P&G, adjusted multiple for JHS works out to be 33.7x (2018E earnings) which is at a discount to the industry average of about 50x. Further, in light of 42 percent CAGR in operating profit for the period 2017-19E, valuation appears attractive, in our view.
Hence, we advise investors to participate in the growth story of the stock benefitting from the tailwinds of secular oral care growth, improving market share for key end clients and capacity expansion.
Follow @anubhavsays
First Published on Sep 1, 2017 03:18 pm