If you started investing in equity markets in 2014 when PM Modi took charge, chances are that you are sitting on a pile of profits. But there was someone who made a lot more than you. Your broking firm!

If you started investing in equity markets in 2014 when Prime Minister Narendra Modi took charge, chances are that you are sitting on a pile of profits. You made money in markets in the last three years but there was someone who made a lot more. Your broking firm!
News of Modi becoming the 14th PM fueled sentiments not just in the domestic but also international investing community leading the broking business to take off vertically.
The Indian equity market touched new highs since 2014, backed by a strong pipeline of initial public offers, robust flows into mutual funds, benign interest rate scenario and foreign flows which have remained strong.
Most of the firms related to share broking more than doubled investors' wealth since 2014. 13 out of 16 listed firms gave returns in the range of 100-1600 percent in the same period.
Emkay Global Financial Services rose 1621 percent, followed by Motilal Oswal which gained 841 percent, Arihant Capital rose 838 percent, Edelweiss Financial Services rallied 590 percent in the same period, data from Capitaline showed.
"The structural bull market that started with the Modi government coming into power has a long way to go. The reforms that the government has embarked upon has created a congenial investment environment for not only foreign investors but also for domestic investors and private corporations," Jimeet Modi, CEO, SAMCO Securities told Moneycontrol.
"This bull market is expected to last for few more years which will reasonably assure decent growth for the stock brokers and hence investors should allocate to the broking sector for above average returns," he said.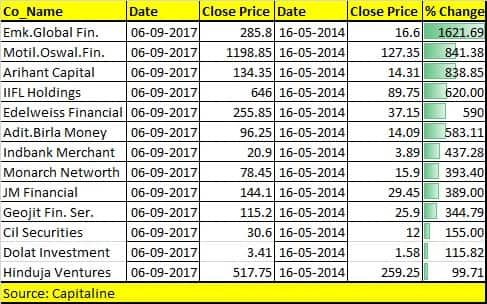 The market rose 20 percent so far in 2017 and is up 35 percent since May 2014. Equity turnover at the exchanges registered a robust growth of 35 percent in FY2017, with the average daily turnover (ADTO) increasing to Rs4.05 trillion in FY2017 from Rs3.01 trillion in FY2016.
The positive market sentiment continues in the current fiscal, with the ADTO increasing to Rs 5.67 trillion in Q1FY2018, registering a growth of 40 percent over the FY2017 average, said a report.
Revenues of the broking industry are expected to increase to Rs18000-Rs 19,000 crore in FY18, clocking a growth of 15-20 percent on the back of healthy volumes and increase in the share of cash segment, said an ICRA note.
As per an ICRA note, volumes are likely to grow by about 20-25 percent in FY2018, supported by positive investor sentiment and a benign capital market outlook. The initial public offer (IPO) pipeline for FY2018 is likely to further support retail participation on the exchanges.
The note further highlighted that the higher yielding cash volumes are expected to receive a boost with a likely increase in margin trading by brokerage houses pursuant to the recent regulation on lower margin requirements.
This would also help support the income profile of full-service brokerage houses given the price competition from discount brokerage houses.
Diversification: key to success
Apart from the boom in equity markets, there was one big reason which led to rise in sentiments and that was diversification in the broking firms, the renewed optimism of domestic investors and robust economic growth.
Indian economy was the fastest growing economy in the world before demonetisation but the growth number will pick up in next 2-3 quarters, feels experts. Financial services industry stands to benefit the most in the high growth economic environment.
"Indian economy is presenting a lot of growth opportunity for the NBFCs, brokerage houses, which already have some similarity in business, are involving in the lending businesses. Further, the move also reduced the business risk for brokerages houses relating to the stock market," Sumeet Bagadia, Associate Director, Choice Broking told Moneycontrol.
Given the nature of the business which is more seasonal, many firms have started diversifying their business into lending, fee-based services etc.
"Going forward, we expect a further improvement in the profitability of brokers in FY2018 driven by higher revenues following the uptick in the equity markets, higher interest income and control on expenses provided the brokers are able to maintain their credit costs in the margin lending business," Karthik Srinivasan, Senior Vice President and Group Head - Financial Sector Ratings, ICRA said
Pure broking as a business model isn't competitive and hence the brokers have ventured into cross selling to their clients, suggest experts.
"They having huge branch networks, selling loans was the best option available to them given that India is underpenetrated in terms of household debt to GDP which stands at 10% currently, whereas it stands at 42% in China," said Modi of Samco Securities.
"There is a huge scope to scale up the NBFC model since they have the advantage of personalized services. Over a period of time, the NBFC model will get bigger and better for them," he said.
What should investors do?
Not all broking stocks will make money but the ones which have diversified their business into lending and fee-based services should be able to give decent returns, feel experts.
"Investors need to be selective hereafter while picking broking companies' stocks considering the sharp run-up/valuation re-rating already witnessed in these," Jayant Manglik, President - Retail Distribution at Religare Securities told Moneycontrol.
"Going forward, we believe that broking companies with a greater share of revenues coming from their lending business would continue to deliver a steady performance vis-à-vis those with a relatively larger exposure to pure broking activities," he said.
Manglik further added that stocks from this sector can be a part of an investors' portfolio considering the slow and steady shift being witnessed in the financial savings pattern, which will continue to benefit the sector going forward.
First Published on Sep 11, 2017 11:34 am