CRISIL Research has come out with its report on Sangam India. The research firm have lowered its revenue growth assumptions from FY16 onwards due to lack of clarity over future expansion plans and has reviseed fair value to Rs 60 per share.
CRISIL Research's Q4FY13 results updates on Sangam India
Sangam India's (Sangam's) Q4FY13 results were below CRISIL Research's expectations. Standalone revenues increased by 8.4 percent q-o-q to Rs 3,573 mn. Textile revenues increased by 6.4 percent q-o-q to Rs 3,505 mn. Toll collection revenues, absent last quarter, were Rs 68 mn in Q4FY13. EBITDA margin declined by146 bps q-o-q to14.1 percent, mainly due to the toll collection project write off. Adjusted PAT increased by 15.8 percent q-o-q to Rs 128 mn. The company reported other income of Rs 35 mn (Rs 9 mn in Q3FY13), which helped it to post higher PAT. PAT margin expanded by 23 bps q-o-q to 3.6 percent. Adjusted EPS was Rs 3.3 compared to Rs 2.8 in Q3FY13. Debtor days increased from 39 days in FY12 to 46 days in FY13 but were compensated by an increase in creditor days, which improved from 28 days in FY12 to 35 days in FY13. We maintain our fundamental grade of 3/5, indicating that its fundamentals are good relative to other listed securities in India.
Healthy growth in fabric division supported textile revenues
Revenues from the textile business increased by 6.4 percent q-o-q to Rs 3,505 mn, due to a 75 percent q-o-q growth in the fabric segment. The fabric segment's contribution to overall textile revenues increased to 22.7 percent in Q4FY13 from 13.8 percent in Q3FY13. Textile EBIT margin improved by 67 bps q-o-q to 9.9 percent with increased contribution from the high-margin fabric segment. Going forward, we expect contribution from fabric and denim to increase, which is likely to increase the captive consumption of yarn and hence help textile EBIT margin to improve further. Also, decline in PSF (Polyester Staple Fibre) prices (which declined by 0.6 percent q-o-q) and an expected decline in crude oil prices coupled with stable cotton yarn prices are expected to boost margins.
Sangam has bagged a new toll collection project
As mentioned in our last two reports, Sangam has taken a decision to quit the toll collection business. However, during the last quarter, the company won the toll collection contract for a highway in Uttar Pradesh, a project that it had bid prior to its decision of quitting this line of business. Sangam accepted the contract as it would have lost Rs 40-50 mn on the bank guarantee furnished if it had declined the contract. We expect revenues of Rs 255 mn and EBITDA margin of 2.5 percent in FY14 from this project. Further, for Q4FY13, the company posted a loss of Rs 22 mn at the EBITDA level in the toll collection business, as it booked a one-time loss of ~Rs 24 mn on two NHAI-awarded projects that were closed down earlier in FY13.
Valuations: CMP has strong upside
We continue to use the sum-of-the-parts method to value Sangam and its 26.02 percent stake in Keti Sangam Infrastructure Ltd. We have lowered our revenue growth assumptions from FY16 onwards due to lack of clarity over future expansion plans; hence we revise our fair value to Rs 60 per share. At the current market price of Rs 46, our valuation grade is 5/5.
Disclaimer: This report (Report) has been commissioned by the Company/Investor/Exchange and prepared by CRISIL. The report is based on data publicly available or from sources considered reliable by CRISIL (Data). However, CRISIL does not guarantee the accuracy, adequacy or completeness of the Data / Report and is not responsible for any errors or omissions or for the results obtained from the use of Data / Report. Opinions expressed herein are CRISIL's opinions as on the date of this Report. The Data / Report are subject to change without any prior notice. Nothing in this Report constitutes investment, legal, accounting or tax advice or any solicitation, whatsoever. The Report is not a recommendation to buy / sell or hold any securities of the Company. CRISIL especially states that it has no financial liability, whatsoever, to the subscribers / users of this Report. This Report is for the personal information of the authorized recipient only. This Report should not be reproduced or redistributed or communicated directly or indirectly in any form to any other person or published or copied in whole or in part especially outside India, for any purpose.
CRISIL Limited . All Rights Reserved. Published under permission from CRISIL"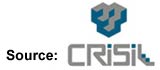 Read More