Even as townhalls have started at Gurgaon-based Snapdeal to soothe anxious employees, over 2,000 employees out of over 4300 have been estimated to be impacted by the company's retrenchment exercise this year. Moneycontrol digs deep to find out what led to the company to this juncture and the way ahead.

It has been a rough few weeks for Gurgaon-based Snapdeal. In the grip of perhaps its worst downturn, the SoftBank-funded e-commerce firm recently undertook a massive retrenchment exercise. Officials Moneycontrol spoke to say the move could affect around 2,000 people.
The doom report doesn't end there. More layoffs could be around the corner in subsidiaries such as FreeCharge, according to the people privy to the developments at the ecommerce retailer.
Snapdeal, which is mentioned in the same breath as Amazon and Flipkart, has pushed itself into a corner of late with poor sales and not to mention, lack of funding.
Top-level exits too have plagued it.
Senior-level exits in Snapdeal show no sign of abatement. Joining the fray of top exits from the e-commerce firm are Rohit Goel, Senior Vice President of Marketplace Health Division and Amitava Ghosh Vice President of Engineering Amitava Ghosh, according to two persons in the know.
The duo will be quitting the firm soon. It follows the exit of six senior executives in the last couple of months including Head of Mergers and Acquisitions Abhishek Kumar and Head of Partnerships and Strategic Investments Tony Navin.
In a previous communication to a query from Moneycontrol, Snapdeal stressed that several reports about job cuts present an "exaggerated estimate of impact at Snapdeal and are largely speculative in nature. They portray a distorted interpretation of our on-going efforts in pursuit of our well established goals of efficiency, experience and growth."
Meeting Goals
According to analysts, the current position of Snapdeal marks an important juncture for the overall e-commerce industry which relies heavily on funds from venture capital firms.
"The current situation is a wake-up call for every internet company which was growing primarily with money from investors.  In the early days a lot of recruitment was done without much planning; significant money was spent on digital and ATL (above the line). Today, every cost including those for people, technology, marketing spends, rental is being properly evaluated," said Sreedhar Prasad, Partner, E-commerce, KPMG in India.
ly evaluated," said Sreedhar Prasad, Partner, E-commerce, KPMG in India.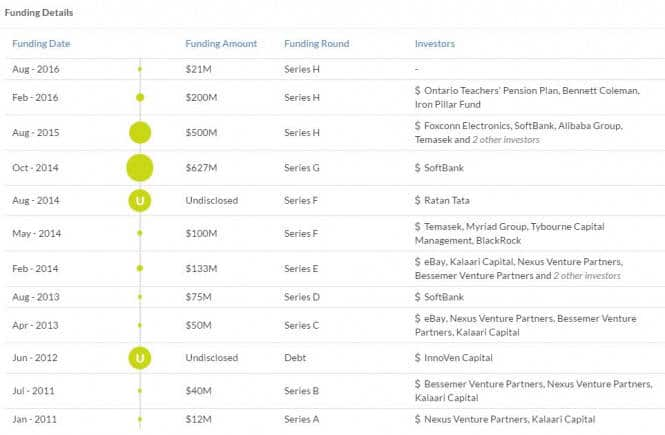 According to Snapdeal, the target is to go ahead with a lean organizational structure focusing only on its core businesses. The company has decided to focus on a targeted set of customers instead of being a platform for one and all. It is looking to turn profitable in the next two years.
The question is with a lean team, reduced marketing budget and low order numbers, how will Snapdeal be able to meet its goals?
In a spot of bother
Even as the company continues to be in talks with the existing investor Softbank for another round of funding, here's a snapshot of events that have driven the company into a fix.
In an email addressed to the employees on February 22, this year, the two founders -- Kunal Bahl and Rohit Bansal -- confirmed that the company was laying off people and will now only look at profitability than a race with others to increase their GMV (gross merchandise volume).
In contrast, in August last year, the company had announced a Rs 200 crore budget for a 360-degree campaign in the run-up to the Diwali festival which is regarded as one of the busiest seasons for e-commerce firms in India. The festive season typically accounts for a third of the annual sales for any large e-tailer.
However, Diwali 2016 seemed like a last ditch effort by the company to put fuel in the fire and speed up its engine as it was struggling with a declining market share against US-based rival Amazon each quarter.
It unveiled a new logo and tagline 'Unbox Zindagi' in its bid to fight the e-commerce war against Amazon and domestic rival Flipkart. The company advertised heavily across all media -- TV screens, airports, YouTube, metro and bus stations -- and ended up burning huge cash.
Huge Salaries
All this while, fresh funding from Japan based Softbank was expected to arrive in Snapdeal's coffers by the end of the year.
"The biggest nail in the coffin and where they lost the plot is when Softbank decided against putting in fresh money at the end of last year," said one of the persons quoted above.
This resulted in the toughest decisions on part of the company: hiring freeze and mass layoffs.
The founders also announced that they will undergo 100 percent salary cuts given the difficult times. Many senior executives also said that they were requested to volunteer to have their pay docked.
The decision, however, was criticized by many who said considering the personal wealth the duo have accumulated over the years, it was a minor sacrifice.
According to a report in Mint, both Bahl and Bansal took a total compensation of around Rs 40 crore including stock sales last year.
Around November-December, the company was spending Rs 30-50 crore in marketing every month and fresh funding was expected to be announced. No news came through.
In January, the expense was reduced from Rs 50 crore to Rs 30 crore and in February it was cut down to Rs 5 crore.
Against a Diwali sales figure of around 180,000 orders, the orders too declined massively to Rs 65,000-70,000 per day.
Ominous arrival of the 'friend' Kothari
In the meantime, Jason Kothari ex-Housing executive and long time friend of Snapdeal Founder Kunal Bahl came into the picture.
Kothari had just packed up the Softbank-funded real estate start-up Housing and merged it with lesser funded rival PropTiger. Kothari was parachuted into Housing by Softbank when its cofounder CEO Rahul Yadav was fired in 2015.
Evidently, the same investors parachuted Kothari into Snapdeal.
Industry leaders predict that Snapdeal will undergo a similar exercise where after cutting out the flab, the company could be made lean enough for a merger.
According to multiple media reports, the company could likely merge with payments and e-commerce firm Paytm which is now expanding its e-commerce platform. Alibaba is a common investor on both Snapdeal and Paytm. However, Paytm has denied these rumors.
However, according to a senior company executive who spoke on the condition of anonymity, "The Housing saga copy-paste won't work here. Laying off people, cutting costs and eradicating discounts is not how e-commerce business is run."
Amazon India is currently estimated to be having nearly 6,000-7,000 people while domestic rival Flipkart says it has 10,000 people as permanent workforce. The total strength at Flipkart is over 27,000. Thus, massive restructuring could be seen at the Bangalore firm in the coming months, even as it is in talks to raise over USD 1 billion in fresh funding.
Lets come to the daily order numbers. The daily order numbers for Amazon and Flipkart stand at around 3 and 2.5 lakh, respectively.
In an email response Amazon said while the company did not share these numbers, Amazon is "way ahead" both in terms of employees and number of orders.
Flipkart said it did not comment on business numbers.
"Sustainability of a business in the long term if this kind of scaling happens is difficult because every metric has become tiny and insignificant now ... not just in terms of team but even order wise," said a senior executive of the company.
Fresh Funding Needed
The above narrative can, however, be proven wrong only if Softbank soon pumps in a life-saving dose of capital that can grease the turbine and push the company back into the race.
According to analysts, all e-commerce companies are likely to come up with multiple new business alliances with an aim to improve their revenues and reduce losses.
"With a commission of 5-20 percent, market places are finding it very difficult to run a profitable business with a single revenue stream.  In the coming quarters, we will see many alliances and newer revenue streams from marketplaces. In the short-term there will be heart burn.  In a way, what is happening is good for the sector as this would make the Indian unicorns have a clearer, leaner business model," Prasad said.
Interestingly, Snapdeal reported its current order number despite declining marketing activities.
Last month, Moneycontrol reported that Snapdeal was left almost with about USD 100 million in the bank.
In their letter the founders have stressed that the company is taking a "conscious departure from a me-too race to the edge of the cliff," adding that gross merchandise value is vanity while profit is sanity.
However, what will be the strategy to achieve profitability at a time when the e-commerce market is driven by cut-throat competition among rivals offering heavy cash back and discounts, is uncertain.
According to an employee, who is privy to the current strategies, employees have been told that the categories which were run on less no margin will be under scanner. Either they will have to figure out how to make it economical or else the company won't run those categories.
He also said that the company will return to the discounts game but that will be very strategic and aimed towards consumers with high returns.
Currently, the average ticket size of the order on Snapdeal is Rs 1500 on which it earns a commission of approximately Rs 200 (flexible). After this, it ends up spending close to about Rs 240 on the delivery and ancillary costs, as per sources.
"The mandate is to reach out to unit profitability as soon as possible. The target is to start earning around Rs 50 per order by April," the person quoted above said, adding that there could be plans around increasing the marketing fee.
But then why would sellers stick to Snapdeal, many of whom have already started complaining on the decline in number of orders?
"The main problem we are facing is lack of buyers. The market has gone very low in terms of buyers in the last six months," a seller on the platform said on condition of anonymity.
The company currently claims to be working with 300,000 sellers. However, according to a source the active sellers base constitute 15-20 percent of the number.
"We are trying to save funds. The restructuring is completely based on what business process the company plans to continue with and what is not required," said another person declining to share specific details.
Co-founders worked out of hotels
For a few weeks (during the retrenchment exercise) the founders as well as Kothari were known to be working remotely. According to a senior executive while Kothari was working from an apartment situated in central Delhi, Bahl was conducting important meetings in different hotels such as Hyatt Place in Gurgaon.
For a short while, it seemed like a repetition of the AskMe fiasco when founders declined to meet their victims face-to-face and thus avoid office.
For existing employees, it became scary as rumors floated around that the founders were thinking of exiting.
During the second week of March, the founders, however, addressed the retained employees through multiple town-halls in the office.
The founders have been stressing that the company is very close to breaking even and is having the best margins ever, said a source.
"Work is back to normal. The team heads are busy convincing their departments that whatever had to happen has happened and their jobs are secure now," said a manager-level employee adding that the pressure has increased multiple times with each employee now having the work load, three times the portfolio.
Snapdeal had almost doubled its losses to Rs 2,960 crore during the financial year ending March 31, 2016.
It had reported a loss of Rs 1,328 crore during the previous financial year. The revenue of the e-commerce major rose to Rs 1,457 crore from Rs 933 crore during the same period of the previous financial year.
The company stood at a distant position during the festive sales that took place around Diwali last year in terms of number of units sold.
While Snapdeal sold 11 million units during the five-day sale period, Amazon sold 15 million units and Flipkart reported a sale of 15.5 million units.
Conclusion
As part of its cost-cutting exercise, Snapdeal has also shifted its technology on to a private cloud through Cirrus. The technology team was working on this project for the last one year. Earlier, they used the cloud service of Amazon's web services.
"It is likely to reduce the technology cost by 60-70 percent. This will also increase the performance of our app and website," said the person quoted above.
For now the status quo seems to be a steady chase towards profitability and looking out for funding or a prospective buyer.
Of course, the people who joined the company hoping for a great e-commerce dream have got it all shattered. It will be some months before they can pick up those pieces and build their lives again. For the top management and founders, Snapdeal has been a financial bet.
However, if Snapdeal collapses by way of merger or a sell-off in 2017, it will be an end to a great dream to build a world class e-commerce company out of India which could be listed on the bourses.
India is expected to have almost half a billion internet users by end of this year and the number of online buyers will only grow.  The only thing lacking will be a homegrown e-commerce firm that could challenge the MNC behemoths such as Amazon and Alibaba.
priyanka.sahay@nw18.com
First Published on Mar 16, 2017 05:44 pm