The founder of India's first e-commerce platform Indiaplaza, Vaitheeswaran has launched Again, a ready-to-drink beverage.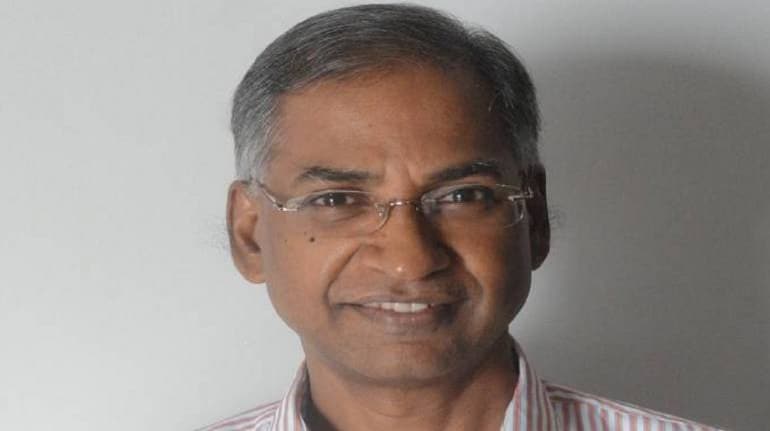 Undeterred by setbacks, K Vaitheeswaran is a man who is always on the lookout for new opportunities. Speaking to him a year after meeting him in a cafe in Indiranagar in Bengaluru, I realise that the entrepreneur has unwavering determination.
The founder of India's first e-commerce platform Indiaplaza, Vaitheeswaran has launched Again, a ready-to-drink beverage.
I realise that despite the setbacks, his sense of humour is very much alive.
Despite his strong resistance a year ago, Vaitheeswaran is now busy giving media interviews and posing for the shutterbugs with the launch of his new venture.
Perhaps that is how entrepreneurs are wired. They cannot afford to let go of a promising opportunity.
"Honestly I had no plans of starting again. In fact, after the unpleasant experience post my first startup, I was fairly clear that I wasn't doing another one," he tells me.
While Indiaplaza did give Vaithee the tag of 'father of e-commerce in India', it took away a lot from his life, including a few valuable years, peace of mind and a whole lot of his bank balance.
The e-commerce firm had a miserable ending. It is still difficult to pin down the factors responsible for the failure of the venture.
But the irony was that the shutdown happened when India's e-commerce story was about to enter a golden period in 2013.
"I did not want to start again not because I was scared of failure. But the way my personal life was impacted and the dignity that got destroyed was hurtful. Unfortunately, I also had to drag my family through the mess," he added.
However, he is once again ready with his new venture as he gives the credit totally to his co-founder Sundeep Thakran.
Thakran, also one of the co-founders of Indiaplaza coaxed Vaithee into doing some research with him after he noticed a huge market gap in the health-beverage market.
Thakran's son used to play junior international tennis and was advised by his coach to consume instant beverages.
However according to Thakran, the market had few choices, except for protein supplements. Infact whatever was wholesome and nutritious wasn't tasty and the so called tasty beverages had sugar and preservatives.
Sundeep's aim was to launch a drink that would have no added sugar or preservative and will have atleast 90 days of non-refrigerated shelf life.
In a market like India, which is captured by aerated beverage, dreaming of creating a space for such a drink in itself was a herculean task.
"When he reached out to me I said I was open to help him with research but wouldn't commit completely," says Vaithee.
However during the research and after facing rejection from at least 20 foreign and domestic experts of the beverages industry, Vaithee suddenly got excited.
In their words, the reason it had not been done so far was because all these conditions could not be met at the same time.
"That is exactly the kind of thing that an entrepreneur should get excited about. And that's what happened to me. When everybody said it cannot be done, I told him one thing. If something can be done then you must do but it if something can't be done then you must do it well," said Vaitheeswaran.
Many media reports have stated that the duo named their startup Again because they were starting up again. However in reality, the idea the behind the name was something very different.
"We believe that the product is so tasty that if you have it once you will come back again. Second the product has a lot of benefits. A consumer gains a lot, so the bottle has again in it. The third reason is that it blends so beautifully with marketing. It is a word that every single person uses in conversation hundreds of times in a day. So we can say try again, drink again, love again, talk again. You can literally hashtag again to any word," he said.
Even as the name was in order, the product wasn't. Making a beverage without adding sugar or preservative with a non-refrigerated shelf life of 90 days was no mean talk.
When the duo went to labs, institutes and colleges, the product just kept failing in commercial trials.
"Something or the other would go wrong. It took us almost two years for us to get the calculations right," said Vaitheeswaran.
They checked multiple formulations for 10-12 different temperature points, pressure settings. Each of them then led to multiple conversations and commercial trials.
Most of the concoctions were not working out but eventually one did.
"We tested that one formula in summers, then in winters and it worked every time. So before thinking we just filed a provisional patent. For both process and formulations," he said.
Again is not the only company trying to have a pie of the burgeoning health drinks market. According to data by Tracxn, since 2016, about a dozen startups have set up their feet in the health drinks segment in India. They range from companies offering drinks in the form of superfoods to organic juices.
A bunch of them such as Kivalife, Fyre and KijiFoods have also raised angel and seed rounds from early stage investors.
Again has also raised two angel rounds from undisclosed investors and is planning to raise another Rs 20 crore.
"Increasingly, there has been a very high altitude health awareness drive that is being culminated among consumers. Typically, the millennials are more attracted towards health-oriented drinks. However, the segment is still at a nascent stage," said Anil Talreja, Partner, Deloitte.
He also said that the segment has not kicked off in a big way because of the pricing factor.
"In India you have to price the product at an all-time low in order to gain traction. But I think there is a great potential for this sector to grow," he added.
The investors and corporate houses are also seeing this segment as a good investment opportunity.
"Many large strategic players are eyeing the market and would eventually end up acquiring some of the startups in the healthy food and beverage categories, given that these players would have built innovative market- acceptable products and acquired substantial customers in the health category. For the larger players to build this ground up would be a challenging task," said Abha Agarwal, executive director, 
Avendus
 Capital.
So far, Again has launched four variants of the drink, all being dairy based at Rs 50. The products are currently sold for an introductory discounted price of Rs 40.
While Vaithee declined to share specific sales numbers, he said that in the last five months, the company has seen a growth of 10x. However it has set a target of selling at least 1 million bottles in the financial year 2021 which will culminate into a sale of around Rs 3.5-4 crore.
Currently Again which is owned and operated by Bachfun Pvt. Ltd is being sold at five retail outlets including Namdhari's Fresh, MK Retail, Star Bazaar, Godrej Nature's Basket besides online grocery firm BigBasket.
The challenge for Again is to ensure that India which has so far quenched its thirst by aerated sugary beverages adapt to the non-sugary and natural drinks.
Currently available in Bangalore, Again plans to expand to other cities in the southern part of the country before venturing into other states of India.
The key thing is to see how this saga ends. May be on a good note this time.
First Published on May 9, 2019 02:09 pm