Besides Bangalore-based Amazon, Noida based Paytm Mall also questioned the research methodologies of RedSeer Consulting, saying it were not relevant for their model.

The world's largest e-commerce firm Amazon has attacked Bangalore based research firm RedSeer Consulting on its India ecommerce sale rankings which have shown that Flipkart led the last week's 5-day festive sales with a 58 percent market share in the gross merchandise value of goods sold.
The RedSeer report further said that Amazon India saw a decline in market share during the annual festive sales worth USD 1.5 billion this month to 26 percent from last year's share of about 32 percent.
"We have noticed poorly informed speculative reports with irrelevant sample sizes whose numbers do not add up to what we are seeing in the industry. We continue to be the fastest growing e-commerce marketplace in India, including key categories such as smartphones, large appliances, fashion and more," an Amazon India spokesperson commented upon the RedSeer's market share report.
While Flipkart ran its annual Big Billion Days sale from September 20-24. Amazon ran its Great Indian Festival Sale from September 21-24.
"There are no credible, recognized research reports at present in India with robust methodology and significant sample size to provide objective market share reports," Amazon further retorted in a statement.
RedSeer Consulting however defended its report and ranking methodology of e-commerce firms, attacking Amazon India in return.
"We have spoken to more than 9,000 customers, 1,000 sellers. We have tied up with a lot of these deals websites which see a lot of traffic across this whole festive season," Anil Kumar, chief executive officer of Redseer Consulting said defending his company's methodology of data collection.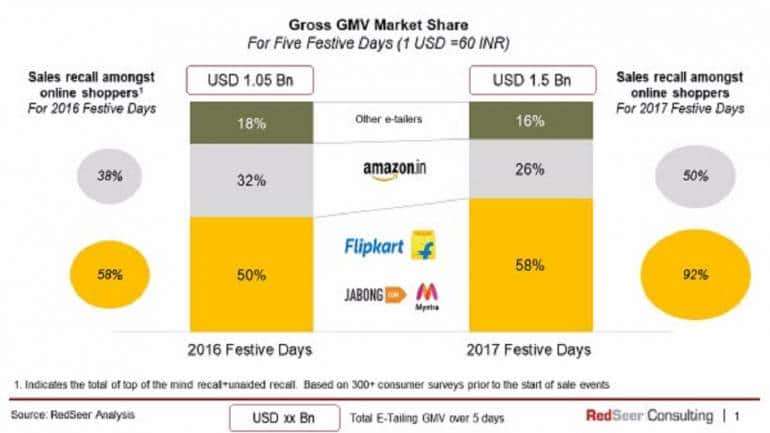 (Source: RedSeer Consulting Survey on 5-day online festive sales in 2017)
"They have been telling that they have grown the mobile (category) by 2.5x, large goods by 4x etc...Now is this by value of volume or in comparison to what...that has not been stated anywhere," Kumar said.
"Between these three four things and third party independent methodology in my view the error margin is not more than about 5 percent or so," he adds.
According to RedSeer's report there is a stark difference between market share held by Amazon India and Flipkart, respectively.
According to the consulting firm, Flipkart had a 92 percent sales recall share amongst online shoppers compared to Amazon India's 50 percent recall share.
According the the consulting firm, e-tailers generated USD 1.5 billion in sales over the five festive day sales period from September 20 to 24, this year. Last year the industry made around USD 1.05 billion in the same period, a year-on-year growth of 40 percent.
Besides Bangalore-based Amazon, Noida based Paytm has also questioned the research methodologies of RedSeer. Paytm did not figure anywhere in the rankings.
"The way they track the number is mostly based on the number of shipments. For us, a large chunk of that is coming from the stores. So that is not there," said Amit Sinha, COO of Paytm Mall.
"Secondly, the way our sales are planned is across the month...we are not in an inventory led model, we don't buy lakhs of phones and then sell them," explained Sinha.
According to RedSeer, other e-tailers held a 16 percent share of the sales, a decline from 18 percent market share last year.
RedSeer further said that it collected the data by scraping over 100,000 online data points and broader interactions with 3P logistics ecosystem.
First Published on Sep 28, 2017 04:45 pm