Having returned to Kashmir after living in Mumbai and Delhi for a few years, Bashir's dream is to change the way Kashmir is recognised on the global map.

"Yesterday there was an encounter about 10 kilometers away. The separatists have demanded a shut down," I am told over a call from about 900 kilometres north of Delhi.
On the other end of the phone is 29-year-old Rauf Bashir, an entrepreneur who runs his edu-tech startup Ladisha in one of the country's most volatile states - J&K.
Having returned to Kashmir after living in Mumbai and Delhi for a few years, Bashir's dream is to change the way Kashmir is recognised on the global map, by making it the hub of technological inventions.
While we couldn't ascertain an official data on the number of internet startups in Kashmir, according to multiple independent estimates there are just a handful of known names such as KartFood and Kashmir Box, among others.
Needless to say this, is a dismal number compared to around 6,000 startups in India.
The major problems for the technology-based startups that want to have Kashmir as their base are internet shutdowns, lack of inclination for technology education besides the incessant cases of violence in the state.
Recently, a Kashmiri startup Czar said that the company was on the verge of being sold out until the founders decided to shift some of the important operations in Uttarakhand and the startup got a new lease of life.
So here's the story of Bashir and his everyday struggles as he fights with the issue of broken internet connectivity, insurgency, illiteracy and ignorance with an aim to channelise the youth of Kashmir to focus on things that he believes will change their lives for better.
Listed as Ladisha Techlabs Pvt Ltd in 2016, Bashir runs an internet-based education startup that helps students prepare for entrance examinations such as CLAT, JEE and NEET.
According to the Economic Survey report of 2016, the unemployment rate in Jammu and Kashmir is higher than the average national unemployment rate.
Jammu and Kashmir has 24.6 percent population in the age of 18-29 years who are unemployed at a time when the all India unemployment rate is 13.2 percent.
That's perhaps a result of the deep political unrest that the Valley has been going through all these years. However, many argue that education and inclusion of the youth into the mainstream economy has immense potential in improving the situation.
According to Bashir, through these exam preparations, he wants to give the youth of Kashmir an opportunity to have a stable life and improve their livelihood in the valley.
Usually Bashir's day begins with a glass of salted tea, khamiri roti and micro blogging site Quora.
"There are a lot of exam related queries on Quora. I try and answer at least 10-15 of them," says Bashir adding that at the end of the response, he gives a link to his app, requesting people to download it. "That's a way of ensuring that students come to our app," he says.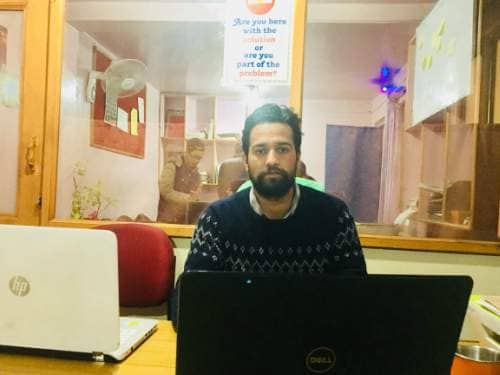 (Rauf Bashir)
Facebook too comes in handy. It helps him network with like minded people from across the country. "It is necessary to be in touch with innovators and entrepreneurs. I have created a group of 20 people already. Many of them are based out of Delhi," he says.
So far, the app has had a slow start, 1,485 downloads to be precise.
But Bashir claims that the average time spend on the app by a user is promising -- 22 minutes. This is actually an impressive number, if compared to 50 minutes that users spend on one of the largest social media platforms, Facebook on a daily basis.
The office is just a few kilometers away from home but for Bashir, driving is not a good option. Due to narrow lanes, traffic jams have become an everyday problem and therefore he prefers taking a bus or sometimes a local cab for office.
None of the two ride hailing firms Uber and Ola operate in the city. Bashir blames the patchy internet connectivity for that.
Ladisha has two offices - in Anantnag and Srinagar. "It was very difficult to get good content writers. The one we got was based in Srinagar. So we set up a base there as well," he says.
In his two room office in Anantnag, rests a huge conference table, a few chairs and laptops. The company has a total of seven people, including three developers, two content writers and the two founders across the two offices. The developers sit at the Anantnag office.
The app has been designed by Bashir himself. It offers mock tests based on competitive exams. Interestingly the app also offers Rs 0.25-1 for every correct answer in these tests.
"Our vision is to make exams stress free and rewarding. In this way, it is like continuous mini scholarship tests going on. We pay money to keep students committed to solving more and more questions and in turn a commitment to crack the exam," he says.
The company has also extended the platform for coaching institutes as well as individual tutors so that they can host their content on the app.
"We want to keep the content platform open for all. A 60 year old professor would not come to our office to share content. But he would like to do it by login in from wherever possible," he says.
While currently the material is free, Ladisha plans to charge a subscription fee of Rs 100 from the students to access all material including the topic wise test series.
The other product that the company offers is CHAP -- Career Helper Analytics Program. It is an artificial intelligence based offering that allows students with root analytics to back their career decision basis their potential.
"What do I want to become and how do I become that, is one of the most common thoughts in minds of the youngsters. CHAP is a program spread over a time frame of 36 months, with analytics derived from weekly test series and case studies. It micro manages the students in getting out their real potential," he says.
Ed-tech as a segment on the startup map has achieved huge significance in the country with companies such as Byju's going ahead and achieving the unicorn status. Byju's has so far raised over USD 200 million from marque investors like Verlinvest, Sequoia Capital and Belgian family office Sofina, among others.
Another startup called Unacademy is reported to be in talks to raise USD 35 million. According to startup data tracker Tracxn, in 2017 alone, investors pumped in over USD 162 million in ed-tech firms in India. Ladisha, however, is bootstrapped for now.
With limited internet connectivity and political uncertainty, it is difficult to attract investors to Kashmir and the situation makes Bashir despondent.
"I could have easily done this startup anywhere in India. But I have come back and want to create a proper incubation in Kashmir besides setting up my own startup," says Bashir, adding that there's a need to begin somewhere.
This, when he is fully aware of all the systematic risks.
"There is no culture of startups here and most people do not even want to work with one. People here are yet to embrace technology and a good tech mind is a rare thing. What we are trying to do is with almost zero support from the government and the peer group," he says.
Bashir admits there have been moment where thought he would break down.
For instance, between April to July 2017, the internet was banned in the valley for about 10 times.
"We ended up paying employees even during the ban when there was literally no work done. It is frustrating at times," he says.
Early days
Born in Kashmir, Bashir went to Mumbai to pursue Masters in Business Administration. In his words -- the whole purpose of MBA was to ensure that he could start something of his own.
And to be sure, Ladisha is not his first startup.
After working as an accounts manager for a little less than a year with Kotak Mahindra Bank, Bashir started his first venture, Uphoria Lifestyle in Delhi. "It was a fashion related firm and I set it up in Delhi because I considered Delhi to be one of the most fashionable cities in the country," he says.
The startup helped small garment merchants in selling their products on e-commerce website such as Flipkart. The idea was to reduce the working capital requirements of the merchants by hand-holding them through  ancillary services such as contract manufacturing, product designing etc.
Fashion, however, is a high burn segment and after two years of struggle, the company eventually shut shop due to lack of external funding.
It was then, that Bashir decided to return to Kashmir and start something afresh.
It was through a common friend that Bashir met his co-founder. "I was told that he is one of the best tech hands in Kashmir," he says.
His initial plan was to outsource technology. But one meeting with Huzaib Shafi and he changed his mind. Shafi is an MSc in IT from Kashmir University and Bashir instantly offered him a partnership. However almost after a year, they realised that they were running short of working capital.
Shafi soon suggested that one of the two should take up a full-time job and support the startup financially. So Shafi went to Bangalore to work with IT firm Cisco.
So far the two have invested about Rs 6 lakh in Ladisha.
Currently, the monthly burn rate of the company is Rs 50,000 which mostly consists of the salaries of the employees. Over 70 per cent of this money is being contributed by Shafi.
"We also wanted to save money on designing. When we tried to outsource designing, most of the designers asked for payments upwards of Rs 80,000. We cannot afford that," says Bashir.
He thus started drawing the designs on paper. The developers then code the design for the app now.
Usually he conducts daily discussions with the developers on how to improve the app. The project they are currently working on is Discussion Tree.
It will be a platform where anyone can come on the app and write about the education related issues they are facing. After which Ladisha will look for a solution.
The daily brainstorming goes about for two hours. According to Bashir, it barely takes a user 15 seconds to uninstall the app. They do not want to face such as situation. So the plan is to keep inventing and making the app as interactive as possible.
Bashir's father is a government employee in Kashmir and elder brother an oncologist based in Singapore. His sister has pursued her Master's in Political Science.
Born in a family with nobody having a business background, Bashir for sure is working on a deadline. He will likely start having pressure from his family soon to start a family of his own and thus have a stable job.
However, all that is not Bashir's immediate concerns.
He has larger goals in life.
Bashir has meetings scheduled with the IAS officers in the education department. He wants to discuss with them how the syllabus of primary and secondary schools can be improved.
"The plan is to ensure that technology education gets its due share in the school curriculum. Because that is how Kashmir can come out of where it is right now. If we get good programmers, we can progress as a state. Otherwise there is nothing here apart from government jobs," he says, adding that the current school curriculum is incapable of helping people understand the importance of technology in the growth of an individual.
"My only aim is to achieve a better Kashmir. I want to see my kids contributing to the development of this state. I want to take this state on the map of on the technological world," he says.
Around 5 pm, Bashir puts down the shutter of the office and heads back home. It takes him around 30 minutes to reach.
What's waiting for him is the gully cricket.
"I am not exaggerating but I am really a brilliant cricket player," he says, adding that he is about to hit the ground in a few minutes.
Ask him about his favourite cricketer and pat comes his reply - Virat Kohli.
"He is an inspiration. The way he has transformed and the way he conducts himself is a great learning lesson. Entrepreneurs need to learn a lot from him," he signs off.
First Published on Mar 19, 2018 04:47 pm