We feel any weakness in the stock price from current levels (due to earnings weakness or index movements) should be capitalised for long term investments as the company is the lowest cost producer
Sanghi Industries had a very challenging Q1 FY19 as it faced multiple disruptions. The company reported flat cement volumes along with a significant jump in input costs, which resulted in a sharp decline in profitability. Quarterly performance was a major disappointment on all fronts. However, the management is optimistic on the demand outlook and expects issues to get resolved over the next couple of quarters.
Disappointing quarterly performance

The company recorded Rs 275 crore in revenue for Q1. The revenue decline was mainly on account of lower cement volumes, partially offset by a jump in ready-mix concrete (RMC) and clinker volumes on a low base. The company had a subdued Q4 as its result was impacted by a 15-day plant maintenance shutdown.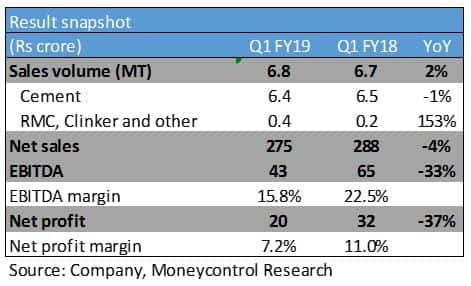 Earnings before interest, tax, depreciation and amortisation (EBITDA) for the quarter gone by stood at Rs 43 crore compared to Rs 65 crore over the same period last year. EBITDA margin contracted around 680 bps on a
Cement realisations on a blended basis dropped 7 percent year-on-year for the quarter gone by due to higher contribution of clinker and RMC. Cement prices remained stable in April and May but faced some downward pressure during of June. EBITDA per tonne dipped to Rs 638 as operating cost inched up along with a drop in realisations.
Cement despatches suffered as the implementation of e-way bill (teething troubles and increased surveillance) along with low availability of ships (due to onset of monsoon), resulted in logistical challenges for the company.
Gross margin dipped due to a jump in fly ash prices. The company sources lignite from Gujarat Mineral Development Corporation (GMDC) and availability of the same was constrained (23 percent fuel mix in Q1 versus 75-80 percent in previous quarters) due to water logging in Kutch region. The shortage of lignite was compensated by expensive coal imports, which resulted in increased input prices.
The higher fuel costs (increased by 20 percent) were slightly offset by gains from waste heat recovery plant (power costs declined 10 percent). Freight costs were higher on a per tonne basis as the diesel prices inched up. Besides, the company had a mark-to-market forex loss of Rs 3.2 crore on account of coal imports.
The company is expanding its cement capacity by 4million tonne, for which it raised Rs 800 crore in debt through term loans and Rs 400 crore through a qualified institutional placement (QIP). The first set of equipment for the expansion have been ordered and the company remains on track to double its cement capacity by 2020.
Outlook and recommendation
Industry majors have indicated an 8-10 percent volume growth for the cement industry. A number of large scale projects such as Mumbai airport, Ahmedabad-Mumbai bullet train, Bharatmala, Mumbai metro and low income housing should propel demand for cement across geographies.
Gujarat, Sanghi's core operating market, is witnessing strong demand from infrastructure and housing projects. It is expected to grow at a healthy 14-15 percent rate in the current fiscal. Rajasthan and Maharashtra (mainly Mumbai) are also expected to grow by close to double-digits. Overall, demand is being driven by infrastructure projects as well as rural housing. Urban housing is still lagging and will take some more time to recover.
Despite a subdued quarterly performance, the management expects to attain volume of 3.0-3.2 million tonne (versus 2.4 MT in FY18) on the back of strong demand in its operating markets. It also expects issues with respect to raw materials and other key inputs to be resolved in the near term.
The earnings visibility looks weak for the short term as raw material availability, fuel prices and other cost pressures (due to external factors) will continue to weigh in on margin and earnings for at least 2 quarters.
We feel any weakness in the stock price from current levels (due to earnings weakness or index movements) should be capitalised for long term investments as the company is the lowest cost producer. We expect it to regain industry leading 21-22 percent EBITDA margin (versus 15-16 percent witnessed over the last two quarters).
For more research articles, visit our Moneycontrol Research page
First Published on Aug 13, 2018 04:09 pm