Sonowal also said that his BJP-led government has launched a special scheme for providing free houses to the labourers of Assam's tea industry.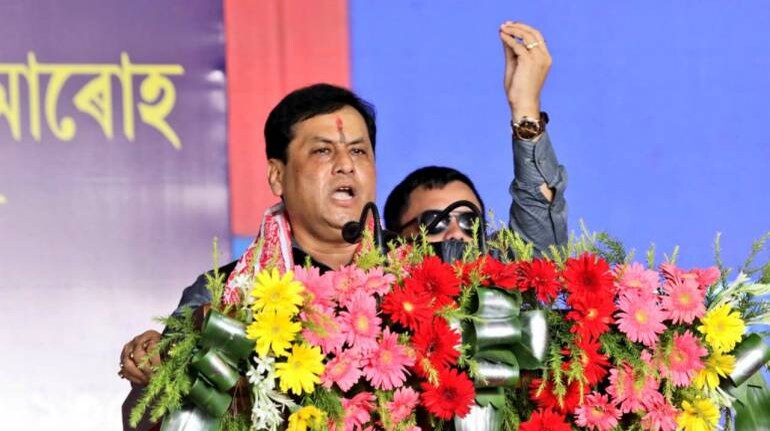 Assam Chief Minister Sarbananda Sonowal on Tuesday said that Rs 933 crore have been provided as assistance to 28,000 MSME units in the state under the Rs 3,00,000 crore package announced for the sector by Prime Minister Narendra Modi.
Sonowal also said that his BJP-led government has launched a special scheme for providing free houses to the labourers of Assam's tea industry.
"We have already disbursed Rs 933 crore to 28,000 MSME units across the state," he told PTI.
Sonowal said the special scheme, announced by the prime minister to assist the MSME sector, badly hit by the coronavirus pandemic, will cover all the 66,000 MSME units in Assam.
COVID-19 Vaccine
Frequently Asked Questions
View more
How does a vaccine work?
A vaccine works by mimicking a natural infection. A vaccine not only induces immune response to protect people from any future COVID-19 infection, but also helps quickly build herd immunity to put an end to the pandemic. Herd immunity occurs when a sufficient percentage of a population becomes immune to a disease, making the spread of disease from person to person unlikely. The good news is that SARS-CoV-2 virus has been fairly stable, which increases the viability of a vaccine.
How many types of vaccines are there?
There are broadly four types of vaccine — one, a vaccine based on the whole virus (this could be either inactivated, or an attenuated [weakened] virus vaccine); two, a non-replicating viral vector vaccine that uses a benign virus as vector that carries the antigen of SARS-CoV; three, nucleic-acid vaccines that have genetic material like DNA and RNA of antigens like spike protein given to a person, helping human cells decode genetic material and produce the vaccine; and four, protein subunit vaccine wherein the recombinant proteins of SARS-COV-2 along with an adjuvant (booster) is given as a vaccine.
What does it take to develop a vaccine of this kind?
Vaccine development is a long, complex process. Unlike drugs that are given to people with a diseased, vaccines are given to healthy people and also vulnerable sections such as children, pregnant women and the elderly. So rigorous tests are compulsory. History says that the fastest time it took to develop a vaccine is five years, but it usually takes double or sometimes triple that time.
View more
Show
The chief minister said he took the initiative of holding the state level bankers' meeting for seamless disbursement of the funds to the distressed MSME sector so that the entrepreneurs get relief after the losses they suffered due to the COVID-19 pandemic.
The Rs 3 lakh crore package for the MSME sector, part of the Rs 20,00,000 crore economic package announced by the prime minister last month, offers collateral-free loans for small businesses.
Referring to the free housing scheme launched for the tea garden labourers of Assam, Sonowal said the initial 2,000 houses will be constructed for the labourers of the Assam Tea Corporation (ATC) at a cost of Rs 24 crore.
"This is for the first time since independence, the government is going to provide free housing facility for the tea garden labourers with modern amenities like LED bulbs, running water and toilets," he said.
The chief minister said the second phase of the free housing scheme for the tea garden labourers will be launched by November for construction of another 2,000 houses.
The ATC is a public sector undertaking established in 1972. It comprises 14 tea estates spread over 13,000 hectares of prime land scattered over six districts of Assam.
The corporation directly employs more than 16,000 workers. It produces premium CTC and Orthodox tea in its own factories besides supplying green leaf to other tea companies.
First Published on Jun 30, 2020 02:10 pm