Health firmly ahead of other goals, followed by personal growth and relationships

COVID-19 has taken its toll on young Indians' aspirations, besides fortifying the position of health and pushing wealth creation down the order of priorities in 2020, a BankBazaar study has found.
India's National Aspiration Index for 2020, as computed by the financial products aggregator, stands at 79.9, a decline of seven points compared to 86.9 in 2019. "Mumbai (82.2) emerged as the most aspirational city. Surprisingly, Chennai, which was high on the Index in previous years, moved to the bottom of the list this year," the report notes. It polled 650 respondents in India in the age-group of 22-45 on their aspirations around health, wealth, personal growth, relationship and so on.
Health, the top concern
While computing the index, respondents were asked to assign scores to questions on the importance, likelihood and level of preparedness for achieving these goals. Since questions around health received the highest scores, it ranked as the top-most aspiration.
COVID-19 Vaccine
Frequently Asked Questions
View more
How does a vaccine work?
A vaccine works by mimicking a natural infection. A vaccine not only induces immune response to protect people from any future COVID-19 infection, but also helps quickly build herd immunity to put an end to the pandemic. Herd immunity occurs when a sufficient percentage of a population becomes immune to a disease, making the spread of disease from person to person unlikely. The good news is that SARS-CoV-2 virus has been fairly stable, which increases the viability of a vaccine.
How many types of vaccines are there?
There are broadly four types of vaccine — one, a vaccine based on the whole virus (this could be either inactivated, or an attenuated [weakened] virus vaccine); two, a non-replicating viral vector vaccine that uses a benign virus as vector that carries the antigen of SARS-CoV; three, nucleic-acid vaccines that have genetic material like DNA and RNA of antigens like spike protein given to a person, helping human cells decode genetic material and produce the vaccine; and four, protein subunit vaccine wherein the recombinant proteins of SARS-COV-2 along with an adjuvant (booster) is given as a vaccine.
What does it take to develop a vaccine of this kind?
Vaccine development is a long, complex process. Unlike drugs that are given to people with a diseased, vaccines are given to healthy people and also vulnerable sections such as children, pregnant women and the elderly. So rigorous tests are compulsory. History says that the fastest time it took to develop a vaccine is five years, but it usually takes double or sometimes triple that time.
View more
Show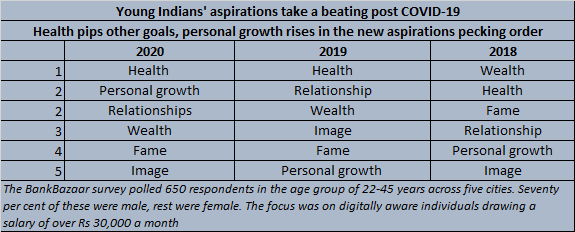 Health ranked ahead of other goals, with COVID-19 forcing people to sharpen focus on healthier lifestyles. "Health remains India's top-most aspirations and is an unprecedented 6.7 points ahead of the next most important aspirations, clearly indicating how the pandemic and a change in social behaviour have increased the focus on health, both mental and physical," the study noted.
Women turned out to be more aspirational than men this year, notching up a score of 81.5 compared to 79.2 for men. In 2019, men were marginally ahead, with a score of 87 compared to 86.3 for women. The new COVID-19-induced work-from-routine had a role to play in their relatively upbeat outlook. "Women's aspirations seem to have withstood the trying times better than men. When you consider this in the context of the changes happening at the workplace, such as the normalisation of working from home and flexible work hours, it becomes obvious that women are looking forward to leverage these changes and making the best of them," said Aparna Mahesh, Chief Marketing Officer, BankBazaar.
Personal growth climbed four spots in the index, at par with relationships. In 2019, wealth was amongst the top three in the pecking order of life goals. Unlike previous years, owning a home is no longer the single most important goal and ranks pretty low in the list of priorities, the survey found. Early retirement emerged as the most important wealth goal in this year's survey. "The lower importance and a higher level of preparedness in the Wealth category indicates that people are putting aside major asset acquisition and discretionary spending for the future even if they are financially prepared," Aparna Mahesh added.
First Published on Jul 31, 2020 09:15 am