Most people don't get what they want, since, they don't know what they want!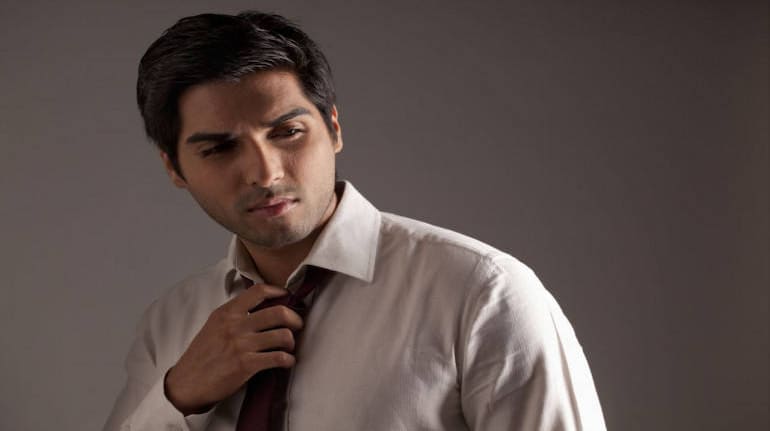 Rachita Jain
Let us begin by asking ourselves the most basic question about finance. What do you want out of your financial life? Most probably, though not articulated clearly yet, each one of you have a blurry idea of what you want on an immediate basis. Although, crystal-clear clarity is not a mandate, having a vision (preferably a long-term) is tremendously supportive since it imparts a sense of direction to your finances, thus, motivating you enough to reach your desired target or goal. Now, here comes the tricky part! As astonishing as this may sound, many tend to confuse need and vision… Let me break it down for you to give you "clarity" … (clarity…yet another interesting topic that we shall take a dip in, a little later…)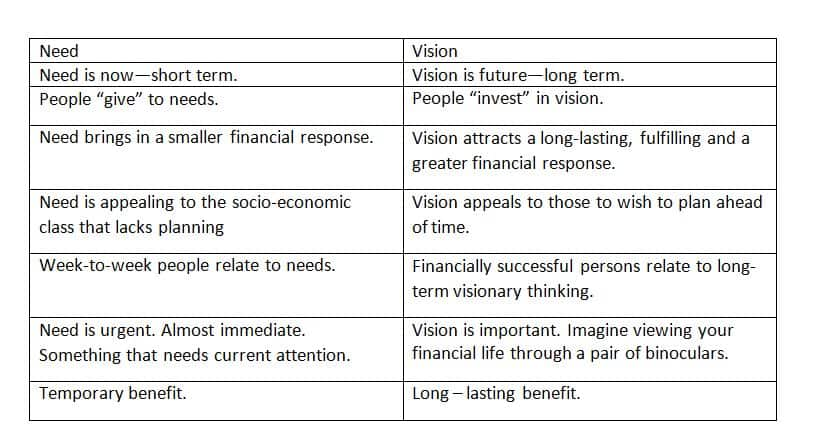 Does the above mean that "needs" are to be ignored? Absolutely not! Let the "needs" stay. Just top it with a dash of long-term vision!
With the concept being understood, now, tease you brain and try to understand the following line in greater depths: - "It is a NEED of today to have a financial VISION for tomorrow"
Why is having a vision necessary?
A penny saved is a penny earned, right? Not necessarily. Thanks to inflation, over time that penny could be worth less than when it was first dropped into the piggy bank.
In today's date, it is common to see people overlooking inflation. An inflation rate of 4 percent might not seem that big of a deal. Now consider its effect on your purchasing power in the long-term. If a price of a particular good or service is Rs 10,000 today, over 20 years at 4 percent inflation rate, it will be more than double – Rs 21,911. Now imagine the automobile cost! Cost of a house, land or property!
Most people don't get what they want, since, they don't know what they want! Success-oriented individuals have an inner sense of direction, maybe not the exact pathway but definitely an exact goal or destination. Having a financial vision provides purpose to your wealth and the effort spent in earning it. Not only does having a long-term vision towards your money, secures your future, but also removes anxiety and insecurity from your present. See the double benefit?
Why is it important to have "clarity" of vision?
Vision: I want an early retirement.
Clarity of vision: I want an early retirement at the age of 45.
Keep in mind that there is no one 'right path' for you, waiting to be revealed. There are many, many different routes you could choose. Hence, having clarity is important. Let us take the above example! If you desire a retirement at 45, you would need to start investing early and saving consistently to match up to the inflation rates and lifestyle changes. Taking each day as it comes is not the right pathway to achieve clarity.
How can you transform your vision into reality?
Now you have the "will", so choose a "way". There are three ways to do it. Plan! Plan! Plan!
Irrespective of the income bracket, having a financial plan to reach your envisioned goals is the must. Everything that a man desires or aims for, needs to have a systematic approach for a smooth journey. Financial planning is that approach.
According to a study conducted by life insurer HDFC Life and market research firm ValueNotes, the awareness among these youngsters about events stood at 25.8 on a scale of 0-100 which indicates 'extremely poor'. The study pointed out that, 76 percent of youngsters have started planning for their future but most of them are aware that their plan is not comprehensive enough to cover their immediate and future financial needs. Only 14 percent of youngsters feel confident of their plans' ability to cover them against all eventualities.
This brings us to the question… is a financial plan enough? It has to be a comprehensive and fairly detailed financial plan designed to suit your personal needs. This plan should be drafted by a SEBI registered certified financial planner that imparts unbiased advisory.
Are you ready with a vision? If yes, do you have clarity on your future goals? Great!! So, what are you waiting for? 60 candles on the cake? No right!! So, go and get your financial plan now!
(The writer is content manager at Finpin)
First Published on Aug 28, 2017 12:07 pm