Arbitrage funds are currently popular thanks to their recent performance.

With stocks witnessing volatility, investors can opt for arbitrage funds, which can be a great investment avenue for short-term investments.
An arbitrage fund is a type of equity mutual fund, which invests in the mispricing between the cash (spot) markets and derivatives market on the other. The arbitrage opportunities bring relatively risk-free returns to investors.
An investor in arbitrage funds normally earns returns of 4-9 percent per annum. It is comparatively higher than other common debt instruments like bank fixed deposits, which can fetch 5.5-9 percent per annum and liquid funds, which net returns between 5-8 percent per annum.
Arbitrage funds become a good option also because of the tax treatment: they are treated in the same way as equity funds and hence offer better post-tax returns (i.e. STCG is charged at 15 percent as per current tax rules).
Arbitrage funds are currently popular thanks to their recent performance. Even as they give debt fund-like returns, they have very little credit risk or duration risk as the debt holding is very small. This became an advantage recently when other debt funds witnessed volatility.
On that note, let's study Reliance Arbitrage Fund, which has been performing well over the last one to three years compared to peers in this category.
About the Scheme
Reliance Arbitrage Fund scheme was launched on 14th October, 2010. The AUM of the scheme as on September 30, 2018 is Rs 8,872.62 Crore. It's an open-ended scheme investing in arbitrage opportunities.
Fund Manager
Anand Gupta is a fund manager who manages two schemes at Reliance Mutual Fund. These schemes are Reliance Equity Savings Fund and Reliance Arbitrage Fund. He was appointed fund manager for both these schemes from 12th September 2018. Prior to him, Reliance Arbitrage Fund was managed by Payal Kalpunjal.
Investment Strategy
Reliance Arbitrage fund attempts to exploit arbitrage opportunities arising out of pricing mismatch in a security between stock prices in the cash and futures market. This fund is positioned as a pure arbitrage fund with completely hedged positions with an attempt to neutralise market risk (volatility).
Why it's a good choice for conservative investors in current market?
Reliance Arbitrage Fund does not take any directional calls on the market, and lowers volatility by maintaining fully matched positions (purchases in spot (cash) market and selling in futures). Essentially, the difference in the prices between the spot and the futures market is the cost of carry which reflects the prevailing short-term interest rates. Usually, these rates move in a narrow band and are relatively less volatile.
Anand Gupta, Fund Manager, Reliance Mutual Fund said, "Given the tighter liquidity condition the spreads have increased by around 10-15 percent and therefore the arbitrage space offers potentially higher returns in comparison to similar investment options. Further arbitrage funds are subject to equity taxation and hence enjoy lower dividend distribution and capital gains tax rates."
Thus, arbitrage funds with their advantages -- like potentially superior tax-adjusted returns, lower volatility -- are a beneficiary of current higher short-term rates and can be considered by conservative investors with a time horizon of 6 months and above.
Portfolio composition
The fund has a well-diversified portfolio on the equity side with over 125-150 holdings. Usually, equity exposure accounts for approximately 70 percent of the portfolio while around 16-18 percent is maintained in short-term bank fixed deposit to meet the margin requirements.
The remaining portion is invested in higher grade debt securities with low to moderate duration profile (usually around 3-4 months). Given this conservative positioning the portfolio did not witness any significant changes over the last few months.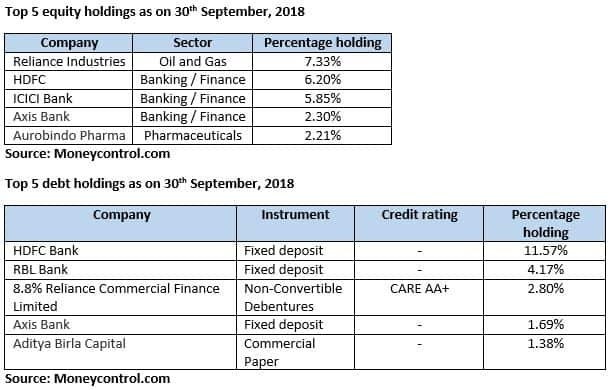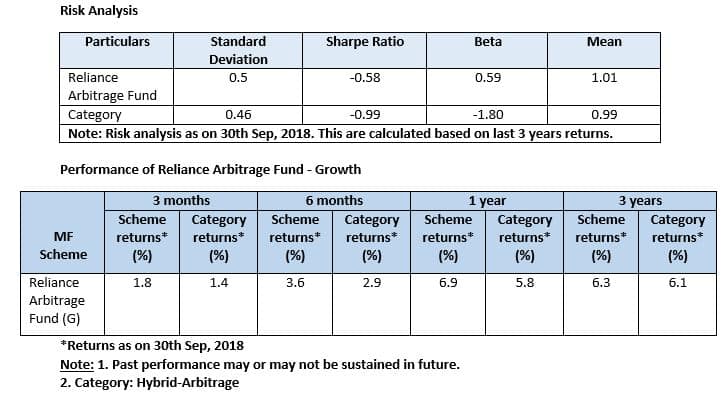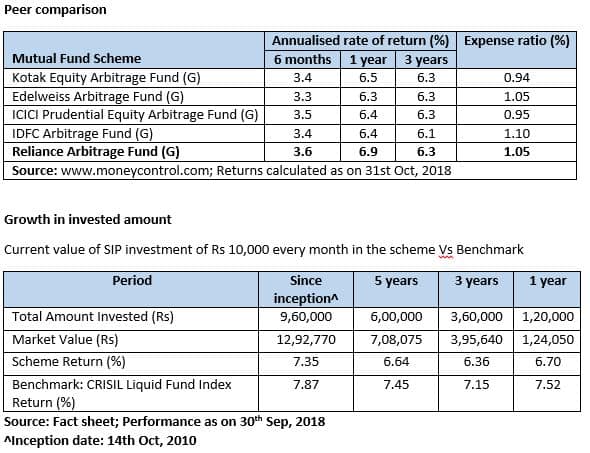 Arbitrage funds Vs Bank fixed deposits
So what should investors prefer between arbitrage funds or bank fixed deposits, which can offer slightly better returns? Says Vijay Kuppa, Co-founder of Orowealth advised, "You should consider arbitrage funds because of the lower exit loads and a better tax structure that it offers to the investors compared to bank fixed deposits."
For instance, an arbitrage fund offering a return of 6.5 percent per annum gives a return of 5.85 percent after tax in a year (assuming 10 percent tax on capital gains as per the latest budget). Additionally, it can be redeemed after 30 days without any exit load.
In comparison, fixed deposits with 7.25 percent p.a. leads to 5.25 percent post tax returns after a year (assuming a tax rate of 30 percent) and there might be a penalty for an early withdrawal.
Expert Takeaway
Kuppa said, "Reliance Arbitrage Fund has maintained a strategy of a complete hedge strategy to capture the spread between equity and derivative segment and have also exposure to low-risk debt instruments in order to maintain a safe return profile for conservative investors. Invest in this scheme with a time horizon of 6-12 months."
Follow @thanawala_hiral
First Published on Nov 5, 2018 01:30 pm