OPEC shows little understanding of where it is, how it got there or where it is going.

Ravindra Rao
Since 1960 when it was formed, OPEC has had an almost unbreakable grip on the global crude-oil market. OPEC's decisions have played a prominent role in the global oil market and in international relations. The effect could be huge when wars or disorders led to extended interruptions in supply. Also, OPEC sets production targets for its member nations. Hence, in times of oversupply in international markets, production targets are lowered to keep crude-oil prices up. This is how OPEC has dominated the world's crude-oil market. But, with the entry of US shale oil, the dynamics of the crude market is rapidly changing.
Since July 2014, crude prices have been falling sharply on account of rising production of US shale oil. The global oversupply glut has weighed on crude oil prices. Since then, OPEC has been unable to re-balance the oil market. In the past, when crude oil prices declined, OPEC would cut production to boost prices. This time though, such a strategy has now worked. OPEC agreed to cut production since January 1, 2017 for six months till June. But, the vast global crude stockpiles still could not be cleared. Besides, when prices increased, US production rose steeply.
Recently, OPEC extended its production-cut agreement by another nine months, till March 2018. However, markets have not been enthused since investors were hoping for a production cut of 2.5 million barrels a day. OPEC, however, decided to cut output by 1.8 million b/d. Moreover, a lack of consensus prevails among OPEC members in implementing the production cuts. Rivalry between Saudi Arabia and Iran is a matter of grave concern. Any escalation could derail OPEC's goal of rebalancing the oil market. Recently, the Gulf Co-operation Council severed diplomatic ties with Qatar. The country is also a member of OPEC. Though Qatar is not a significant contributor in the global crude oil market, yet, given its economic clout, it is an influential OPEC member. Saudi Arabia's rivalry with Iran and Qatar could create an existential risk for OPEC.
Saudi Arabia's strategy to keep crude oil prices low to protect its market share has now worked. In the last couple of decades, the world's biggest crude-oil exporter had a strong influence on other OPEC members. Since all measures have failed to propel crude oil prices, Saudi is conceding ground to its rivals. This is causing it to rapidly lose market share and influence over other OPEC members. This rift in OPEC is also because Saudi Arabia can still cope with low crude-oil prices; other OPEC members cannot. The output-cut agreements since the beginning of this year are failing. Russia's oil strategy is also ambiguous.
Rising output from Libya and Nigeria is another concern for the market. Both the countries have been exempted from OPEC's production cut. Libya's crude-oil output in the second week of June increased to 885,000 barrels, from 560,000 in April. The country now aims to raise crude oil production to one million b/d by end-July. Iran has been allowed to raise output to a maximum of 3.797 million b/d. The Kharg oil terminal in Iran has increased its crude oil loading capacity to eight million b/d, three times the current Iranian crude and condensate exports. In May 2017 Iran exported 2.1 million b/d. And Iraq's crude oil production in May 2017 increased to 4.42 million b/d, from 4.38 million the previous month.
Table: OPEC Crude Oil Production (tb/d)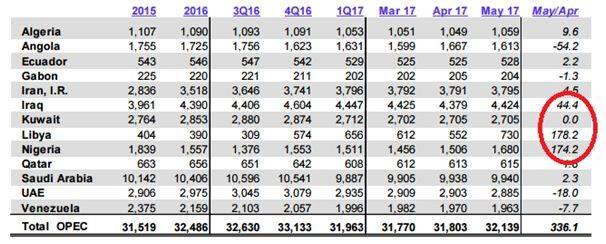 Source: OPEC monthly report
Brazil's crude-oil output in May 2017 rose by 149,000 b/d to 2.68 million b/d, due to rising output from Lula South through the P-66 unit. Oil production from Lula field in the Santos Basin would offset the continued annual declines from the Campos Basin, where production fell to a 13-month low of 1.35 million b/d. Brazil is also likely to implement other projects in the Santos Basin, P-66 in Lula South, Lula North through the P-67 unit, Tartaruga Verde and the Libra field.
OPEC shows little understanding of where it is, how it got there or where it is going. The output-cut agreements since the beginning of this year are failing. Rising production from Libya and Nigeria are offsetting the production cut. There is a rift among OPEC members regarding its crude oil strategy. As a result, OPEC faces reputational and existential risks. Moreover, increasing output from the US is a serious threat to OPEC. Unless OPEC members keep aside their differences and find other ways to tackle the global supply glut, it would lose its relevance in forthcoming years. Overall, the outlook for crude oil is bearish.
(The writer is head of commodity research & advisory at AnandRathi Commodities.)
First Published on Jul 10, 2017 02:13 pm