The strategy involves employing more than one factor to select stocks for the portfolio

The smart beta exchange traded funds (ETF) space will have a new entrant in ICICI Prudential Alpha Low Vol 30 ETF. The new fund offer will close on July 10, 2020.
What is on offer
The scheme will mimic the Nifty Alpha Low Volatility 30 index. This benchmark has 30 stocks picked from the Nifty 100 and Nifty Midcap 50 indices using two parameters – alpha and low volatility with equal weight. Stocks with high Jensen's Alpha (returns over what markets/indices deliver) are selected. The Nifty150 TRI is the benchmark for determining excess returns. Stocks with low standard deviation (measure of volatility) are selected using a rule-driven process. Exposure to individual stocks is capped at 5 per cent. The index is rebalanced twice a year. Stock inclusions and exclusions to the index are rule-based.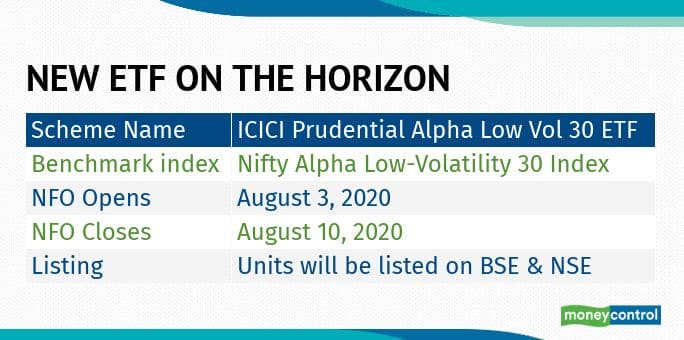 The index was launched in July 2017 and currently has high allocation to defensive sectors such as consumer goods (35.48 per cent), pharma (25.84 per cent) and Information technology (10.71 per cent). The portfolio's price to earnings ratio stands at 29.11, while the price to book ratio is 5.03. The valuations are on the higher side.
The fund will be managed by Kayzad Eghlim and units will be listed on the BSE and NSE.
What works
Most stock portfolios constructed using one style (or factor such as value, growth, momentum and volatility) typically underperform when the underlying premise does not fit prevailing market conditions. The Nifty Alpha Low Volatility 30 Index aims to address this problem by employing more than one factor to select stocks for the portfolio. According to the fund house, the back-test shows this index outperforming the Nifty 50,  Nifty 100 as well as broad indices such as the S&P BSE 500 in eight out of ten calendar years. Of course, there is no certainty of such an outperformance in the future.
"This can be an investment option for investors who are looking to own a portfolio of defensive stocks and willing to pay premium valuations for it," says Vishal Dhawan, founder and Chief Financial Planner of Plan Ahead Wealth Advisors.
The costs are expected to be low.
What does not work
This is a passive scheme based on certain rules. The strategy does not take into account the valuations of the stocks, which are high currently. The product is launched in the ETF format. Most smart beta ETFs in India suffer from low liquidity on the stock exchanges. Also, smart-beta funds are yet to develop a long track record. Therefore, it may be hard to assess how such schemes would perform across market cycles.
These funds need to develop a record of delivering across cycles and  adequate liquidity should be available for these ETFs. For now, investors can skip the NFO option and wait for opportunities to enter later.
First Published on Aug 5, 2020 09:34 am