The NAV of several funds fall below NFO price

Allirajan M
'HDFC Equity Opportunities Fund-Series II,' a close-ended equity mutual fund (MF) scheme, launched in May 2017 with a tenure of 1126 days, announced that it would rollover the scheme by another 18 months. This extension of maturity signified the hard choice faced by the fund house. The net asset value (NAV) of the fund was quoting at Rs 8.38 just ahead of maturity compared to the NFO (new fund offer) price of Rs 10 per unit. So, the investor has to either exit the scheme at a loss after staying invested for more than three years or continue for another 1.5 years hoping for a turnaround in fortunes.
The HDFC Fund's underperformance is not unique. In fact, the NAV of five out of eight close-ended funds, which are due for maturity between August and October this year, are either quoting below the NFO price or are at just about the same level as the offer price. Only one fund has managed to stay well above the NFO price while the remaining two are hovering marginally higher than the offer price.
Prolonged underperformance
All these funds have significantly underperformed their benchmark indices. Since its launch, Aditya Birla Sun Life Resurgent India has not made any return (just 0.03 percent) and has underperformed its benchmark index (which delivered 6.08 percent return). ICICI Prudential Value Fund-Series 8 has given a negative return of 4.65 percent, as against its benchmark's return of 5.82 percent in the same period. Only two of these five schemes have given any semblance of delivering returns; their net asset values are above Rs 10. The sad part: these haven't even made one percent return since the time they were launched.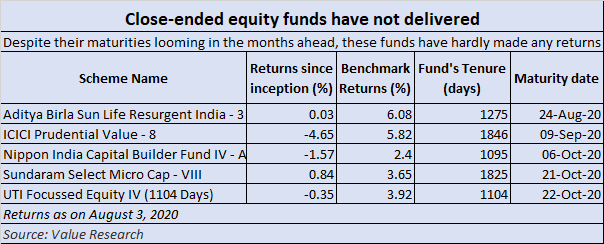 Unlike open-ended funds, units of close-ended funds can be purchased only during the NFO period. The units can be redeemed only after the maturity of the fund, which is usually between three and seven years. So, an investor in a close-ended fund is bound by the lock-in period. Markets regulator SEBI, however, allows redemption or exit if the units are listed on the stock exchange or if the fund house allows periodic repurchases at NAV related prices.
Exiting investments at a loss
With the fall in NAVs, investors in these close-ended schemes now face the prospect of making a loss at the time of exit. Even in schemes where NAVs are quoting above NFO prices, the gains are miniscule and investors would end up with returns that are much lower than fixed-income schemes.
"Fund managers of close-ended schemes tend to take excessive risks as they have a longer time window," says Srikanth Bhagavat, managing director, Hexagon Capital Advisors. "It works well in a bull market. But, in a bad market, it hurts the fund's NAV," he says.
"The performance of these funds is really bad as fund managers took higher risks. Many open-ended schemes have done far better than these funds," says Rupesh Nagda, founder-director, Family First Capital Advisors.
"In principle, close-ended funds are good. But if you look at the outcomes, we have not seen good performance from them," says Vikas Gupta, CEO and chief investment strategist, Omniscience Capital.
Scheme disadvantages
Close-ended funds have some inherent disadvantages as well. These funds require investors to commit a lumpsum amount at the time of the launch, which is a risky approach. Investments of smaller amounts on a regular basis through avenues such as SIPs (systematic investment plans) work well for a large number of investors who are dependent on a fixed monthly income. Close-ended funds also do not have a track record, which is highly recommended for investing in MFs. They bring a lot of uncertainty and the investor has to depend heavily on the skills of the fund manager while making the decision to commit large amounts.
Moneycontrol reached out to all the fund houses of these schemes that are due to mature soon. They did not respond to our queries of whether they would rollover these schemes.
If you have investments in a close-ended scheme that's coming up for maturity and it has not yet given you significant return and decides to roll-over, it's best to stay invested. Redeeming your money at a loss in these volatile markets exposes you to re-investment risk. That is, it means searching for an option that would deliver better returns.
First Published on Aug 10, 2020 09:49 am